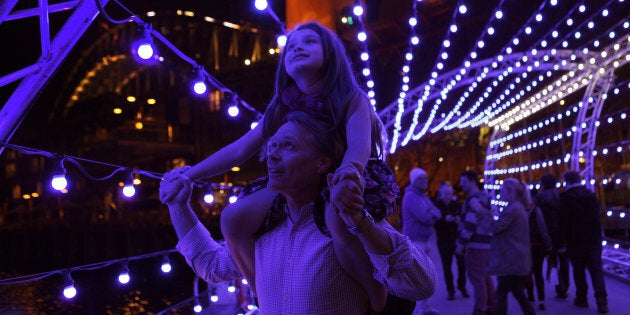 While the thought of heading to the city on a cold, midweek night with the kids in tow might not sound *that* appealing to the majority of parents, it's something they may want to reconsider when Vivid Sydney kicks off on Friday, 27 May.
The world's largest festival of light, music and ideas is a massive draw card for families during the winter holidays and this year will boast more locations than ever before, as well as an additional five days to pack in the sights.
But in order to get the most of the 2016 Festival, organisers are encouraging families to plan their visits ahead of time so as to avoid peak hustle-and-bustle periods (and to make sure the little'uns don't get to bed tooooo late.)
So what should parents keep in mind when planning a Sydney Visit trip this year?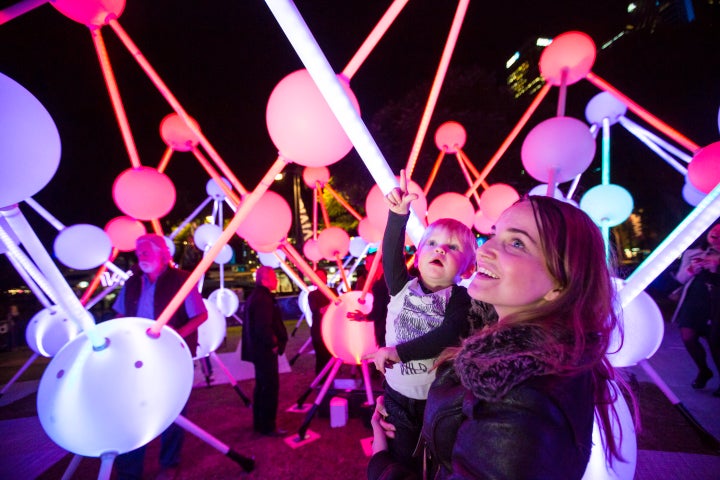 Firstly, come early in the week. Monday to Wednesday are the quietest nights and so the most suitable for family visits, whereas Friday and Saturday nights are the busiest and are probably best avoided.
It's also worthwhile to arrive early, as crowds tend to get busier later in the evening.
Rather than trying to pack everything in the one visit, Vivid organisers are suggesting families adopt a 'see a little, see a lot' approach and come back numerous times for shorter stays.
It also pays to be prepared in terms of knowing where you're going. Vivid Sydney precinct and accessibility maps including transport options and activities can be downloaded here.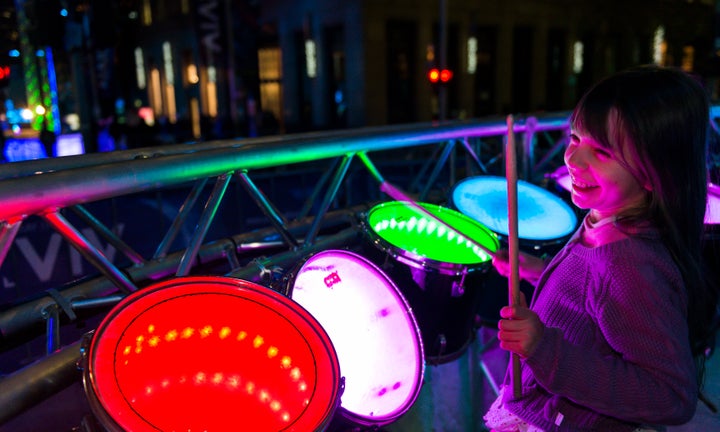 Family highlights include:
Be The Light for the Wild: Held at Taronga Zoo in Mosman, this is great for families who live North-side or for kids who are enthralled by the idea of visiting the zoo after dark. This year, Taronga will light up with giant, interactive animal lanterns which also which change colour and make sounds. Suitable for children of all ages.
Cathedral of Light: This magical 70 metre long tunnel is made from made from tens of thousands of LED lights. Situated in The Royal Botanic Garden, this attraction is suitable for all ages.
Shadow Wall: Proving not all shadows are meant to be, well, shadowy, the Shadow Wall enables kids to watch their shadow come to life as a multicoloured silhouette. Suitable for children six and over, the Shadow Wall is based in Circular Quay.
Laser-Dragon Water-Theatre: Need we say more? Suitable for children 11 years and over, the Laser-Dragon Water-theatre includes four video-projected water-screens, 56 fountains, 22 flame jets and 10 powerful lasers. Check it out at Darling Harbour.
Robowars returns (for one day only): Don't miss out on this epic opportunity to see robots battle it out right in front of your eyes. Held on 5 June, tickets for this attraction are limited and can be purchased here.
This year's Vivid Sydney Festival will run from 27 May to 18 June 2016.
For more information, head to the Vivid Sydney website.