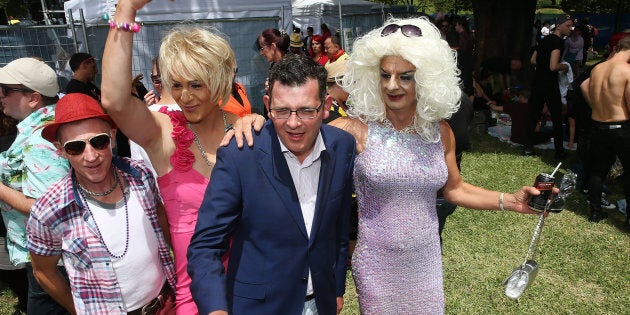 The Victorian government will on Tuesday issue a rare and historic apology to citizens convicted of homosexuality offences under archaic laws.
"On Tuesday, the Victorian Government will make a formal state apology to people convicted under unjust laws against homosexual acts," Andrews wrote on Facebook. He also shared the story of 'Tom', who said he was forced to plead guilty to gross indecency and buggery charges after being abused by a male employer in the 1970s.
Homosexuality was decriminalised in Victoria in 1980, but many people convicted under the old laws still had the offences against their names.
In a statement, the Premier's office explained how the apology would look.
"We are making this apology as an important step towards healing the hurt of LGBTI Victorians who were so unfairly labelled criminals," the statement read.
"The Premier will deliver the apology in Parliament to those directly affected by the laws but more broadly to the LGBTI community. The apology will be made in respect of past laws that criminalised homosexual activity between consenting adults. These laws included buggery, gross indecency, indecent assault on a male and loitering or soliciting for homosexual purposes."
"While there is no accurate data about the number of arrests and prosecutions, police reports suggest there were several hundred reported offences per year in the decades leading to the repeal of the laws in 1981. The apology will be live streamed at 2pm on the Victorian Parliament website."
"Victoria will be the first Australian state to apologise for past laws that criminalised homosexual acts."
Andrews first announced his plans for the apology in January.
"(It) was a dark chapter in our state's history and we are better than that," he said at the time.
"It was shameful that our laws prohibited and turned those activities into crime."
In September 2015, the Victorian government announced a scheme where people convicted of those offences could apply to have them struck from their record, as part of changes to the state's sentencing legislation.
"The changes to the Sentencing Act 1991 recognise that homosexual sex between consenting adults should never have been a crime," the government said at the time.
"A person with an expunged conviction may legally claim not to have been convicted or found guilty of that offence; is not required to disclose that conviction or finding of guilt for any purpose; and
cannot be denied a job or position due to that conviction or finding of guilt. The historical conviction will no longer show up on a police records check."