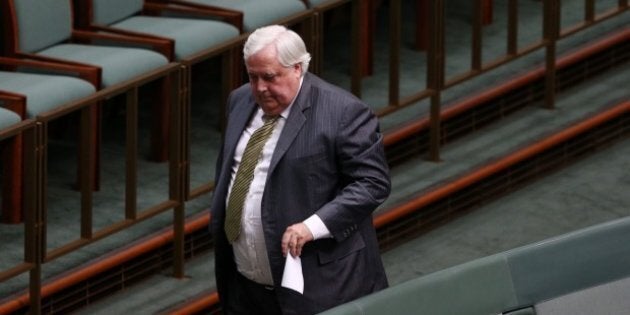 Clive Palmer's brief and controversial sojourn into federal politics seems all but over, with the Palmer United Party leader ruling out a tilt at the Senate.
Palmer, the current member for Fairfax, announced earlier this month he would not be seeking re-election for the Queensland seat. The businessman was expected to run for the Upper House instead, and certainly did not rule out the possibility at multiple press conferences after he announced he would step down from the House of Representatives, but on Monday seemed to officially call full time on his parliamentary career.
"Clive Palmer confirmed in Brisbane today that he had not sought endorsement from the Palmer United Party to stand in the Queensland Senate election," a statement from a Palmer spokesperson announced.
"There are some excellent people who have nominated to be endorsed to stand for the Palmer United Party in the Senate in Queensland and I am confident the party will continue to play a significant role in Australian political life," Palmer said in the statement.
In other Clive news, the colourful Queenslander also fired off a series of controversial social media updates over the weekend around last week's federal police raids of Labor premises over NBN leaks. Palmer claimed Prime Minister Malcolm Turnbull had asked him to help remove Labor's Stephen Conroy from the NBN committee, offering Palmer chairmanship of the committee in exchange.
Palmer later claimed he was having trouble sharing related posts because Turnbull was "trying to shut us down".