Can short term virtual reality sessions help people living with dementia trigger long term memories and improve communication skills?
An aged care-home operator is tentatively reporting positive results in virtual reality sessions with residents.
Originally introduced at two Melbourne aged care-homes as a means of entertaining residents, Mercy Health Lifestyle and Volunteer Manager Karren Gooding said the short virtual reality sessions have had unexpected results.
For the past five months Gooding has used the headsets regularly with 22 patients living with dementia for minutes long sessions over one, two and four day periods that take them on virtual tours designed to trigger early memories.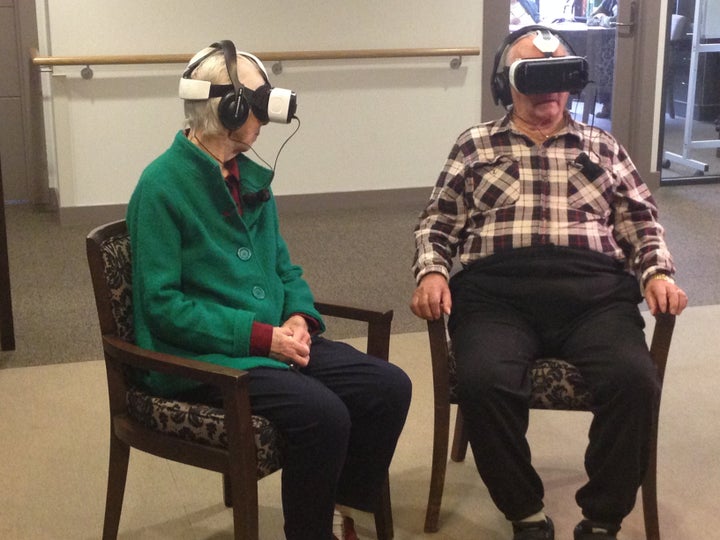 "We've seen some residents that were extremely isolated, not communicating much, (and are) now engaging in conversation, out with other residents," she told the Huffington Post Australia.
"Basically the results we are seeing have been fantastic and they have certainly outdone our expectations."
Mercy Health is planning on rolling the devices out to all 22 of its homes in the coming months.
Dementia describes a collection of symptoms caused by disorders affecting the brain. It is not one specific disease, and affects thinking, behaviour and the ability to perform everyday tasks.
There are more than 353,800 Australians living with dementia, but the number is expected to increase to 400,000 in less than five years.
Without a medical breakthrough, the number of people with dementia is expected to be almost 900,000 by 2050, according to Alzheimer's Australia.
Brain function is affected enough to interfere with the person's normal social or working life.
One elderly patient at mercy, shown a virtual tour of Rome and Venice, had long-term memories about his boat trip to Australia triggered.
"After watching it, he was able to tell us about his trip coming to Australia, the different vegetations between Australia and Italy, and he spoke about his experiences on the boat," Gooding said.
Another resident, an 86-year-old musician who hadn't communicated with her husband for months, began tapping her foot in time when taken on a 3D virtual tour of an orchestra.
"Her husband was in tears because he hadn't seen her move like that in months," Gooding said.
Gooding says the devices -- which are also used on stroke survivors and people with multiple sclerosis (MS) -- may also have a calming effect on some patients living with dementia.
Like accessing long-locked away memories, there is is no formal explanation for why -- or how -- it appears to calm some dementia patients.
But Gooding assumes it is because the patient completely immersed in the virtual world, which is viewed through a wrap-around headset and earphones.
"They only have to concentrate on that one thing, but these are only my observations," she said.
"There's certainly other treatments that trigger long term memories but with this, the communication and triggering long term memory, it's probably the most effective on the most amount of long term residents that I've seen."
Alzheimer's Australia Vic (AAV) Business Development Manager, Dr Tanya Petrovich, told the HuffPost Australia the calming effect of virtual reality immersion -- where the user is concentrating on what's in front of them -- was not a strange concept.
"It doesn't sound strange and I'd love to have the research to back that up, but certainly, from what we understand about dementia, I can see how that would be possible," she said.
However there isn't much in the research space about virtual reality and dementia.
But Petrovich said the notion of using VR to trigger long term memories also makes sense, though with caveats.
"Going back to a homeland makes a lot of sense in terms of reminiscence," she said.
"The concerns we've had is that for some people the experience may not be a good one, because you may be going back to memories which may not be pleasant old memories.
"Also with the goggles some people can cause a bit of sickness."
AAV are using virtual and augmented reality for another purpose.
They have developed a prototype virtual forest video game designed to create a sensory therapeutic environment to enable people with dementia to experience and interact with a virtual reality forest.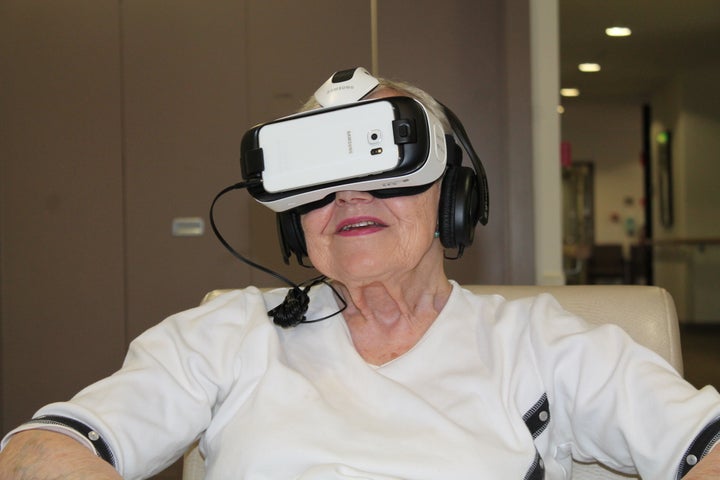 They have also developed The Virtual Dementia Experience -- software that lets users view the world through the eyes of someone living with dementia.
Aimed at carers, the software shows users how frightening everyday life can be for someone living with dementia -- it's a world where stripes can appear to move and dark rugs can appear as bottomless holes.
"Those are the things that you can really bring to life in VR," AAV Business Development Manager Tanya Petrovich said.
"Previously we would have put up a power point and said 'these are the issues' and people would say they intellectually understood it, but when they experience it, well, it's a much different conversation you are having with people,' Petrovich said.
AAV is hoping to roll out its virtual dementia experience on portable VR headsets in the coming months.