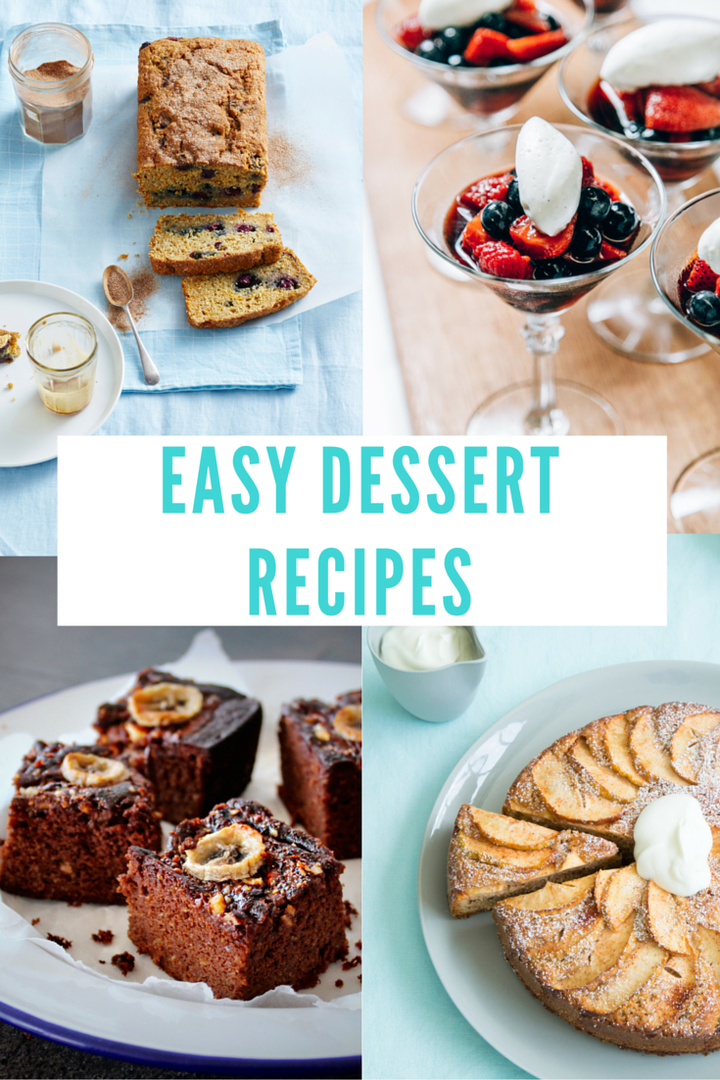 What's better than getting together with your friends and family and eating huge amounts of cake -- and raising funds for cancer research and support while you're at it?
This Thursday, May 26 is Australia's Biggest Morning Tea. Now in its 23rd year, the event is not only an opportunity to share a cuppa and enjoy sweets and treats but, importantly, a great way to help support those affected by cancer and raise awareness for the Cancer Council.
It's estimated that one in two Australians will be diagnosed with cancer by the age of 85, with one person diagnosed with cancer every five minutes -- the length of an average tea break.
Funds raised by participating in your own morning tea -- whether in the office with workmates, at home with loved ones, in the community or at school -- help support Cancer Council's cancer research, prevention and support programs.
If you happen to miss Australia's Biggest Morning Tea on May 26, you can host your morning tea event any time during May and June. Register and set a date here.
To help kick off the delicious cake feast, top chefs and cooks have shared their favourite (and easy to make) recipes. From apple walnut cake to blueberry, carrot and coconut loaf, your morning tea is officially sorted.
Janelle Bloom's Blueberry, Carrot and Coconut Loaf
Recipe by celebrity chef Janelle Bloom for Perfection Fresh Eureka Blueberries
Cook time: 1 hour and 15 minutes
1 cup wholemeal self raising flour
½ cup self raising flour
1 tsp baking powder
½ tsp bicarbonate soda
1 ½ tsp ground cinnamon
¾ cup raw sugar
¾ cup desiccated coconut
400ml can coconut milk
1 egg, lightly beaten
2 cups grated carrot
1 punnet blueberries
Cinnamon sugar, to serve
1. Preheat oven 170°C fan forced. Grease and line 6cm deep, 10cmx21cm (base) loaf pan. Sift the flours, baking powder, bicarbonate of soda and cinnamon into a bowl, add the husks in the sieve back into the bowl with flour mixture. Stir in the sugar and coconut. Add the coconut milk, egg and carrot and stir gently to combine. Fold in the blueberries.
2. Spoon the mixture into the loaf pan and smooth the surface. Bake for one hour and 15 minutes or until a skewer inserted into centre comes out clean. Stand for 10 minutes in pan before turning onto a wire rack.
3. Sprinkle with cinnamon sugar, slice and serve as is or toasted.
Tip: Loaf freezes well. Cut into individual slices, wrap in plastic and freeze in airtight bags.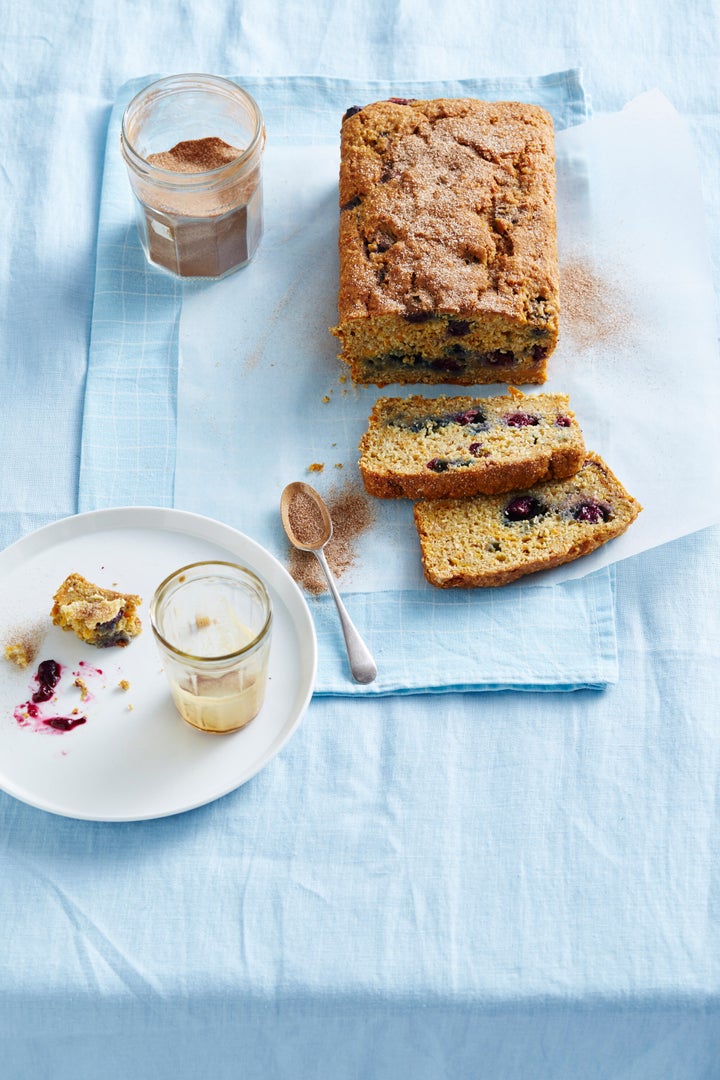 Berries Poached in Balsamic with Vanilla Cream
By chef and restaurateur Luke Mangan
3 punnets strawberries, tops removed and cut into quarters
2 punnets blueberries
1 cup sugar
500ml balsamic vinegar
2 cups of water
2 punnets raspberries
300ml cold pouring cream
1 tbsp castor sugar
1 vanilla bean, cut in half lengthways, reserving the seeds
1. Lay the washed strawberries and blueberries in a baking dish.
2. Bring the sugar, vinegar and water to the boil and simmer for 15 minutes then pour the mixture over the strawberries and blueberries. Cover with cling film immediately to keep the heat in.
3. After 10 minutes add the raspberries and re-cover, allow to stand on the bench for a minimum of 2 hours.
4. To make the vanilla cream, whip the cold pouring cream with the castor sugar and mix through the vanilla bean seeds.
5. To serve spoon the berries with the juice into six martini glasses or bowls and serve with a little of the vanilla cream.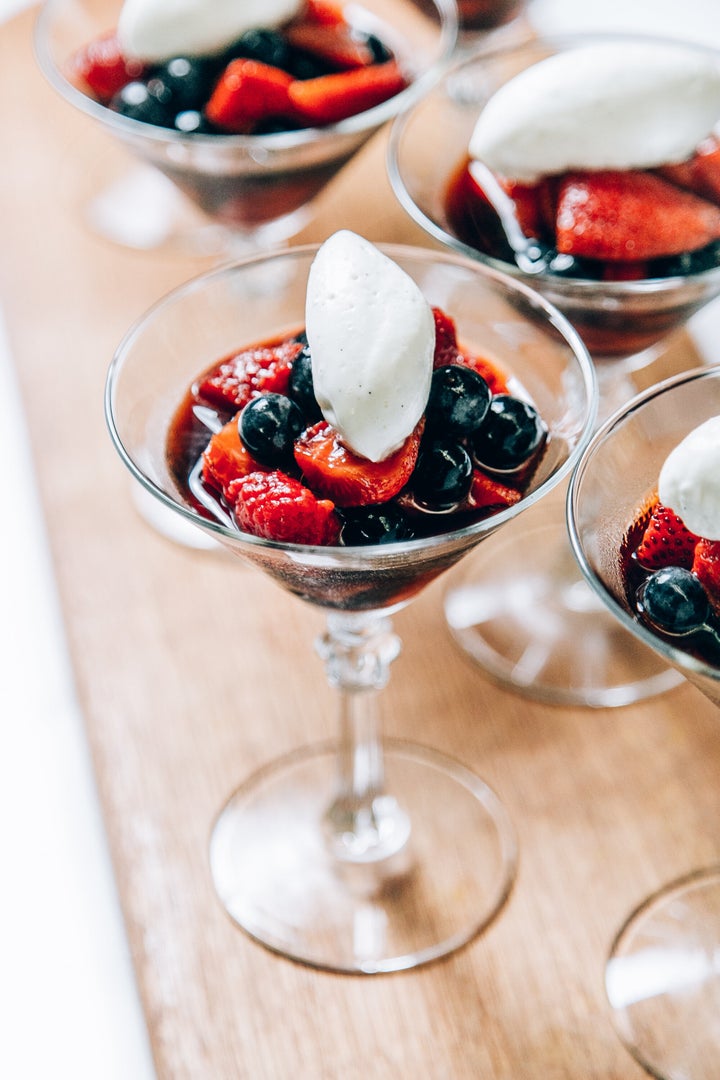 Will and Steve's Chocolate, Banana and Hazelnut Cake
By 2015 My Kitchen Rules winners Will and Steve
Prep and cook time: 45 minutes
3 medium sized ripe bananas
1 cup plain flour
½ cup caster sugar
¼ cup unsweetened baking cocoa
¼ cup light olive oil
¼ cup water
1 tsp baking powder
1 tsp apple cider vinegar
¼ teaspoon salt
¼ cup dark chocolate, finely chopped
¼ cup hazelnuts, finely chopped
1. Pre-heat oven to 180°C.
2. Place two bananas in a medium sized bowl and mash with a fork until smooth. Add the flour, sugar, cocoa, oil, water, baking powder, vinegar and salt. Mix until combined.
3. Pour mixture into a buttered 20cm square baking dish and then top with the finely chopped chocolate and nuts. Slice the last banana and place the slices on top on the chocolate and nuts.
4. Bake for 30-35 minutes or until a toothpick inserted in the centre comes out clean. Allow to cool before cutting/serving.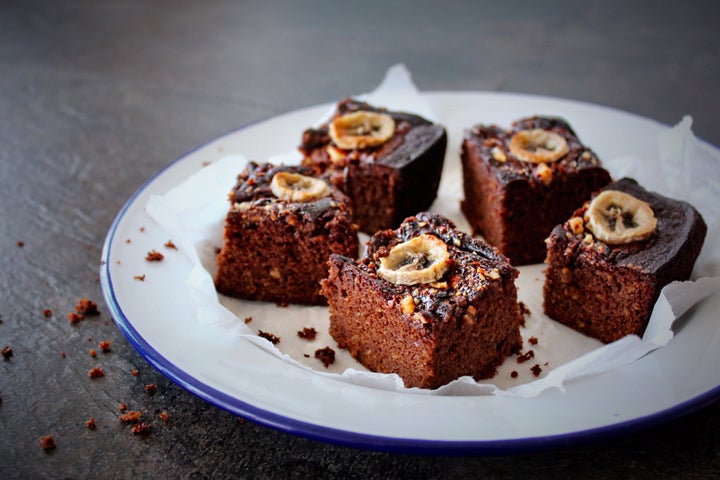 Apple Walnut Cake
By Nadia Lim and the team at My Food Bag
2 apples, peeled, cored
1 cup of sugar
1 teaspoon cinnamon
1 ½ cups of self-raising flour
125g butter, melted
⅓ cup milk
2 eggs
½ walnuts, roughly chopped
1. Preheat oven to 180°C/160°C. Grease and line a 20cm round cake tin with baking paper.
2. Cut apples into thin slices, toss with one teaspoon of sugar and a pinch of cinnamon, set aside.
3. In a large bowl, combine remaining ingredients and use a wooden spoon to mix together into a batter (it will be slightly lumpy).
4. Pour batter into prepared tin and arrange apple slices on top. Bake on middle shelf of oven for 50 to 60 minutes or until a skewer inserted comes out clean. Leave to cool completely in tin before turning out.
5. To serve, cut into slices and serve with yoghurt or thickened cream.