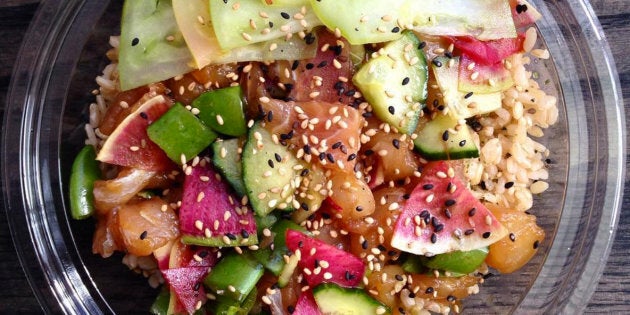 If you live in any major U.S. city, you've probably caught wind of the nation's new favorite food ― the poke bowl.
Not "poke" like the always awkward Facebook feature, but "POH-keh" ― cubed raw fish, seasoned any way you want it.
While it may seem like a new trend, this simple and addictive Hawaiian dish has been around for centuries. It's basically Hawaii's favorite food and for good reason: Poke is healthy, delicious and totally unique.
Walk into virtually any supermarket in the Aloha State and you'll find an entire counter devoted to the stuff. Each tray is filled with a different combination -- and not all of them include raw fish. You'll see ahi limu (yellowfin tuna with algae), spicy garlic salmon, tofu with soy sauce, sesame and green onion, kimchee tako (octopus) and more.
In Hawaii, the cubed fish is eaten either on its own or over a bowl of sushi rice -- -- hence the bowl part of the name -- kind of like deconstructed sushi.
But the mainland has given the dish a makeover, with trendy restaurants and fast-casual food joints like Wisefish Poké in New York and Sweetfin Poké in Santa Monica making the dish their own.
The new poke bowls incorporate ingredients like quinoa, zucchini noodles and tomatoes. They're definitely health-oriented, but these reimagined bowls are a far cry from Hawaii's classics.
And in the Aloha State, where tradition is the name of the game, this rapid transformation has caused quite a stir.
Hawaii chef Mark Noguchi spoke for many Hawaii locals in a piece for First We Feast when he asked: "Do you know and respect where the dish came from? If not, then you have no business making it."
It may seem trivial, but food is a way of life in Hawaii. The state's ethnic diversity has resulted in an extraordinarily distinctive food landscape, and poke, a product of the indigenous native Hawaiian culture, is one of the most beloved menu items. So when locals see a diacritical mark added to the word "poke" or a bowl loaded with unfamiliar ingredients, it can look a lot like appropriation.
"The poke trend puts Hawaiian cuisine in the spotlight, and that's a positive thing. It deserves attention," Noguchi wrote. "But seeing it get press outside the islands is conflicting because of how personal food is for Hawaiians."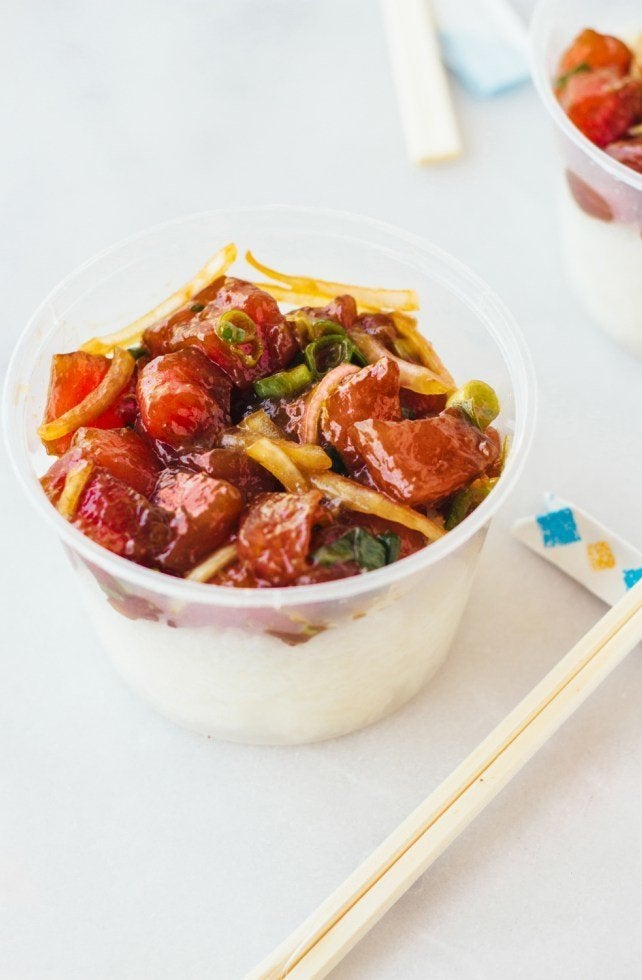 So while we're all for getting creative with your poke, we'd recommend starting with a classic variation, such as spicy ahi or shoyu (soy sauce) ahi and serving it over a hot bowl of rice like they do in Hawaii.
If you want to make your own, the quality relies heavily on the freshness of the fish you use. Make sure your fish is a high-quality grade, doesn't smell fishy, and you eat it as soon as possible after purchasing.
Make a batch of rice, cube your fish, add your seasonings and enjoy your bowl while the rice is still hot and the fish is still cold. Below, a few classic recipes to help you dive right in: