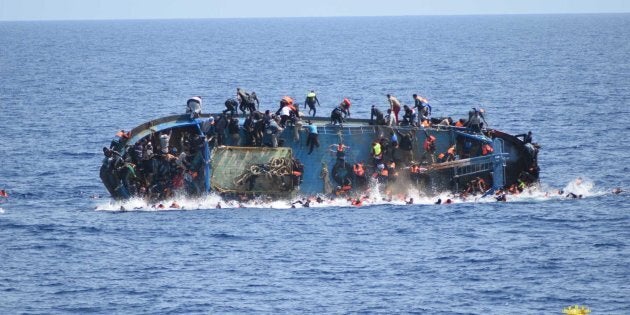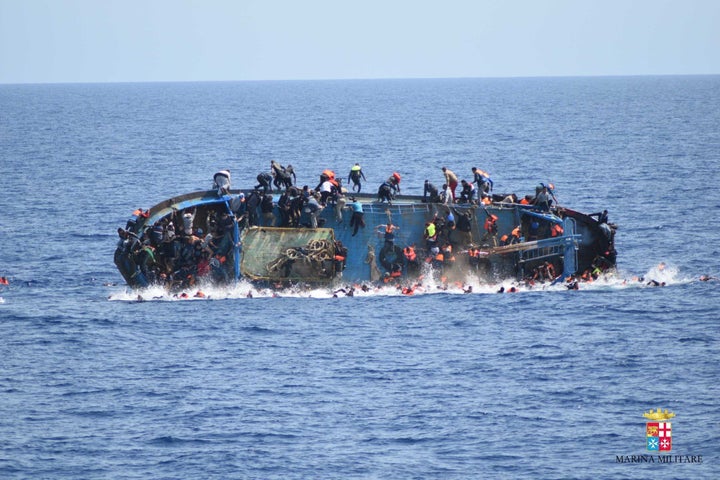 Libyan forces intercepted over 2,000 migrants trying to flee by boat this week, as European leaders offered the country's fragile new administration more help to turn back migrant boats.
Among them were four boats crammed with 500 people headed to Europe, including three children and eight pregnant women, that were intercepted by Libyan coastguards on Tuesday. They are now destined for Libya's network of overcrowded, squalid detention centers, where human rights groups say violence is rampant and detention can stretch on indefinitely.
Libya's efforts are potentially saving lives in the Mediterranean Sea, but they risk solving one problem by creating another.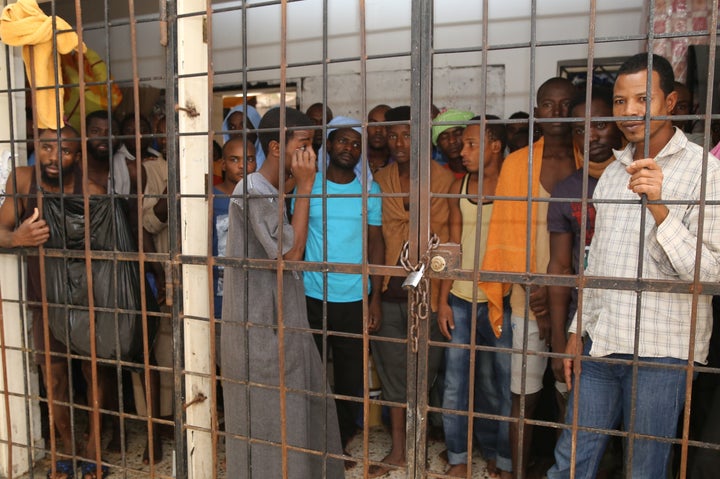 European measures to stem the flow of migrants and refugees have left thousands stranded on the frontiers of wealthy nations, including in overcrowded camps in Greece, Italy and France's Calais.
Libya -- the main gateway for African migrants trying to reach Europe -- could become the next bottleneck of the refugee crisis, creating a dire humanitarian situation in one of the world's most unstable countries.
A Deadly Route
The passage from Libya to the shores of Europe -- the closest of which is the Italian island of Lampedusa -- is particularly dangerous.
At least 100 people, and possibly several times that, are believed to have drowned in migrant shipwrecks off the Libyan coast this week. Over 14,000 others were hauled to safety by European forces patrolling the area.
This stretch of the Mediterranean is a longer and more treacherous journey than the Aegean Sea between Turkey and Greece, which had emerged in 2015 as the main passage to Europe before nations shut their borders and made a deal to return migrants to Turkey earlier this year.
Since then, refugee experts have warned that desperate migrants might rush back to Libya, which became a human trafficking hub amid the chaos that followed Moammar Gaddafi's ouster in 2011.
While the number of migrants sailing from Libya and Egypt has surged in recent weeks (and there have been some reports of Syrians setting sail from Libya) experts say that, so far, this appears to be a normal seasonal fluctuation due to better weather, rather than evidence of a broader shift in route.
In fact, the death toll of migrants at sea has dropped so far this year compared to the same period in 2015, according to International Organization for Migration spokesman Joel Millman. He credits the efforts in Greece, and to a limited extent in Libya, to manage migration flows. "It looks like there is more of a coast guard presence now [in Libya], but it's just starting," Millman told The WorldPost.
Fortress Europe
As summer approaches, European leaders are eager to pre-empt any renewed surge of migration from Libya.
"European governments are desperate to stop boats departing from Libya," said Judith Sunderland, associate director of Human Rights Watch's Europe and Central Asia Division.
The arrival of over 1 million refugees and migrants to Europe in 2015 was "deeply traumatic" for European politicians, she said. "There is a sense that they have to stop the migrant flows or the whole European project will fall apart."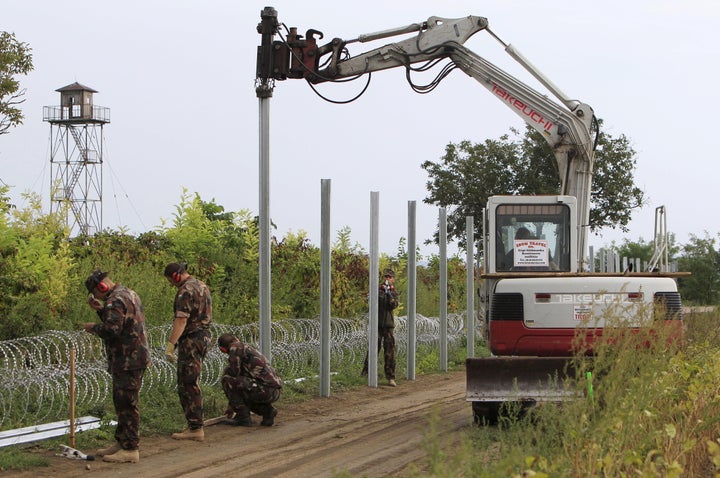 European leaders have also spied a long-awaited opportunity to work with authorities inside Libya.
Since the fall of Gaddafi, Libya's government and military have split into rival factions, with militias and extremist groups like the Islamic State filling the power vacuum. Human traffickers have also exploited the chaos to funnel people fleeing wars and destitution in Africa and the Middle East through Libya, often subjecting them to immense cruelty along the way.
The international community has set its hopes on a new UN-backed government, with the U.S. and Italy pressing for troops and arms to back up the fledgling administration. Even so, the government is currently confined to the Libyan capital of Tripoli, and has struggled to secure the support of Libya's warring factions.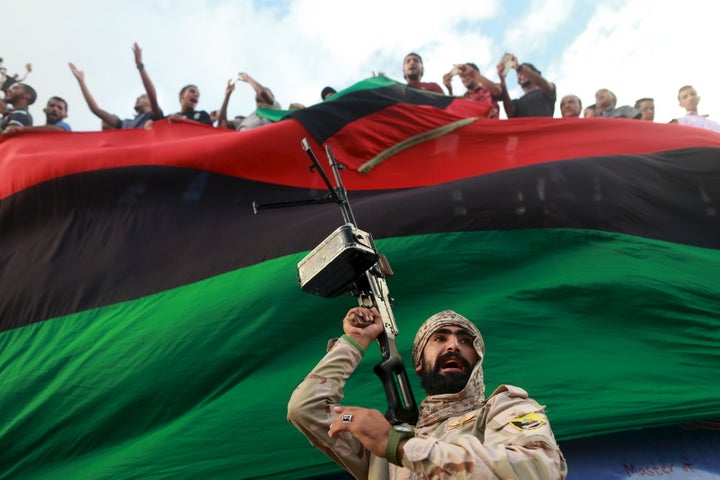 The EU naval mission in the Mediterranean Sea currently brings migrants rescued at sea to European shores, where their asylum claims can be processed.
NATO and the European Union have recently floated the possibility of helping patrol Libya's shores. British officials told The Guardian that U.K. Prime Minister David Cameron is pressing for EU ships to help Libyans turn back migrants. "He thinks we should be looking to return people to where they set off from," a government source told the newspaper.
Human rights groups say international law prohibits countries from sending migrants back to places where they might be in danger, like Libya, and any such policy could face legal challenges.
"A lot of people are saying: 'Send everyone back to Libya,' but behind closed doors they recognize they legally cannot do that," Sunderland says.
One alternative is for the international community to help Libya patrol its own coast to stop migrants leaving in the first place. The EU this week announced it would train the Libyan coastguard and navy to combat refugee smuggling after a request from the Tripoli-based Libyan National Unity government.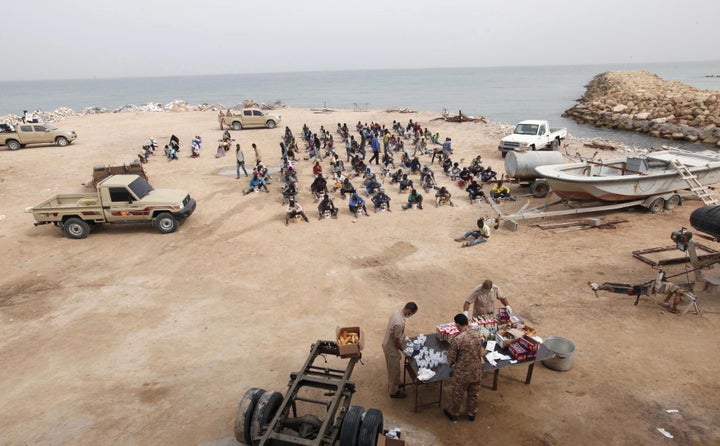 Even if successful, there are two potential pitfalls to this approach, according to Sunderland. If the mission focuses on border enforcement, rather than search and rescue, this could restrict the number of lives it is able to save.
The second problem is what happens to migrants returned to Libya.
'It Would Be Better To Die'
Libya locks up undocumented migrants in a network of some 20 immigrant detention centers, where inmates report being coerced into hard labor, beaten by guards, and cramped into tiny cells with little food or water and barely any ventilation or sanitation.
At least 3,332 migrants, including 222 women and eight children, are being held in eight of the centers that were visited by the International Medical Corps earlier this month, according to UNHCR.
"I would do anything not to go to prison here," a 20-year-old Nigerian, Mobo, told IRIN News in Libya's Misrata after being caught by coastguards in a migrant boat. "It would be better to die than go there."
Above: UN envoy to Libya Martin Kobler visited the Abu-Saleem Detention Centre, where 450 migrants are held, in Tripoli on May 19.
Between 700,000 and 1 million migrants live in Libya, according to IOM estimates, mostly from African countries struggling with poverty and conflict, including Niger, Sudan, Nigeria and Gambia.
Many of them came to the country in search of work, only to end up boarding unseaworthy boats to Europe so they could flee conflict between militias, kidnapping by trafficking gangs and detention by authorities.
Some migrants are shocked by the conditions in Libya when they arrive, often after a harrowing and lengthy journey through war zones and the Sahara desert.
Others are captured and held in makeshift detention centers by the plethora of militias that have splintered Libya into mini-fiefdoms, forcing them into slave labor or extorting their families.
One Gambian man who bribed his way out of Libyan jail five times and eventually made it to Italy has set up a Facebook page warning fellow migrants to avoid the north African country. "They have every right to try to come to Europe, just like I did, but traveling through Libya is just too hazardous," he told the BBC.
Going Home?
The IOM has recently stepped up a voluntary repatriation program for migrants in Libya who want to return to their countries, following improved cooperation from Libyan authorities and African embassies.
Since July 2014, IOM has helped repatriate 2,469 stranded migrants in Libya -- 1,007 of them since January this year, according to IOM figures. The organization has recently set up repatriation flights to Senegal, Sierra Leone, Nigeria, Mali and Niger. It also provides returning migrants with grants and other forms of support to help them find work back home.
"It's not an easy decision to go back home," Othman Belbeisi, IOM's top official in Libya, acknowledged. "The situation is so hard, after you lose your hope, your money and end up in detention."
Human rights groups stress that it is vital the returns be truly voluntary, especially as they are being offered to people trapped in desperate conditions. IOM says it takes many precautions -- interviewing migrants privately in jail and providing them with opportunity to back out until the last moment.
International organizations like UNHCR and IOM have urged the Libyan government to provide alternatives to detention for migrants, including open centers for migrants, or integrating them into society.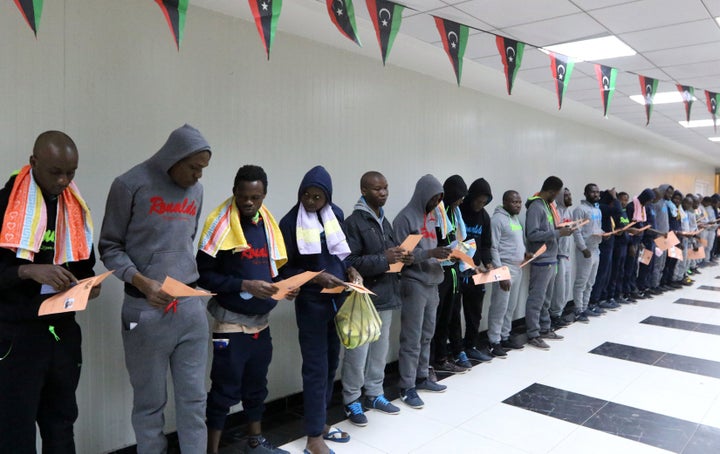 At the very least, detained migrants should have their basic rights respected, and vulnerable people like children, pregnant women and the disabled must be freed, UN and IOM officials say.
But many migrants from war-torn countries cannot safely return home. Aid groups have urged European leaders to set up safe, legal passages for refugees to reach Europe so they won't have to languish in jail or risk death at sea.
Until then, stopping boats in the Mediterranean will only shift the crisis southward. "You will have an increasing number of people stranded and incarcerated in appalling and abusive detention centers, in a country in the midst of civil war," Sunderland warns.
Every week, we bring you one overlooked aspect of stories that made news in recent days. Did you notice the media forgot all about another story's basic facts? Tweet @TheWorldPost or let us know on our Facebook page.