When British-Thai actress
Araya A. Hargate
dominated the
Cannes red carpet
, she turned heads with several flawless looks. Chief among them was a pink tulle dress from Ralph & Russo with ruffles for days. Hargate, nicknamed "Chompoo" for her work as a L'Oreal Paris spokesperson, wore it for the premiere of "Cafe Society" at the
2016 Cannes Film Festival
, before slipping into another outfit.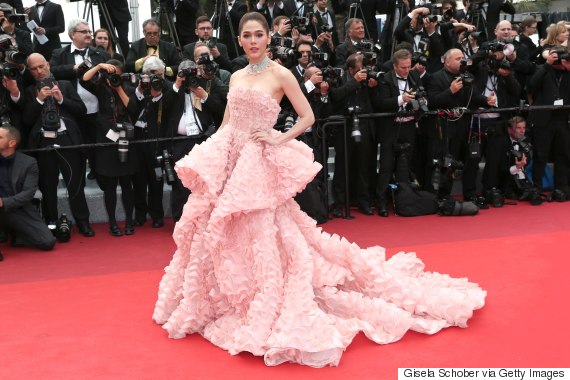 Thai model Sine Benjaphorn loved Hargate's strapless frilly fashion on the red carpet so much that she had to have it. But rather than buying haute couture, Benjaphorn got shellfish. Taking inspiration from the colours and textures of Hargate's peachy-pink Cannes apparel, Benjaphorn blessed the Internet with her own recreation, using a cheap local snack delicacy: bags of shrimp crackers.
"When I saw Chompoo's dress, I immediately thought of my mum's crackers," she told
Yahoo UK
. "My mum has a street food stall selling snacks like this and it reminded me of them." Her low-key photoshoot on the streets of Bangkok shows Benjaphorn looking pretty in pink (seafood crunchy goodness). After posting her crunchy Chompoo tribute on Facebook and Instagram, Benjaphorn's dress went viral online and hit national airwaves on Thailand TV.
Benjaphorn, a 28-year-old model and clothing shop owner, has a knack for
mimicking celebrity fashion
with ingeniously used household items and low-cost clothing.
She's even brought food into her past photoshoots, posing effortlessly with a KFC value meal and going so far as to taping seaweed to her hair.
Her creations may not be winning the red carpet, but they're definitely winning over the Internet. Here's hoping she doesn't sell her dress to a prawn shop.
Follow Huffington Post Canada Style on Pinterest, Facebook and Twitter!