Hawthorn Hawks player Jarryd Roughead will undergo immunotherapy for melanoma skin cancer after four small spots were found on his lung.
Club doctor Michael Makdissi confirmed that a biopsy showed the presence of melanoma in one of those spots.
The 29-year-old star is expected to miss 12 months from the AFL while he undergoes his treatment and recovery.
"This can happen to anyone," Roughead told a press conference on Tuesday morning.
"When the news hit two weeks ago it was a shock. I didn't really believe it and obviously we were a bit emotional about it all.
"But now as we've had the biopsy, seen the doctors and understand what needs to happen it's just like righto, let's get going, because the sooner we start the sooner it's beaten and it's all over, so we know that next week is when we start and from then on it's just head down and bum up really."
Roughead asked for the public and the media to treat him no differently when he makes team appearances while he undergoes treatment.
"You've got to worry about yourself and your health," Roughead said.
"I understand that the drugs that we need to use are very good and the percentages are very good, so we just head in there and get the treatment.
"I'm still going to be the same old me but just unfortunately I just can't play.
"I've got red hair and fair skin... if everyone can get checked that's a good sign."
WHAT IS IMMUNOTHERAPY?

The Cancer Australia website says the following:

Immunotherapy (sometimes called biologic therapy) is a treament that uses certain parts of a person's immune system (a collection of organs, special cells and substances that help protect from infections and some other diseases) to fight cancer. Immunotherapies are thought to work by slowing the growth and spread of cancer cells, and by helping the immune system destroy existing cancer cells.

Immunotherapy can be given in different ways, including:
orally, as pills (tablets, capsules) or liquid
intravenously (injected into a vein)
topically, as a cream to rub onto skin
intravesically, administered directly into the bladder.
Roughead said he's received fantastic support from everyone in the football community -- from teammates to opposition players, fans and the general public.
"It's not like the weekend where you have to choose one team or the other. Everyone's in your corner for this one, so when you've got 100 percent backing, it means a fair bit."
Hawthorn Football Operations Manager Chris Fagan said Roughead had been really keen to speak on Tuesday so that he and his wife Sarah can move through the process of treatment in a private manner.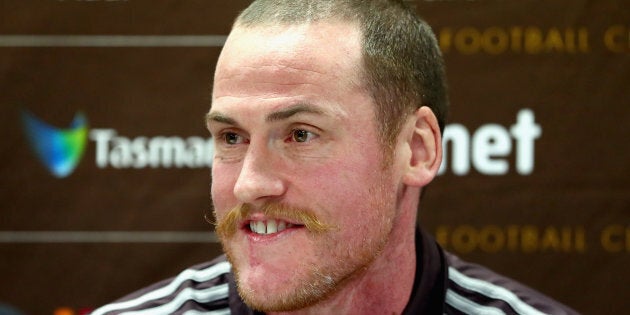 Fagan said that when Roughead first learned his diagnosis, the first thing he said to teammates and club officials was "what I want you blokes to do is to treat me normally".
Roughead echoed those words at Tuesday's press conference, when answering a question about the best way for average fans to treat him.
"Treat me normal," he said.
"At the end of the day, for everyone to treat me normal is what you want. You don't want to be going down the street and have all eyes just look at you. I don't need that when I go to games and the boys don't need that either.
"I'm not feeling down at the moment because I know what I have to do and I know it's going to be a bit of a battle for the next 12 months but at the end of the day I'm still here, I'm still fine, it's not like I'm going anywhere."