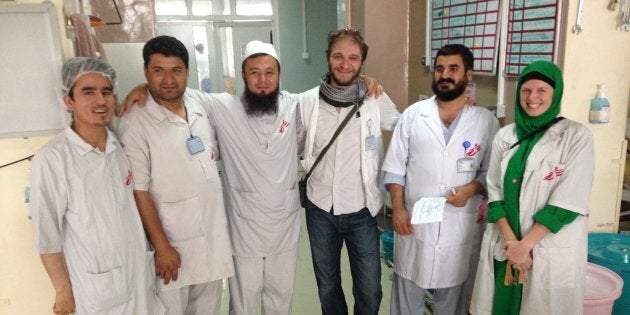 For Australian doctor Kathleen Thomas, it was the moment that filled her with "overwhelming fear".
That instant was on October 3, 2015, when a US airstrike hit the hospital she was working at in Afghanistan, killing 42 people including 14 of Thomas' Medecins Sans Frontieres colleagues.
"It had a very particular ... sort of noise," she says in her first TV interview about the incident, due to air on the ABC on Tuesday night.
"It vibrated in your chest. I waited for this moment of clarity or my life flashing before my eyes, the moment I'd seen on TV shows," Thomas says in the Foreign Correspondent documentary Surgical Strike.
"It lasted for about an hour ... It could potentially constitute as a war crime."
Thomas recently opened up to The Huffington Post about the mental impact of the attack, describing it as a "heavy, pervasive loss".
"It is a feeling of incomprehensible loss and grief that extends down into that bottomless pit," she said at the time.
"Our colleagues didn't die peacefully like in the movies.
"My eyes tear up as the raw grief I feel for my friends and colleagues tugs at my heart."
In addition to the MSF staff, the US attack on the healthcare facility killed 24 patients and 4 caretakers.
Dozens more people, including many patients, were wounded.
The facility was a fully functioning hospital at the time of the horrific incident.
MSF has repeatedly called for an independent probe but the group says its request has so far been ignored.
"MSF is left with more questions than answers (but) requests for an independent and impartial investigation have so far gone unanswered," the organisation said in a statement.
Foreign Correspondent: Surgical Strike airs on Tuesday at 9.30pm on ABC and on ABC iview.