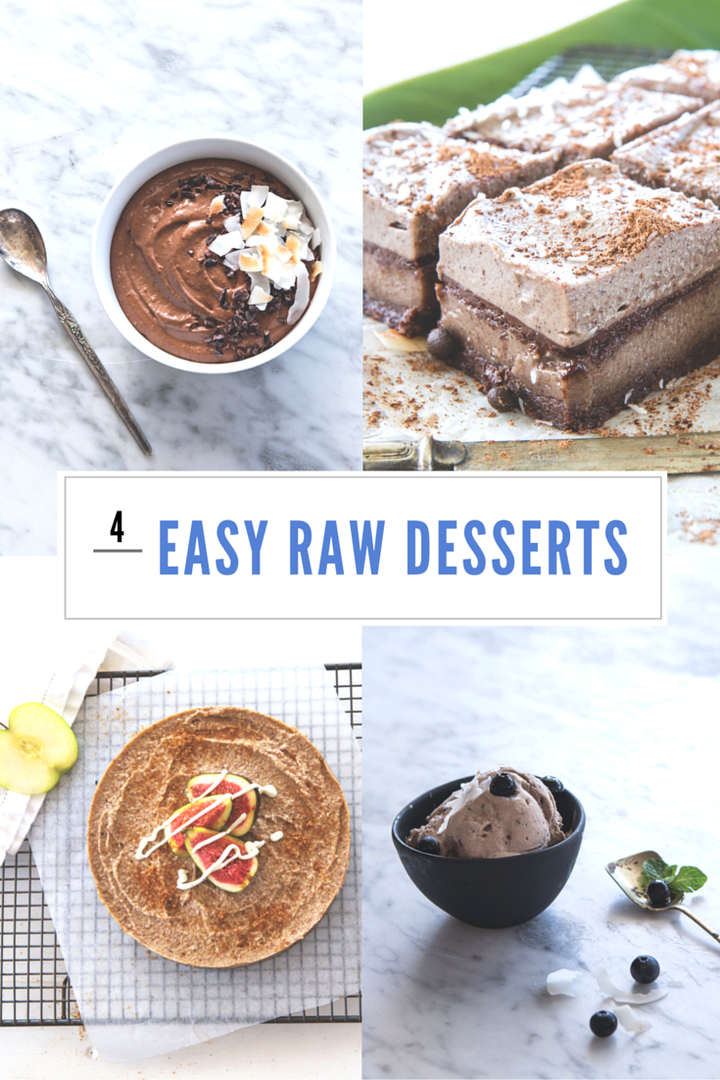 Raw desserts are a bit of enigma. How can something made from nuts and dried fruit taste so damn rich, sweet and delicious?
For this reason, raw desserts are perfect for when you're in the mood for something sweet but don't want to inhale an entire reduced-to-clear mud cake.
But if you don't have a spare $100 to spend on a slice slither of raw cake, you will be happy to know you can make your own raw treats at home -- and it's easy.
From apple pie to chocolate mousse, these raw recipes from The Healthy Coconut are healthy spins on your favourite dessert classics. All you need now is a group of friends to eat it with (or, a quiet night in on your own, let's be real).
Chocolate mousse
Traditionally made with cream, white sugar and eggs, this raw version instead uses avocado and cashews for creaminess, coconut nectar for sweetness and cacao powder for that rich chocolate flavour we all know and love.
3 ripe avocados
½ cup raw cashews
½ cup coconut oil
½ cup cacao powder
½ cup coconut nectar
¼ tsp cinnamon powder
1 tsp vanilla essence
Pinch of pink salt
Cacao nibs to garnish
1-2 Tbsp coconut oil
½ cup coconut flakes
1. Add all chocolate mousse ingredients to the blender. Start at a low speed and gradually increase until all ingredients have become smooth and creamy. Use the tamper to assist and add a little water if required to achieve the desired consistency.
2. Refrigerate for two hours before serving. This will create a light and fluffy chocolate mousse consistency.
3. For the toasted coconut flakes, add the coconut oil to the saucepan over a medium heat. Add the coconut flakes and toss for 1-2 minutes, or until golden brown.
4. Allow the coconut flakes to cool before serving. Serve the chocolate mousse with cacao nibs and toasted coconut flakes on top.
Notes: You can also replace the avocado with fresh or frozen coconut meat for a delicious and creamy choc coconut mousse.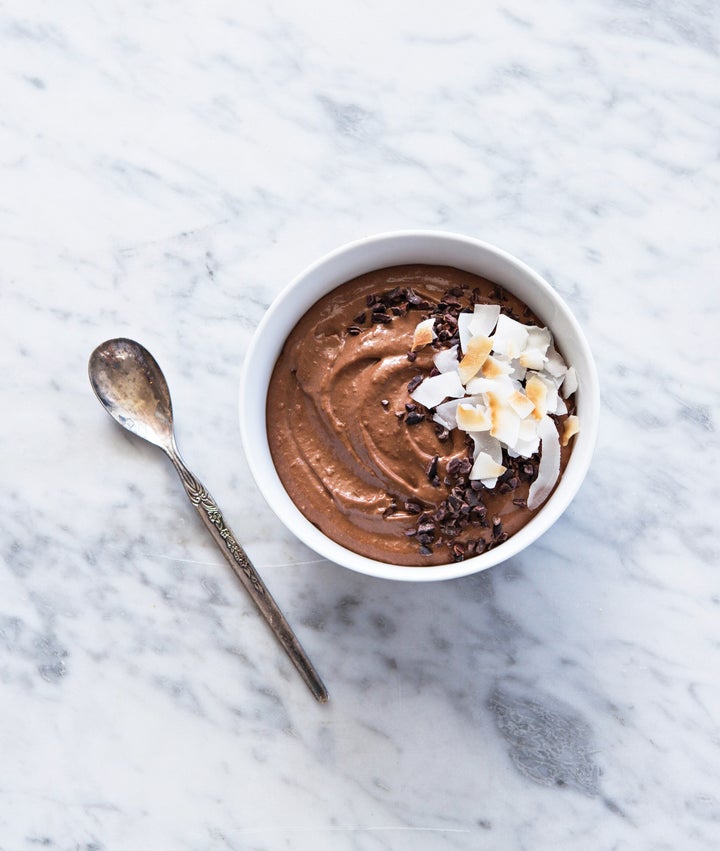 Mocha magic bites
Coffee and chocolate is a classic combo. The richness of the chocolate with the boldness of coffee is what makes this pairing magical, and this raw alternative has three layers of just that. The first layer is a chewy chocolate base, topped with a cashew coffee cream, followed by a rich chocolate sauce and finished with another layer of coffee cream. *swoon*
Makes approximately 15 square bites.
1 cup pecans
3 Tbsp raw cacao powder
8 Medjool dates
Pinch of pink salt
8 cups raw cashews, soaked
1 tsp vanilla essence
1 ⅓ cup coconut oil, melted
1 cup coconut nectar
½ tsp salt
1 ⅓ cup very strong, brewed organic coffee
1 cup cacao nibs
½ cup cacao powder
½ cup coconut oil, melted
¼ cup coconut nectar
½ tsp vanilla essence
Pinch of pink salt
1. To make the base, blend the pecans and cacao powder in a food processor, process until a fine flour forms, then add the Medjool dates and salt, and blend again until a sticky dough forms.
2. Press the mixture into a baking tray lined with a piece of waxed baking paper. Set aside in the fridge.
3. To make the coffee vanilla cream, blend all ingredients together. Pour half of the coffee vanilla cream over the top of the base and refrigerate the remaining half of the cream.
4. Blend all the ingredients for the chocolate sauce. Drizzle the chocolate sauce over the top of the coffee vanilla cream, place in freezer and allow to set for one hour.
5. Once the chocolate sauce has set, place another layer of the remaining coffee vanilla cream over the top of the chocolate topping layer. Return to the freezer for another 2-3 hours.
6. Remove from the freezer and slice into bite-size pieces.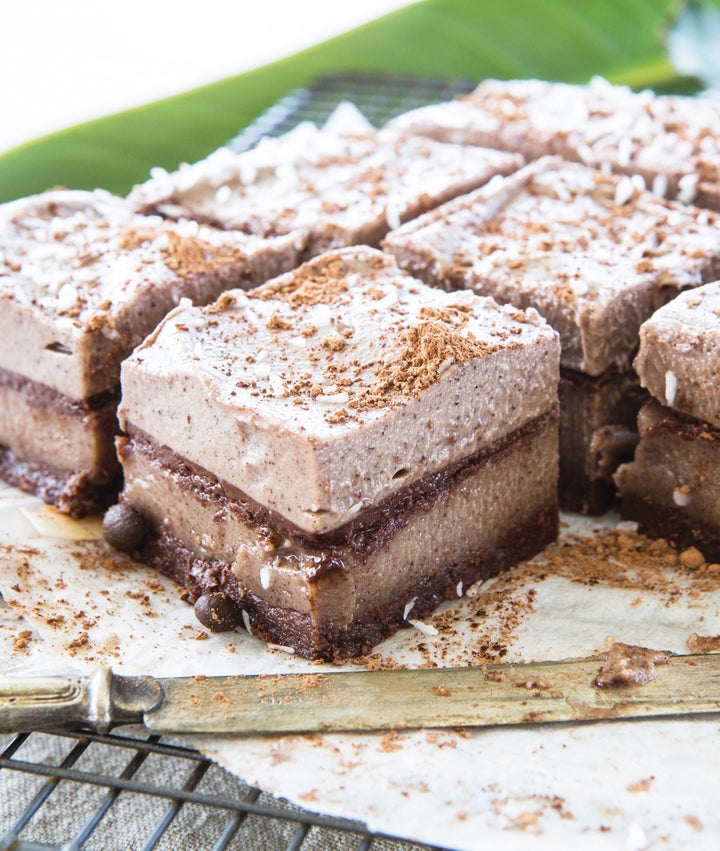 Acai berry coconut ice cream
Made with frozen bananas, berries and coconut milk, this ice cream is a delicious alternative for those who are lactose intolerant or dairy-free. It only contains a handful of ingredients and would go splendidly with the other raw desserts.
Freeze: 3-4 hours (overnight is best)
4 cups coconut milk
¼ cup coconut sugar
2 cups frozen acai pulp (unsweetened)
1 large banana
1 cup organic frozen blueberries, washed and drained
2 Tbsp coconut oil
1. Combine all ingredients in a blender and process until smooth. Transfer contents of blender to an airtight container and store in your freezer, until solid. Overnight usually works best.
2. Remove from the freezer and allow to thaw for 5-10 minutes before serving.
3. Top with some fresh berries, crushed nuts and coconut flakes. For added sweetness you can also drizzle some coconut nectar on top of your ice cream. Keeps in the freezer for up to three weeks.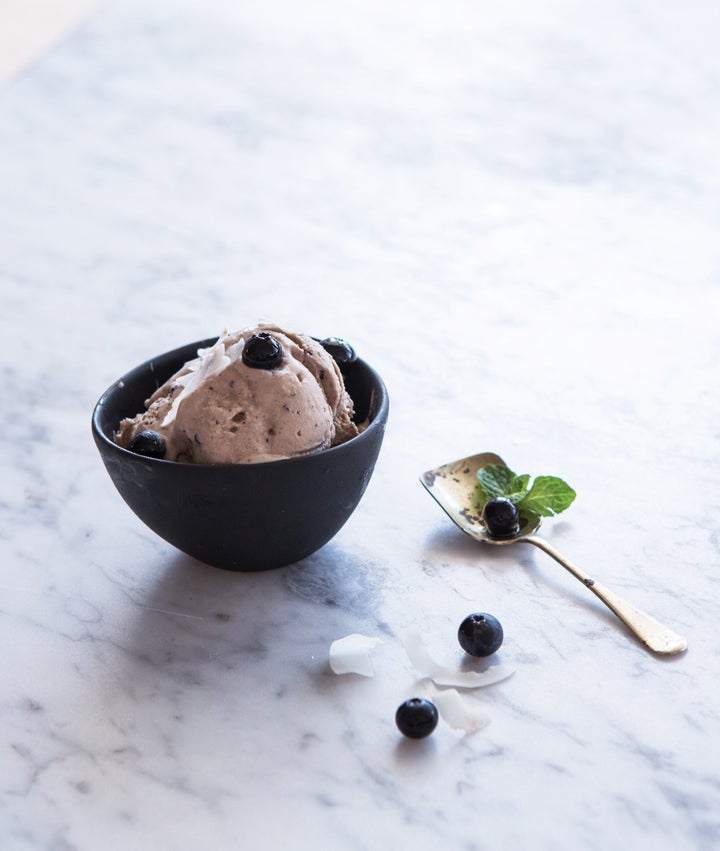 Raw apple pie with coconut cream
There's something special about apple pie. Maybe it's the fragrant mix of spices, or that eating it makes you feel like a kid at your grandma's house again. Either way, apple pie is delicious. This alternative is full apples, cinnamon and pecans -- except it's completely raw. If you secretly love cold apple pie this recipe is for you.
½ cup pecan nuts, soaked
½ cup walnuts
¼ cup dark raisins
½ cup dried brown figs
2 Tbsp coconut oil
Pinch of pink salt
Pinch of nutmeg
2 whole apples, peeled and quartered
¼ cup brown figs, chopped
¼ cup pecan nuts, chopped
½ tsp cinnamon powder
½ tsp coconut nectar
¼ cup coconut oil
Pinch of pink salt
1 Tbsp flaxseed powder, ground
1 Tbsp coconut flakes
1. Process all crust ingredients in a food processor until almost smooth but still a little chunky. Then press into an 18cm round pie tray and refrigerate.
2. Combine all filling ingredients in a blender until smooth. Pour over the crust. Decorate with figs, walnuts and coconut flakes.
3. Refrigerate for at least two hours before serving.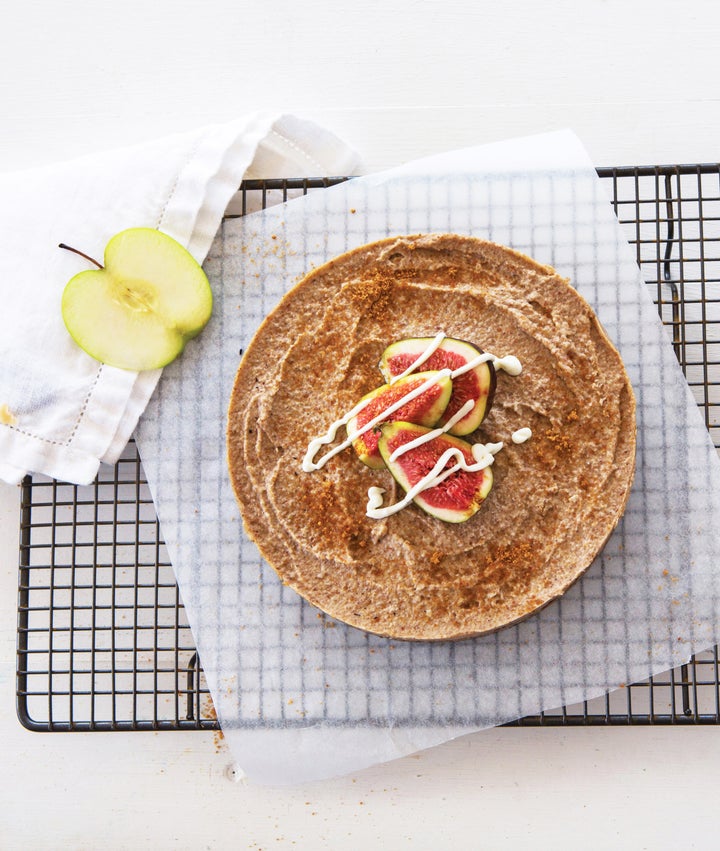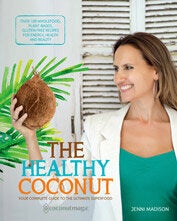 Extracted from The Healthy Coconut (Rockpool Publishing $34.99) by Jenni Madison, now available at all good bookstores and online