If Arianna Huffington is on a mission to teach the world to sleep, her sister, Agapi Stassinopoulos is on a mission to teach the world about romance. Not the romance you hear in love ballads though -- no, a different kind -- the kind you have with yourself.
As guest speaker at the Business Chicks breakfast at Sydney's Hilton Hotel on Tuesday morning, Stassinopoulos, the author of Unbinding The Heartand a "Thrive" advocate herself, began the address by launching into dance to Pharrell's "Happy", encouraging the room of more than 400 women (now her new best friends) to bust a move with her.
Stassinopoulos believes movement is key to letting go of anxious thoughts and like her sister, is here to get you to bed earlier, rid the mind of stress through meditation and above all, teach you to reconnect with yourself.
"I was watching CNN last night and it was terrible. Refugees were drowning, there was controversy between England and the EU and the entire bulletin was all bad news," Stassinopoulos said.
"Well my friends, the world needs positive energy. Do not give in to the luxury of negative thoughts, because in each one of you is a goldmine."
The story of Arianna Huffington, the founder of The Huffington Post, is widely known; raised by her single mother, she grew up in a one-bedroom apartment with her sister in Athens. At 16 she moved to England to study economics at Cambridge before becoming a journalist.
She authored best-selling book, Thrive, following a particularly trying period after she collapsed at home in 2007 from exhaustion. And more recently, she embarked on a one-woman crusade to make sleep sexy again with her book, The Sleep Revolution.
Her sister Stassinopoulos has been less in the spotlight but believes in the very same teachings (many of which came from their mother, Elli Stassinopoulos) and lives with Huffington in the U.S.
Together, they make a powerful team spreading the "Thrive" message of redefining success beyond money and power, with sleep being a key player in that equation.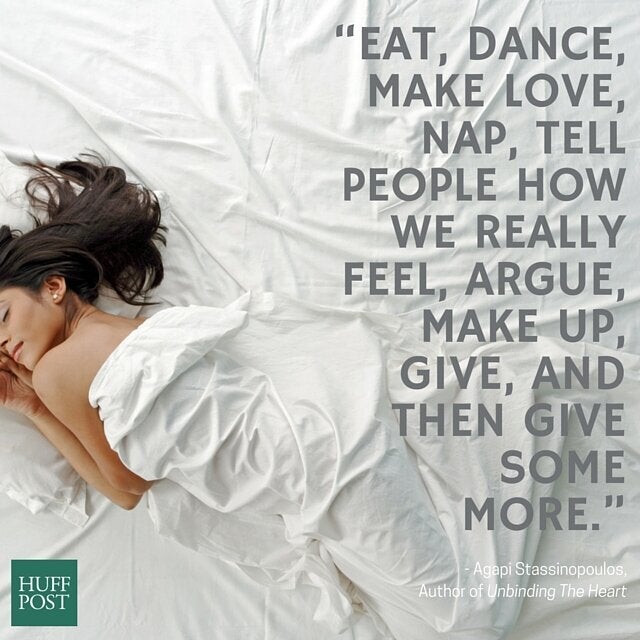 1. Don't fit in? That's a good thing
As a graduate of the Royal Academy of Dramatic Arts, becoming an actress was all Stassinopoulous had ever dreamed of. "But things weren't working out. I was living in Hollywood and I didn't fit in," Stassinopoulous said. However, not fitting in turned out to be a good thing because it led her to studying her Masters in psychology. And with the wisdom from her mother ("honey, failure is part of success, don't ever worry about failing") Stassinopoulous went on to write her first book. In the words of Dr Seuss: "Why fit in when you were born to stand out?"
2. Good energy comes to the calm
In order to walk into a room feeling 10 feet tall, it requires a calm mind. "Go beyond your monkey mind, you are deeper than your to-do list," Stassinopoulous said. In short, the calmer you are, the more good energy you will attract. "Resentment is like drinking poison for yourself, but wanting the other person to die," Stassinopoulous said.
3. Reconnect with the romance of sleep
Google founder, Larry Page, didn't come up with his basic search engine idea during hours of think tank meetings. It came to him in a dream. "We need to reconnect with the romance of sleep. Remove your devices from your bedroom. Cuddle anything -- but not your iPhone -- find a teddy bear instead," Stassinopoulous said.
4. This is your precious life
"When have you been to a memorial service where the priest said 'He always finished his emails before he went to sleep,'" Stassinopoulous said. Think about where your "portable paradise" is and go there through meditation every day. "Meditation is not about slowing down, it's about going deeper," Stassinopoulous said.