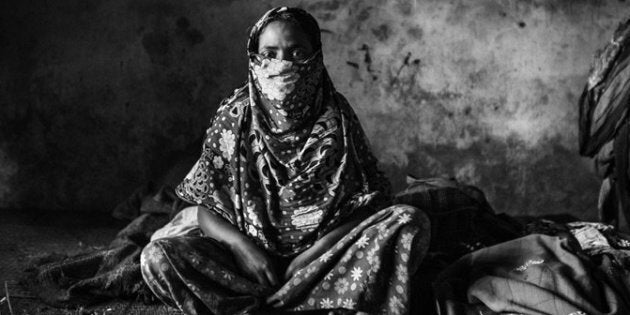 Nearly 46 million men, women and children across 167 countries are subject to some form of modern-day slavery, according to the 2016 Global Slavery Index (GSI).
While over half of slaves worldwide are in just five countries -- India, China, Pakistan, Bangladesh and Uzbekistan -- wealthy developed nations are not exempt. The GSI estimates that Australia is home to 4,300 modern day slaves.
These include those enslaved through international human trafficking, forced labour, debt bondage, forced or servile marriage and commercial sexual exploitation.
The Walk Free Foundation defines modern slavery as, "situations of exploitation that a person cannot refuse or leave because of threats, violence, coercion, abuse of power or deception. For example their passport may be taken away if they are in a foreign country, they may be threatened with violence, or their family may be threatened."
India has 18.3 million people living in slavery. The Index found the government's response is strengthening rapidly since the previous findings.
Fiona David, the Executive Director of Global Research at the Walk Free Foundation, said the GSI found the prevalence of modern slavery to be a much bigger problem than what was previously estimated.
"It's not that slavery has gone up since we undertook our first measure, it's really just that our measures have gotten better," David, who led research for the Index, said.
"The GSI is the best measure we have of how big this problem is of modern-day slavery country by country."
The Index found North Korea to be the number one country facing modern slavery, with an estimated 4.37 percent of its population currently enslaved. It is also the country with the weakest government response to taking action to beat the global epidemic.
According to the chairman and co-founder of the Walk Free Foundation, Andrew Forrest, if slavery can't be measured, it can't be managed.
"You can see by these enormous numbers that slavery has not been managed," he said.
"This is the single biggest non-military, human disaster in history... This a human condition... This is not something that is thrust upon us by nature. This is a choice of man, so the choice of man can stop it. "
Forrest, who is also a billionaire mining magnate, also emphasised the key role that business plays in eradicating modern slavery.
"Businesses that don't actively look for forced labour within their supply chains are standing on a burning platform. Business leaders who refuse to look into the realities of their own supply chains are misguided and irresponsible."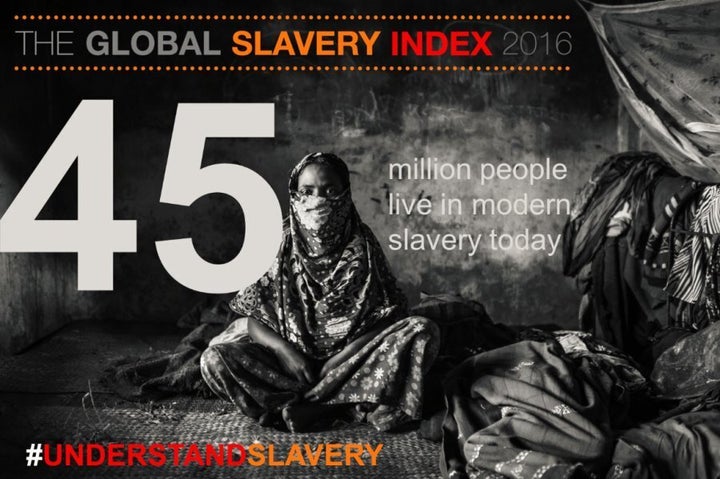 Fellow-founder and Forrest's daughter, Grace, believes consumer must also play a part.
"We as consumers should be aware of where our tinned tuna is coming from and the coffee we buy every morning or the clothes we put on our backs because it really shouldn't have a human cost," she said.
Forrest said it's also important for governments to understand the prevalence of the atrocity of modern slavery in their own country as well as how they can work with other countries to combat the crime.
"We really want the GSI to be a positive tool for governments to locate issues of slavery on many levels within their countries and businesses to be able to do so in their supply chains."
Australia is not exempt from modern slavery, with an estimated 4,300 enslaved people living in the country.
"The GSI tells us that there is big gap between the number of victims that have been identified in Australia -- 273 from 2004-2015 -- and the number of victims still out there, 4,300 according to the 2016 GSI," Jenny Stanger, National Manager at The Freedom Partnership - to End Modern Slavery, told The Huffington Post Australia.
Stanger said Australia needs to accept it has a modern slavery problem and adequately resource a proactive strategy.
She noted that Australia's anti-slavery body - the National Action Plan to Combat People Trafficking and Slavery - is funded via existing budgets which are under-resourced or being cut.
"We need to consider how other migration and trade policies undermine our anti-slavery efforts in relation to temporary workers and their ability to access justice and support when they are abused," Stanger said.
The Index found Australia had the leading government response to modern slavery in the Asia Pacific Region and is in the top 10 countries for government responses in the world.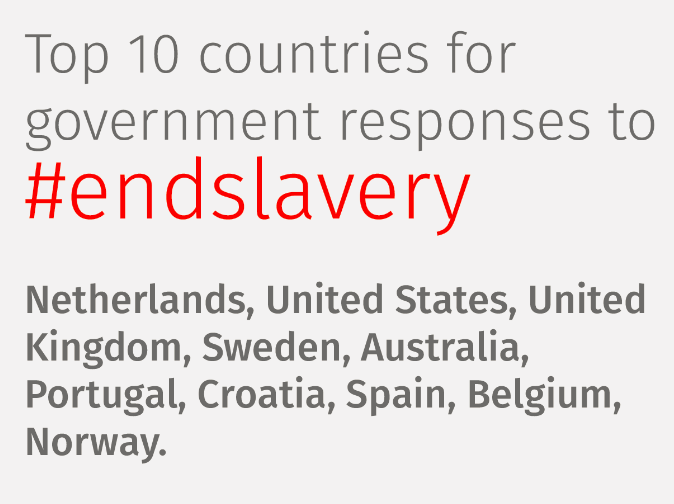 However, Stanger wants the Government to do more, including appointing an Independent Commissioner to monitor, evaluate and inform Australia's response to the global issue.
"Domestic workers continue to be enslaved in diplomatic households... Identification of early and forced marriage cases is happening but there is very limited capacity to deliver the right support to people under the age of 18," Stanger said.
The 2016 Index gives the Australian government's response to modern slavery a triple-B credit rating, but Stanger believes a triple-A rating can be reached.
"We need to do more to address the underlying causes of slavery, reduce vulnerability of temporary workers, improve screening processes etc. We can achieve triple-A if we have the resources to do so," she said.