A tax on sugary drinks and a gradual ban on junk food advertising would be two welcomed election promises, according to new research.
The Australian Child Health Poll, released on Tuesday, revealed 79 percent of Australians would support a gradual ban on junk food advertising while 61 percent would support a tax on sugary drinks.
The Royal Children's Hospital in Melbourne surveyed more than 2000 Australians in the poll, revealing 88 percent of people also want compulsory daily physical activity for children in primary schools.
"Australians recognise obesity is huge problem and growing problem, with one in four children overweight or obese," Dr Anthea Rhodes, a paediatrician and Director of the poll, told The Huffington Post Australia.
"Obesity in children and young people creates a huge cost to the nation, which we are seeing already across our health services."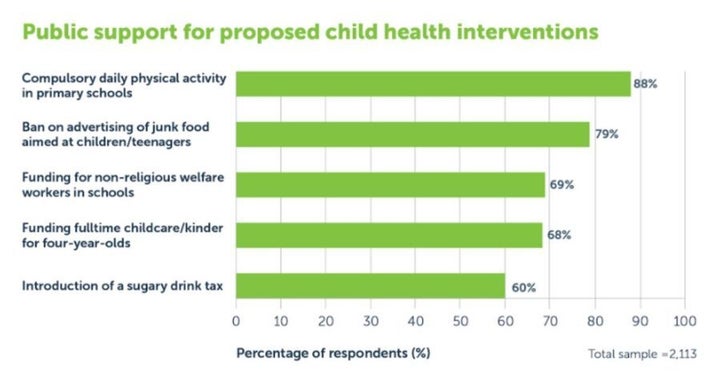 On Sunday Health Minister Sussan Ley announced an additional $60 million into the Coalition's Sporting Schools Programme which will be extended to years seven and eight to assist Australian children transitioning from primary to high school.
The programme was launched in July last year, and now has about 850,000 primary school children involved in structured sporting activities.
However the Coalition will not support a tax on sugary drinks calling it "a lazy solution to a complex problem".
"Successive governments have worked hard to educate and encourage Australians to adopt healthy behaviours and make healthy choices rather than to legislate," a spokesperson for Fiona Nash, Minister for Rural Health, told HuffPost Australia.
Coalition programs include the Health Star Rating system which guides consumers purchasing packaged foods, a new Government Healthy Weight website and -- within the Sporting Schools Programme -- a campaign promoting physical activity for young girls.
Dr Rhodes said the responsibility to tackle childhood obesity extends beyond the role of the parent.
"It extends into schools and extends into the wider community, which is why the government has a responsibility in having a wider role to enable positive choices," Dr Rhodes said.
"Parents try to make good decisions, but with high calorie and low nutritional food and drink advertised, it doesn't make it easier for them to make good choices. Parents are asking for help at a public health level."
More than 47 percent of Australians said no political party leader represented their views on the health care of children, with 20 percent of those surveyed choosing Malcolm Turnbull. Seventeen percent said Bill Shorten represented their views on childhood wellbeing.
The ALP have been approached for comment about supporting a tax on sugary drinks and gradual ban on junk food advertisements.