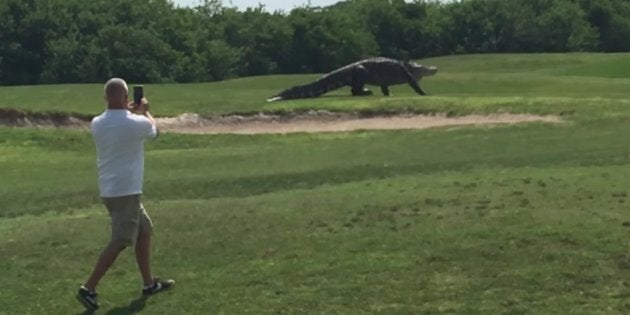 The alligator, estimated to be about 15 feet long, looked so much like something from a "Jurassic Park" film that someone added the footage to a scene from the first movie:
Helms told Golf.com that the creature could only move about 100 feet at a time before stopping to rest. He also said gators on golf courses generally leave people alone.
"It is very common to see alligators on a Florida golf course and they're typically not a threat to golfers," Helms told the website. "Wild alligators are shy and will not bother you unless you provoke it or corner it so it feels threatened."
The gator has become something of a mascot for the course.
"People have heard that he is out here and that is all they want to see so they will bring spectators to ride so somebody can get a picture," Wendy Schofield, a clerk at the pro shop, told NBC station News 3 in Las Vegas. "He doesn't bother anybody and they don't bother him."
The gator even has its own page on Snopes, the myth-busting website, which confirmed that the footage was indeed real.
(h/t Vice)