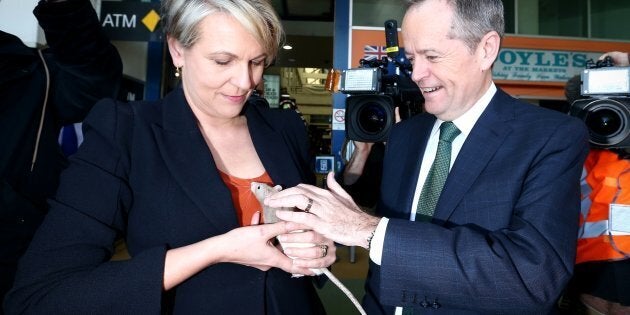 The hottest trend on the election campaign trail isn't Snapchat or selfies, Instagram or high-vis vests.
It's the humble rat, apparently; and Tanya Plibersek's new pet.
On Thursday, opposition leader Bill Shorten and his deputy took a stroll through a fish market in Plibersek's electorate of Sydney, when they were greeted with a rodent friend.
Reporters at the scene said an unknown woman had rolled up and thrust a plastic box containing the rat into the path of Shorten and Plibersek, with the deputy taking the hit for her leader and petting the rodent herself. Shorten satisfied himself with a tentative brushing of the rat with an outstretched finger. The rat's appearance was later said to be a stunt by The Chaser, with claims the satire show's crew simply abandoned the rat after the cameras switched off.
Plibersek, far from simply humouring the rat for the cameras, said she would take the pet home and run a competition online to name it.
Bizarrely, it wasn't the first rat-related happening of the campaign. On Monday, the Prime Minister was out in western Sydney, taking a walk through a shopping centre with the media pack in tow. He came across a local, who had an unusual pet resting in the hood of his jumper.
The pet's name was Splinter. It was a rat.
Turnbull tentatively reached one finger-tip into the man's hood, giving the rat a few light strokes as the cameras flashed and journalists blessed their good luck that they were able to witness (and photograph, and Tweet) such a bizarre moment.
Will Richard Di Natale hold a rat? Stay tuned.