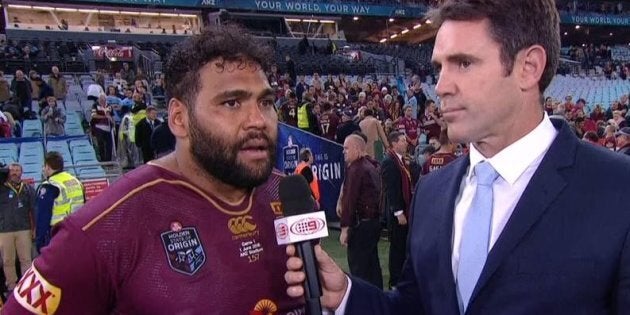 "It was a bit like losing your virginity -- it wasn't very nice but we got the job done."
This was the colourful phrase with which Queensland forward Sam Thaiday chose to answer a stock standard question in a post-match interview after State of Origin 1 at ANZ Stadium. The encyclopaedia of weird now has a new entry. The encyclopaedia of tasteless likewise.
The strange response was in answer to a completely innocuous question posed by Channel Nine's Brad Fittler, who asked Thaiday how the game was, which Queensland won 6-4.
Straight-faced, Thaiday said what he said.
"I don't know if I've got a second question," Fittler retorted. The TV audience wasn't sure if they wanted him to ask one, fearful of what might come next.
Reaction to the comment on social media was a mixture of humour and disgust.
The aftermath of Origin One now has a slightly icky taste.
Rugby league's not very nice sometimes either, but when it comes to outbreaks of questionable behaviour, it just about always gets the job done.