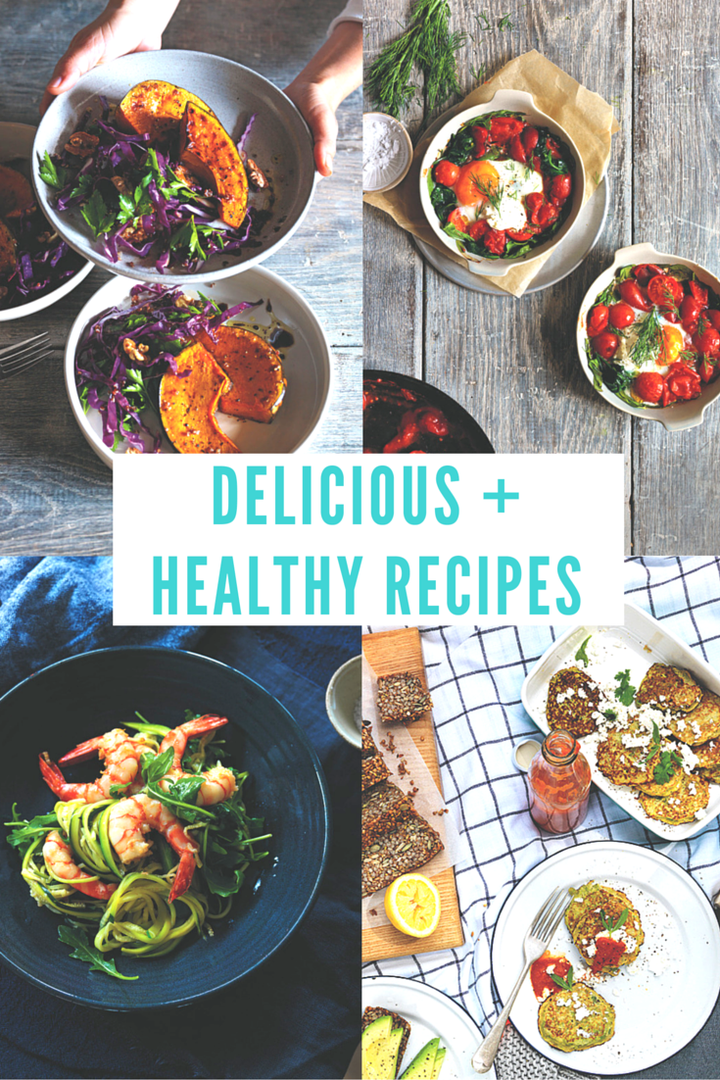 If you are like much of the Australian population who was hiding away in their houses due to the wild and wet weather over the weekend, you probably indulged in 15 too many cookies and frozen apple pies because "that was all I had left".
If you didn't stuff your face, kudos to you and please share your methods of self-control, thanks.
In any case, this week is a great time to reset and make some nutritious, easy and delicious meals. These recipes from Seasons To Share by qualified nutritionist Jacqueline Alwill are warming, comforting and versatile -- making them perfect for a cold morning, noon or night.
Baked eggs with spinach and labneh
"Baked eggs were introduced to me by one of my gorgeous friends and I have never looked back," Alwill said.
"My top tip when cooking this dish is that if the eggs still look slightly undercooked on top when you remove them from the oven, that's a good thing -- they'll keep cooking in the hot tomatoes and will be perfect by the time you serve them."
1 teaspoon coconut oil, plus extra for greasing
200g tinned (or fresh) roma tomatoes, roughly chopped
2 handfuls of cherry tomatoes, halved
50g (1 cup firmly packed) baby spinach leaves
4 eggs
2 tablespoons labneh (goat's cheese or feta cheese also work well)
4 small sprigs of dill, or other soft herb of choice
1. Preheat the oven to 200°C (400°F). Warm a small frying pan over a medium heat and melt the coconut oil in it. Add all of the tomatoes and cook for two minutes, then remove from the heat.
2. Lightly grease four 250ml (1 cup) capacity ramekins with coconut oil. Divide the baby spinach and sautéed tomatoes evenly between the ramekins, then crack an egg into each nest of spinach and tomatoes. Place a dollop of labneh over each egg and top with a sprig of dill, then place the ramekins on a baking tray (baking sheet) and bake in the oven for 15-20 minutes. Once cooked, remove from the oven and let stand for five minutes before serving.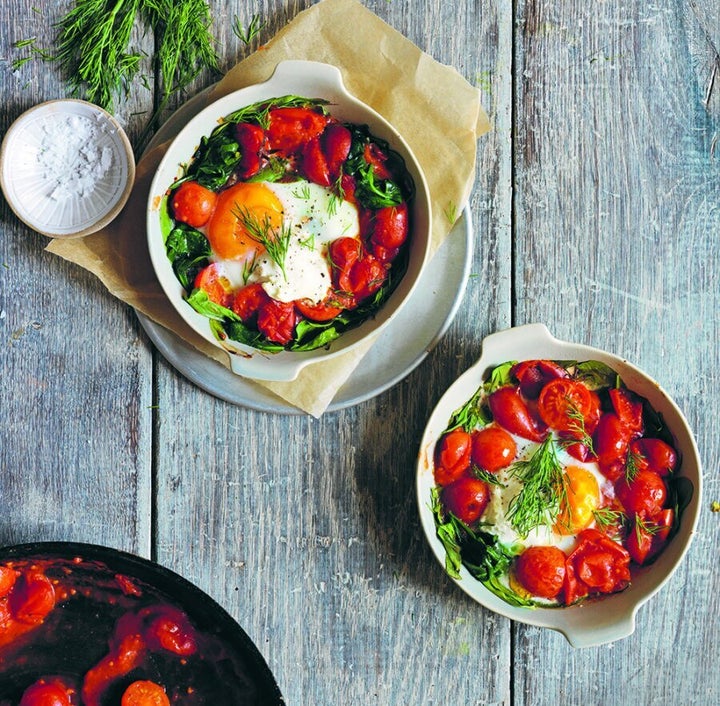 Green pea pancakes
"One of my favourite Bondi haunts, Porch and Parlour, make these pancakes and they are the best, if not the only, green pea pancakes around. I love peas, always have and always will, so it's probably not surprising that these have become an essential item when I'm building the ultimate breakfast menu," Alwill said.
"Peas are sweet, juicy and a colourful delight -- full of anti-inflammatory and antioxidant properties. These pancakes are also great with a poached or boiled egg if you want a great brekky at home, too."
280g (2 cups) frozen peas, blanched
a red onion, roughly chopped
juice and finely grated zest of a lime
3 tablespoons coconut flour
1 tablespoon coconut oil, plus extra for frying
5 eggs, beaten
sea salt and freshly ground black pepper, to taste
100g feta cheese (optional)
a small handful of coriander (cilantro) leaves
a small handful of basil leaves
1 tablespoon finely chopped dill
lemon wedges
125 ml (½ cup) smoky tomato sauce (recipe opposite page)
1. Warm the oven to 150°C (300°F). Place 250g (1¾ cups) of the peas and the rest of the pancake ingredients in a food processor and blitz to create a pea batter. Transfer to a bowl, then stir through the remaining peas.
2. Warm a large frying pan on a medium-low heat and melt ½ a teaspoon of coconut oil at a time to cook the pancakes. I like to make small pancakes, which generally hold together best. To make these, drop one heaped tablespoon of the pea batter into the pan and press down lightly so the pancakes remain about 1-1.5 cm thick.
4. Cook the pancakes for 3-4 minutes on each side, or until golden, being careful not to flip them too soon on the first side as they may fall apart.
5. Once cooked, place on a platter, cover with foil and keep them warm in the oven while you cook the rest. Pack these up in a little container to carry to the beach and keep the sauce separate.
6. Once you're there, simply sprinkle with feta (if using), herbs and a squeeze of lemon, then serve with some smoky tomato sauce and eat.
Smoky tomato sauce
1 teaspoon coconut oil
a red onion, finely diced
400g tomatoes, blanched, seeds removed, and diced, or 1 x 400g tin of organic chopped tomatoes
1 teaspoon smoked paprika
sea salt and freshly ground black pepper
1 tablespoon maple syrup
1. In a small saucepan, melt the coconut oil over a low heat then add the onion and sauté for approximately four minutes. Add the tomatoes, smoked paprika and a good pinch of salt and pepper and simmer for 10 minutes, or until the sauce is slightly reduced.
2. Add the maple syrup and continue to cook for a further minute. Remove from the heat and allow to cool for a few minutes, then transfer to a food processor and blitz to create a smooth sauce. This can be served cold or warmed up a little. Store in the fridge for up to one week.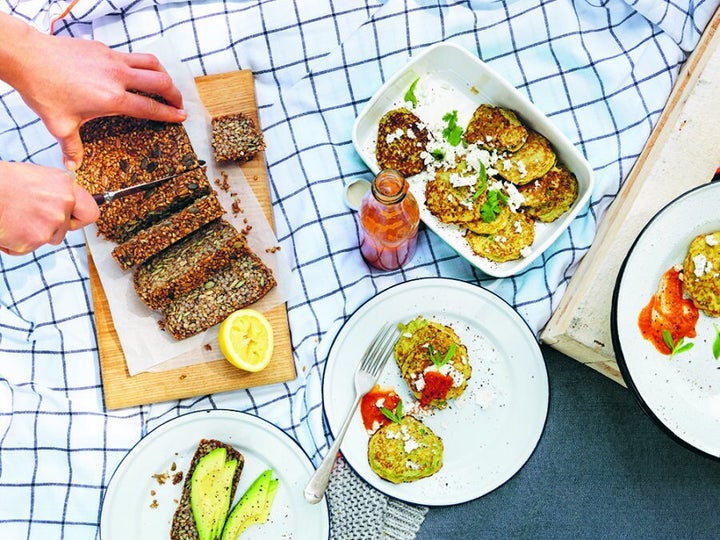 Warm pumpkin, quinoa and cabbage salad
This warming, filling salad proves that a healthy salad doesn't have to be all lettuce and no flavour. The sweet pumpkin lends itself perfectly to the nutty quinoa and peppery cabbage, with a cinnamon, maple and balsamic dressing rounding the whole dish out.
750g pumpkin, skin on, seeds removed, sliced into 8 pieces
1 tablespoon grapeseed oil
a good pinch of sea salt
140g cooked red quinoa
a small handful of flat-leaf (Italian) parsley leaves
130g red cabbage, finely shredded
60g (½ cup) walnuts, toasted
2 tablespoons extra virgin olive oil
1 teaspoon balsamic vinegar
a pinch of ground cinnamon
1 teaspoon maple syrup (optional)
1. Preheat the oven to 200°C (400°F) and line a large baking tray (baking sheet) with baking paper.
2. Toss the pumpkin slices in the oil and salt and arrange on the tray so they lay as flat as possible -- this helps keep them whole for presentation. Bake in the oven for 20 minutes, or until golden.
3. Once cooked, arrange the pumpkin in layers on a large serving platter with the quinoa, parsley, cabbage and walnuts.
4. Combine all of the dressing ingredients together, then drizzle over the salad. Serve while warm (although this salad is also delicious served cold).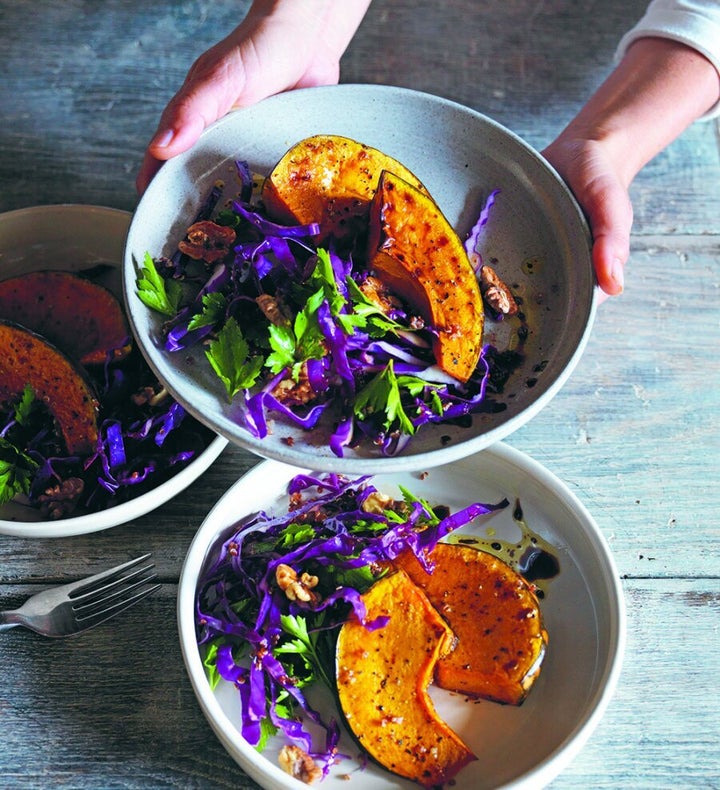 Zucchini pasta with prawns, chilli and lemon
"Zucchini pasta, also known as 'zoodles' or 'spirals', has become one of the best alternatives to wheat-based pasta due to the neutral flavour of the zucchini and its ability to hold its shape and soak up delicious flavours," Alwill said.
"There are plenty of tools around to make these zoodles, but you don't need fancy equipment or skill of any sort to get started. Simply use a vegetable peeler to make long thin strips of zucchini, then either keep them wide or stack them and cut lengthways into thinner strips."
2 large zucchini
3 tablespoons olive oil
6 raw king prawns, peeled and deveined (tails left on)
1 garlic clove, finely chopped
1 teaspoon finely grated lemon zest
teaspoon finely chopped red bird's eye chilli (seeds removed if you don't want the pasta too spicy)
2 tablespoons lemon juice
a small handful of rocket (arugula) leaves
60g freshly grated parmesan cheese (optional)
sea salt and freshly ground black pepper
1. To make the zucchini pasta, either use a spiraliser or follow the instructions in the introduction above. I prefer my noodles slightly thinner as I find they catch the flavours a bit better, but go with what you feel most comfortable with to start and progress to thinner noodles as your confidence improves. If you want to make these earlier in the day, they'll keep well in the fridge until you're ready to cook them.
2. Bring a large saucepan of water to the boil. Cook the zucchini noodles for one minute then remove from the pan and drain well.
3. Heat the olive oil in a large frying pan over a medium heat. Then add the prawns, garlic, lemon zest and chilli and cook, keeping everything moving around the pan, until the prawns just start to change colour. Add the drained zucchini noodles and toss well to combine. Gently stir through the lemon juice, rocket, grated parmesan (if using), and a good pinch of salt and pepper, then serve immediately.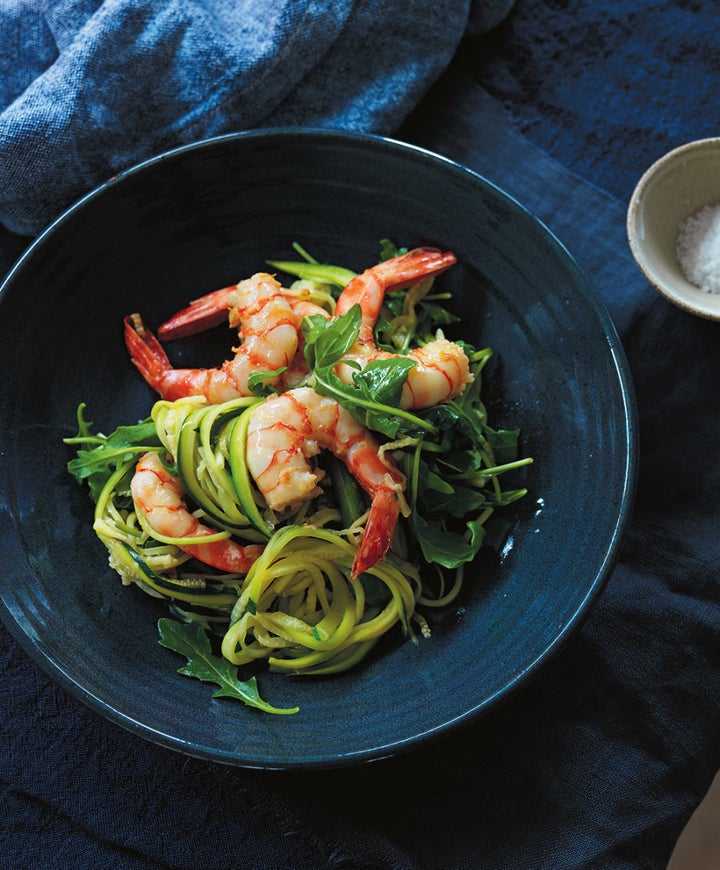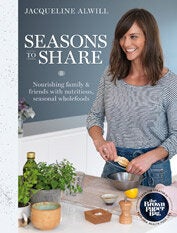 Recipes and Images from Seasons to Share by Jacqueline Allwill (Murdoch Books)