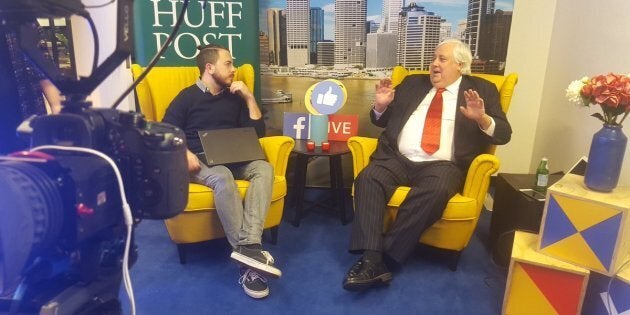 Businessman, former Fairfax MP and Palmer United Party leader Clive Palmer sat down with The Huffington Post Australia for an unfiltered, half-hour interview on Facebook Live on Monday, and he didn't hold back.
According to Clive, the parliament is a "cesspool of self-interest" and full of "intellectual pygmies", he was the "lone wolf" of the chamber, Australia is currently sitting through a "boring" election campaign, the media feeds you "bullshit" and Bill Shorten is a "misogynist".
He also gave an update on Queensland Nickel, saying "half" the sacked workers had received their redundancy entitlements and that the others would receive theirs soon. Palmer's Yabulu refinery was placed into administration, and is in the process of liquidation, after spiralling debts.
There's a lot more, but here is a selection of some of the best moments from the 37-minute chat with Palmer:
On parliament: "There's a lot of intellectual pygmies in parliament. It's good to be able to bring them them out. It's a cesspool of self-interest, most of these people couldn't get a job anywhere else."
On why he's quitting parliament: "I think you can achieve more outside of parliament. As Muhammad Ali said, you don't want to count your days, you want to make your days count. I think I can make my days count."
Was his decision to quit linked to the recent woes at his Queensland Nickel refinery: "Not at all... If you think of the scandals over the years,none of them ever stuck... All the reports you saw, were all manufactured purely for political reasons."
On Queensland Nickel and the hundreds of sacked employees still waiting for their redundancy entitlements: "I can't control the world nickel price, that's a fact of life. It's very sad for those people but what was worse was to see politicians politicise the thing and make some politics out of their misfortune... half the people have got their entitlements already, the other half pretty soon."
On his short life in the House of Representatives: "If you go back to my maiden speech in parliament, I said we [Palmer United Party] only believe in people coming into politics serving for a while then going. I'm not basically a politician. I think parliament should be a place the commmunity serves and reflects what's happening. Once you've done three years in that place, it's worse than three years in Alcatraz."
On his proudest moment in parliament: "I put forward an idea there should be a minimum 40 percent minority gender on each [government] board. Women think differently than men. We've got to value our daughters as much as we value our sons, we've got to send a good message for domestic violence, that all of us matter. I was happy when the Minister Cash, on International Women's Day, announced the government had adopted our policy."
On his best friend in parliament: "Cathy McGowan sat next to me, I thought she was an excellent member who cares for her community, one I could really rely on... [but] nobody wanted to talk to me much, I was the lone wolf."
On the current campaign: "I think it's a boring campaign with little imagination. I think Malcolm Turnbull has promised a lot and delivered nothing. Bill Shorten has promised nothing and delivered a little bit."
On the chances of PUP getting members elected to parliament: "We're hoping to hold the balance of power again. We're going for at least seven senators around Australia. If we get the same vote as last time, there's no reason we shouldn't."
Responding to poll numbers, before he announced his departure, that his vote had fallen into single digits: "It was never single digits. This is just the bullshit you get in the media which is in control of this country."
On allegations Shorten is "misogynist" for his recent comments on childcare: "What he should have said was, men and women are equally responsible for their children and men need to step up and take responsibility for the family, just like a woman does. That's the sort of attitude that leads us to domestic violence, it might be subtle and people might not realise it, but men and women should have equal responsibility for their children."
On Malcolm Turnbull: "A bit of a disappointment, he's abandoned the policies that made everyone like and love him so much... all he's done is follow Tony Abbott's policies. That's whats wrong with politics, people compromise their beliefs for short term gain and that's what's bad for the country."
On the government's plans to cut company tax: "I think that's wrong... [tax cuts] should be for everybody. We can't just favour one part of the community over another... I can't see why companies should pay less tax than individuals."