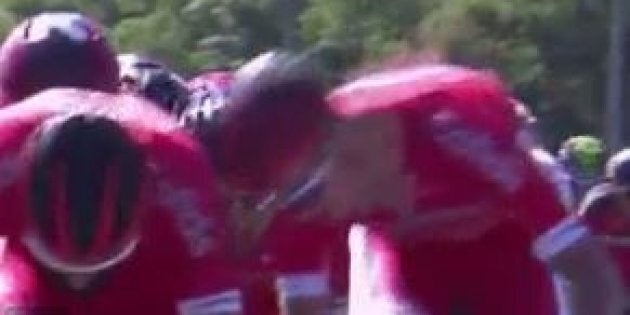 Pelotons can be convivial places, where rival riders share a joke or even a bottle of energy drink before before resuming two-wheeled hostilities. But peletons can also be nasty.
The Critérium du Dauphiné is one of the main European lead-up races to the Tour de France. In the overnight stage between the French Alpine towns of Cluses and Saint-Vulbas, riders got it into their heads that they might get into each other's heads.
Headbutts were the order of the day. Here's a lovely little tête-à-tête between the Russian Katusha team and the French Cofidis team -- who both happen to have the best sprinters in the race in Alexander Kristoff and Nacer Bouhanni.
Here's the aerial view. It's kind of like what your cat does to you when it wants dinner except your cat's not travelling at 60 km/h and wearing lycra.
Make no mistake, this is bad sportsmanship and then some. In fact it's illegal. Aussie rider Mark Renshaw was famously disqualified from the Tour de France in 2010 for headbutting in the last kilometre of a stage. Naughty, naughty.
Curiously, nobody was penalised for the ongoing series of Critérium du Dauphiné headbutts which almost knocked over two-time Tour de France winner Chris Froome. Keep your eyes on the top left of the picture.
Pro riders were decidedly unimpressed, even if judges took no action.
This year's Tour De France runs from July 2 to 24. It should be fascinating to see who ends up at the Tête de la course. That's French (and cycling-ese) for "head of the course", though it's a term which suddenly seems to have a whole new meaning.