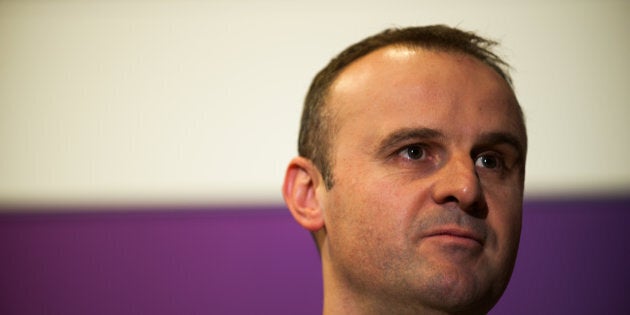 Australia's first domestic violence tax has been introduced by the ACT Government, with Canberra residents to pay an annual $30 household levy to address family violence in the territory following the latest budget announcement.
The Safer Families package announced by Chief Minister Andrew Barr on Tuesday will provide $21.24 million to crisis centres and increased coordination of support services. Barr said it is the biggest government investment made to family violence in the territory's history.
More than $3 million will go towards establishing a team, led by a Coordinator-General for Family Safety, to ensure the coordination of services are effective, with information-sharing a priority. The team will also consult with the Aboriginal and Torres Strait Islander community to ensure services are "culturally appropriate", which is vital when assisting people already in vulnerable states.
Almost $1 million will be dedicated to establishing a men's behaviour change program in the territory, for perpetrators or men at risk of using violence.
The ACT Government is not the first to put family violence at the centrepiece of the budget in the past year, with Victorian Premier Daniel Andrews unveiling a $572 million commitment to addressing family violence in April.
The Victorian Government's spending also focuses on specialist Aboriginal services in addition to coordinating support services and providing specialist training to hospital staff.
The state government also adopted the 227 recommendations from the Royal Commission into Family Violence report which was the first of its kind.
"There will be new measures and a determination to be accountable and a much more connected system where we're sharing information, we're sharing data, we're building evidence and we're making sure that it is truly a system that keeps people safe," Andrews said after the report findings were released.
Both Victoria and ACT governments have shown commitments to a new systematic approach addressing the perpetrators through investment in men's behaviour change programs, and a focus on connecting services to make it easier for victims to gain emotional, psychological and financial support easily.
In October the Federal Government announced $100 million in nationwide funding to address the "epidemic" levels of family violence, which is notably less than a fifth of Victoria's state funding. No funding was provided to crisis services and refuges across the nation which are under the National Partnership on Homelessness Agreement funding.
Community Legal Centres were also neglected in the funding boost, however, in May the Coalition pledged $30 million to frontline legal services assisting victims of family violence.