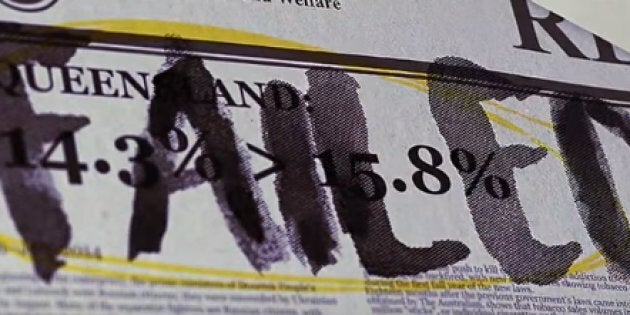 A U.S. lobby group's ad which labels Australia's plain packaging laws a "radical experiment to restrict consumer choice and destroy intellectual property" is being widely mocked - but not for the reason you might expect.
While the claim goes against multiple independent reviews, what has attracted even more ridicule is the ad's laughable voice over.
The ad -- which was posted on Youtube by the Property Rights Alliance last week -- claims Australia's national plain packaging laws introduced in 2012 "undermine the very core of free societies".
The voice over -- which seems to be a poor attempt at an Australian accent -- accuses the government of comparing "ahhrples to oor'ngas". The video also claims that "smoking rates increased following 'ploin pickagings' introduction".
By Tuesday afternoon the clip had been viewed nearly 38,000 times and had been by Youtubers.
One user commented, "That accent is about as authentic and credible as the 'facts' alleged."
Another wrote, "That fake accent is so s***, the Simpsons wouldn't even use it in a parody episode."
While another questioned, "Did Crocodile Dundee have a stroke?"
The Property Rights Alliance video urges viewers to "avoid being misled" and "know the real facts". With that in mind, we've rounded up some facts for you here.
There was in fact a massive decline in smoking rates coinciding with the introduction of plain packaging, with the daily smoking rate dropping from 15.1 per cent to 12.8 per cent from 2010 to 2013.
While smoking was already on the decline before the introduction of the new laws, the Government's post implementation review showed that a quarter of the reduction could be attributed to plain packaging.