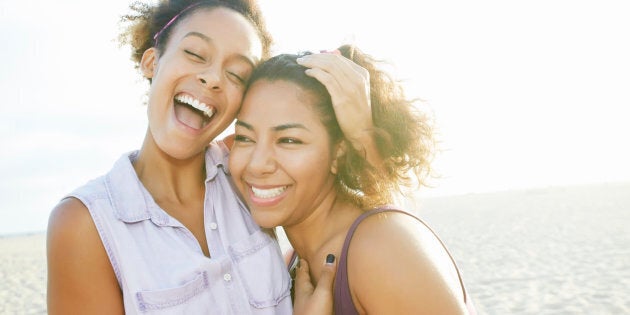 Let's take a moment to praise your best friend.
She's the Ron Weasley to your Harry Potter or the Monica Geller to your Rachel Green. He's the person who sticks with you beyond the breakups, bad news and blunders. And you couldn't love your bestie more for it.
The truth is there's no one quite like your BFF -- and apparently science agrees. We rounded up just some of the proven ways your friends affect your life. Check them out below (then go hug your bestie).
1. Best friends reduce stress.
If you're totally strung out, you better call your BFF. A 2011 study found that spending quality time with your best friend can alleviate stress and make you feel better. There's no better person who can give you a shoulder to cry on.
2. They make you feel a sense of belonging.
Friendships provide a sense of community and meaning. As Karyn Hall, a Dialectical Behavior Therapy trainer and author of The Emotionally Sensitive Person, points out in a Psychology Today blog, your connection to others can do wonders for your wellness.
"A sense of belonging to a greater community improves your motivation, health and happiness," she wrote. "When you see your connection to others, you know that all people struggle and have difficult times. You are not alone. There is comfort in that knowledge."
3. They help you manage health issues.
Health complications are frightening, but your best friend makes them a tiny bit easier to handle. Research shows social support can have a positive effect when fighting disease, O Magazine reported. It also reduces your risk of illnesses like dementia and can mitigate the symptoms of depression.
Your friend's presence can even make small improvements in your health. Studies suggest strong social ties even reduce your risk of catching the common cold.
4. Friends can help you live longer.
The Fountain of Youth has nothing on your bestie. A 2009 study found that strong social support can improve longevity. This is possibly because friends can have a healthy influence on your daily behaviors, according to the researchers.
5. They push you to practice more self-acceptance.