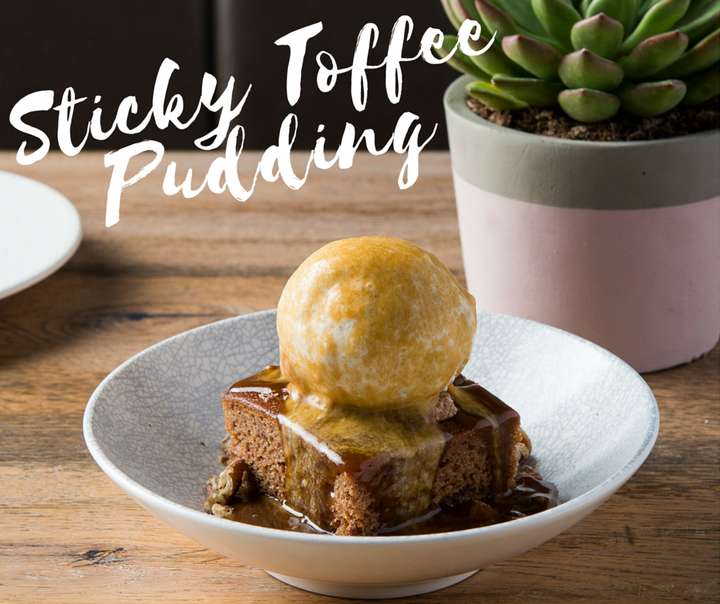 It's the long weekend and who's to say we can't all indulge in a little bit of pudding? No one, that's who.
Sticky toffee pudding -- or sticky date pudding -- is a classic winter dessert. Served warm, this pudding consists of a fluffy sponge cake made with a date caramel, and is served with banana ice cream and butterscotch sauce. If that doesn't make you swoon, we don't know what will.
This popular recipe is served at The Collaroy Hotel in Sydney and Ben Varela, executive head chef at Public House Management Group, recommends a few top tips to make your sticky toffee pudding outstanding.
"Use quality dates (such as Medjool dates) and don't over work your mixture," Varela told The Huffington Post Australia.
Experiment with your date caramel -- use maple, dark palm sugar or bourbon for a twist.
If you're feeling adventurous, Varela suggests to play around with different flavours.
"You can add ripe bananas to the cake mix for a variation," he said. "Experiment with your date caramel -- use maple, dark palm sugar or bourbon for a twist.
"Serve with your favourite ice cream. Banana is best, however a good vanilla bean will also work."
While salted pecans are used in this recipe, Varela said you can add texture by using praline or toasted nuts of your choice.
Sticky toffee pudding with banana ice cream and salted pecans
60g unsalted butter or margarine, plus extra for greasing
200g pitted dates
5g (1 teaspoon) bi-carb soda
165g caster sugar
5g (1 teaspoon) vanilla bean extract or essence
2 free-range eggs
225 grams self-raising flour
250ml (1 cup) water
300ml banana ice cream
300ml butterscotch
120 grams salted pecans
1. Preheat oven to 180°C. Brush a deep 20cm square cake pan with melted butter or margarine to grease. Line the base of the pan with nonstick baking paper.
2. Combine the water and dates in a small saucepan over medium heat and bring to the boil. Remove from the heat and stir in the bicarbonate of soda. Set aside to cool.
3. Beat the butter/margarine, sugar and vanilla essence in a large mixing bowl with electric beaters until pale and creamy. Add the eggs ones at a time, mixing well after each addition. Fold in the sifted flour with a large metal spoon to combine. Fold the date mixture into the cake batter until combined.
4. Pour mixture into the prepared cake pan and bake in the preheated oven for 45 minutes or until golden and a skewer inserted into the centre comes out clean. Stand in the pan for five minutes then turn onto a wire rack to cool.
5. To plate, cut the cake into squares as per the photo and heat up gently. Finish with butterscotch, banana ice and salted pecans.