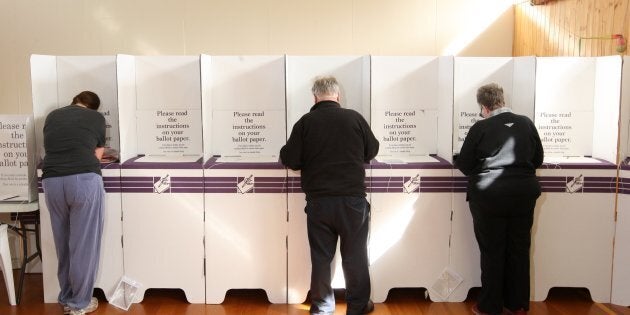 An "unprecedented" snapshot of the political issues that young people care about should give the major political parties some concern, after a last-minute push saw huge numbers of youth voters enrol to vote -- which could swing the entire election.
Youth Action and the Australian Research Alliance for Children & Youth surveyed more than 3300 people between the ages of 12 and 25 over recent months. While obviously 12-year-olds can't vote, they found that more than half the group of voting age had not decided which party to vote for yet, but they had chosen the issues they would base their vote on.
Asylum seekers, marriage equality, and climate change were found to be the most pressing issues for those young people, outstripping the issues which have dominated the election campaign thus far including education, health, housing affordability and tax.
Of 360 topics nominated by the group as being important, asylum seekers was the most popular, with 21 percent of young voters saying they would take party's policies on the issue into account on polling day. Marriage equality (19 percent) and climate change (16 percent) ranked far higher than tax reform (eight percent), housing affordability (six percent) and increasing education funding (five percent).
Of the group who had decided who they would be voting for, 38 percent nominated the Greens, 34 percent for Labor, and 22 percent for the Coalition.
The news comes just days after the Australian Electoral Commission announced that a last-minute push to get young people enrolled to vote had been a success. As we reported in May, half of 18-year-olds and a quarter of 19-year-olds had not registered to vote at that stage of the campaign.
After a media blitz and awareness campaign, the AEC said 71 percent of 18-year-olds were registered before rolls closed, while 84 percent of 19-year-olds had enrolled. All in all, an extra 150,000 people under the age of 25 have registered for this election than the 2013 poll, a record number of 1.66 million according to the report.
The Australian Youth Affairs Coalition claimed nearly one in three electorates at the 2013 federal poll "were decided by fewer votes than the number of young people in the area who were not enrolled or submitted an informal ballot paper", and Youth Action CEO Katie Acheson said she was thrilled at the numbers.
"The recent surge in the number of young people enrolling to vote, which will result in a record number of young Australians voting on July 2, highlights just how important it is for politicians of all persuasions to genuinely engage with young people on the issues they care about," she said in a statement.
"While young people are often sidelined from the political debate and accused of being apathetic, this research reveals that they are extremely passionate about being part of important national discussions and having a say on policies that directly impact their lives and the economic future of Australia."
ARACY CEO Dr Dianne Jackson said the report should open the eyes of politicians to the importance of engaging with young voters.
"The majority of many young people don't see themselves as aligned to a particular political party or personality, rather it is individual issues that they prioritise," Jackson said.
"It is clear that young people have an opinion on a wide range of issues and are articulate about both what concerns them and what commitments they want from candidates."