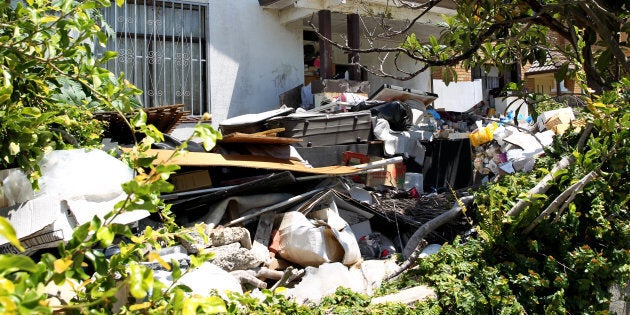 On Thursday evening, a dilapidated house in Bondi -- piled high with rubbish -- waited patiently to be sold.
But a third attempt to auction the infamous home on Boonara Avenue -- the centre of one of Sydney's longest running property disputes -- fell through at the eleventh hour.
The home on Boonara Avenue, owned by the Bobolas family, is in a state of decrepid disrepair, with years of hoarding leaving the house and garden piled high with rubbish, attracting cockroaches and rats to the neighbourhood.
It was being forcibly sold by the New South Wales Sheriff's Office on Thursday evening to recover an estimated $160,000 in outstanding cleanup costs and legal fees.
But real estate agent Ric Serrao said the auction was called off just 50 minutes beforehand, due to the owners lodging a last-minute 'stay application'.
For 26 years, Waverley Council has engaged in a battle with the Bobolas family over the property and their continued hoarding.
"It is a public health and safety issue for the family and for the nearby residents," the council wrote in a statement.
"There continues to be specialist support services on offer to the Bobolas family and we very much hope they choose to accept that support."
Last year, yet another auction was cancelled after the Bobolas family paid the balance owing in cleaning and legal bills.
Selling agent Nic Serrao predicted a high price of up to $2 million as the house was at last set to go under the hammer this evening.
"The successful purchaser will be responsible for removing all the inclusions, let's say, so everything that's on the property. Also (they will) be responsible to get vacant possessions, so it would be up to the purchaser to get the occupants out," he told the ABC.
The application lodged by the Bobolas family is set to be heard in court on Friday morning.