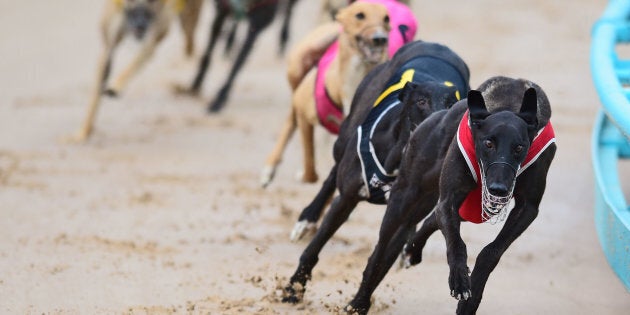 Greyhound Racing NSW has charged 179 trainers and owners with potential breaches over alleged, unauthorised exports of hounds to Macau.
The charges have been issued as part of an ongoing inquiry launched by GRNSW last December into the suspected activity.
Since 2013, national body Greyhounds Australasia has suspended greyhound passports -- required for dogs to be exported internationally -- to Macau, which does not comply with Australian animal welfare standards.
If found guilty, trainers and owners will face fines, suspension and possible disqualification from the sport.
The inquiry follows an exclusive, six-month investigation by the ABC's 7:30 in December last year that revealed hundreds of Australian greyhounds deemed too slow for racing in Australia were being sent to Asia -- including Macau.
The report found that Australian dogs were flown and ferried to Macau where they were raced and locked inside a dilapidated track known as the Canindrome, regularly sustaining injuries.
At the time of the investigation, Animals Australia campaign director Lyn White told 7:30 that conditions in Macau were abhorrent and akin to "a death sentence".
"The conditions are awful, it's prison-like, barren cells, and in fact it really is like being exported to another country and put on death row," she said.
The inquiry into the New South Wales greyhound racing industry continues and the Commissioner is due to hand down its findings on June 16.