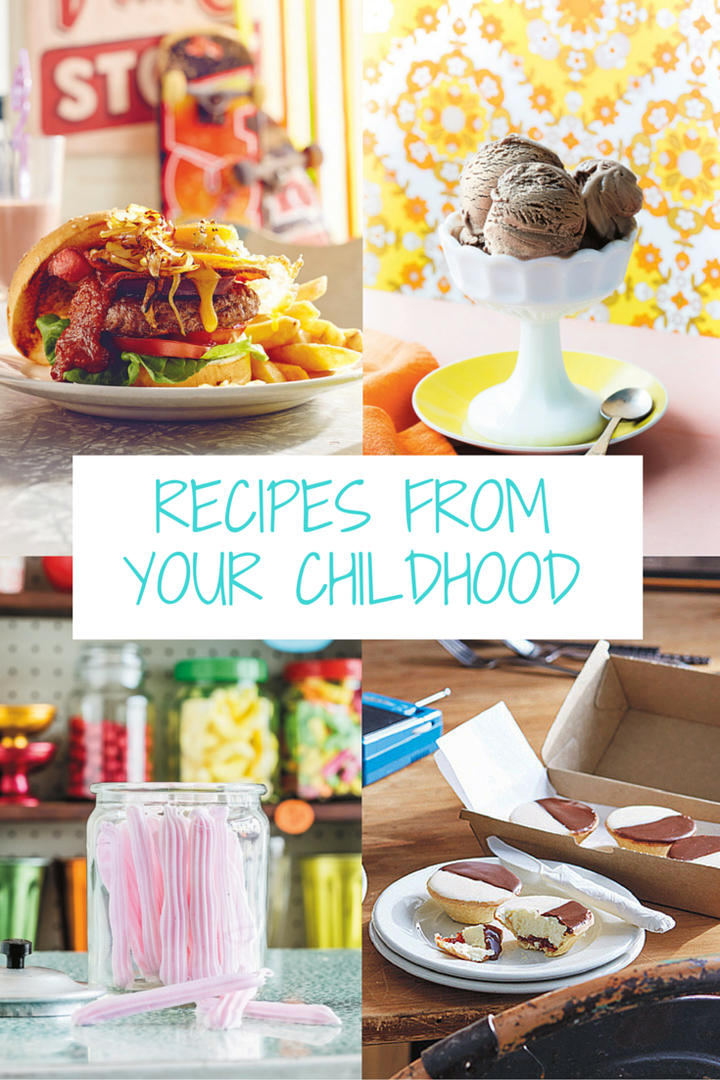 Remember when you would beg mum or dad for 50 cents to go to the local milk bar or general store, and you came back with a bed full of lollies?
Or on weekends when you'd go and get two dollars' worth of chips and the parcel was so big you had to feed the leftovers to the persistent, screeching seagulls. And what ever happened to burgers with 'the lot'? Good times.
Nowadays all you can buy with fiddy cents is one sad lollipop, and $1.80 meat pies are long gone. But thankfully, you can make your favourite milk bar goodies at home. From burgers to musk sticks, Milkbar Memories by Jane Lawson is full of Aussie classics you can recreate and travel back in time to the heyday of youth.
Beef burger with 'the lot'
"The name speaks for itself: this burger includes every optional topping available from an authentic, old-school Aussie milk bar. The Lot," Lawson said.
"It is packed full of flavour and layered with colour and texture. However, feel free to flick the beetroot or pineapple if you aren't into it.
"This recipe is for a classic burger, but you don't have to follow it to the letter. By all means play around with the layers -- use minced lamb or pork in your patties, add pickles, relish, mayo, aïoli or chilli sauce if that floats your boat, change up your cheese choice, use other salad ingredients... you know, make it your own."
INGREDIENTS
500g good-quality minced (ground) beef, with decent marbling
Olive oil, for pan-frying
1 small onion, finely sliced
4 pineapple rings, either fresh or tinned in natural syrup (optional)
4 streaky bacon rashers, cut in half
4 small eggs
120g cheese (I like mild cheddar or edam for this burger), sliced 3–4mm thick
4 hamburger buns, split in half
Softened butter, for spreading
Lettuce leaves or shreds
4 slices ripe tomato
4 slices cooked beetroot
Tomato sauce or barbecue sauce, for drizzling
Double-crunch hot chips (recipe below), to serve (optional)
METHOD
1. Divide the beef into four equal amounts. Lightly compact each into a ball, then flatten each ball between squares of baking paper until they are about 6mm thick and 13cm in diameter. They may seem large but will shrink a little on cooking.
2. Heat a little oil in a large nonstick frying pan. Gently sauté the onion over medium-high heat for 10-12 minutes, or until dark golden. Remove from the pan and keep warm.
3. If using fresh pineapple slices, give each side a good flash over high heat in the same frying pan until they are hot through and a little charred on the edges. If using tinned pineapple, just quickly warm through on each side. Cover and keep warm.
4. Meanwhile put the bacon in another non-stick frying pan and cook over medium–high heat until it is as crisp as you like it, then remove from the pan and keep warm.
5. Cook the eggs in the bacon fat over medium heat until the whites are set and the yolks are still a little runny -- or to your desired doneness. Remove to a warmed plate and keep warm.
6. Carefully wash out both frying pans. Heat your grill to high so it is ready and waiting for your buns.
7. Return the clean frying pans to a fairly high heat and brush liberally with oil. When the pans are hot, season the burger patties on one side with fine sea salt and freshly cracked black pepper and cook two patties, seasoned side down, in each pan for about 80 seconds or until well browned. Season the tops of the patties and flip them over, then top with the cheese slices and cook for a further 70 seconds. Do be careful not to cook the patties longer as the beef can very quickly dry out. This timing yields a nice, juicy, flavoursome patty.
8. While the patties are cooking, pop the cut side of your burger buns under the hot grill until very lightly toasted. Butter the buns and place the bottom halves on your work surface. Top each with a little lettuce, a slice of tomato, slice of beetroot and pineapple, if using.
9. As soon as the burger patties are cooked, place them, cheese side up, on top of the pineapple. Divide the sautéed onion over the patties, then top with the bacon and the eggs. Give each a good squirt of tomato or barbecue sauce and top with the bun lids. Serve immediately, with hot chips if desired.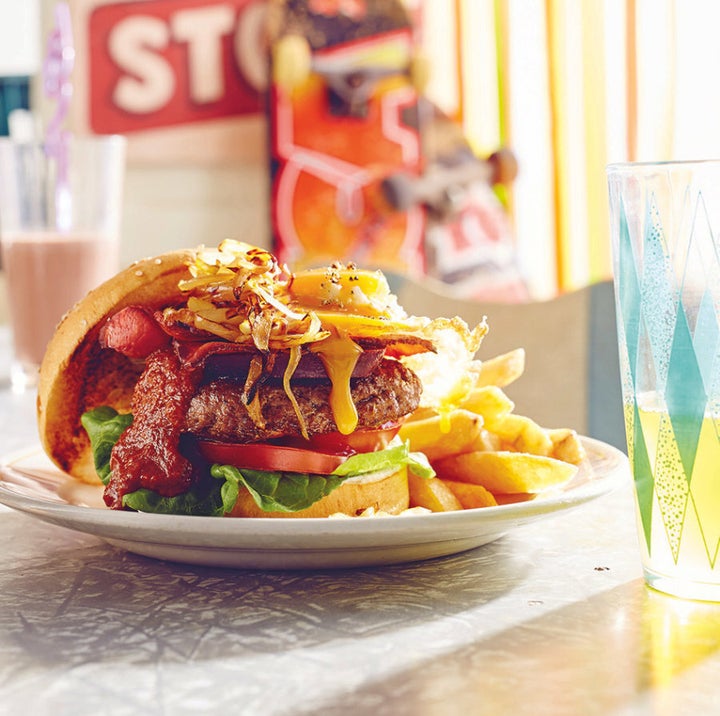 Dairy milk chocolate ice cream
Getting chocolate ice cream after a summer school day was, and is, a childhood highlight for many. With all the fancy ice creams with their Himalayan sea salt caramel, dehydrated raspberries and aged peanut butter (okay, the last bit is made up), it's easy to forget how delicious a simple chocolate ice cream can be.
"This rich, smooth-as-silk chocolate indulgence is sure to become a household staple. Sorry," Lawson said.
INGREDIENTS
300ml thin (pouring) cream
400ml full-cream milk
8 egg yolks
60g (¹⁄₃ cup) brown sugar
75g (¹⁄₃ cup) caster (superfine) sugar
1½ teaspoons good-quality unsweetened cocoa powder
½-1 teaspoon pure vanilla extract
200g good-quality milk chocolate, chopped
METHOD
1. Put the cream and milk in a saucepan. Bring almost to the boil over medium–high heat, then remove from the heat.
2. In a bowl, whisk together the egg yolks, brown and caster sugar, cocoa powder and vanilla until well combined. Gradually pour in the hot milk mixture, whisking constantly until smooth.
3. Pour into a clean saucepan and stir over medium-low heat for 12–15 minutes, or until the mixture has thickened to a thin custard consistency and coats the back of a spoon. Remove from the heat, then add the chocolate and stir until it has melted and the custard is an even colour. Cool slightly, then strain into a bowl. Cover and chill for two hours or until cold.
4. Set up an ice cream machine and churn and freeze the mixture according to the manufacturer's instructions. (Alternatively, you can pour the custard mixture into a large shallow cake tin and freeze for 2-3 hours, or until just frozen around the edges. Whisk to evenly distribute the ice crystals through the mixture. Repeat this every hour until the mixture is frozen and evenly textured.)
5. Transfer to a one litre (4 cup) plastic container. Smooth the surface over top with a sheet of baking paper, then pop the lid on. The ice cream will keep in the freezer for up to one week but tastes best if eaten within a few days.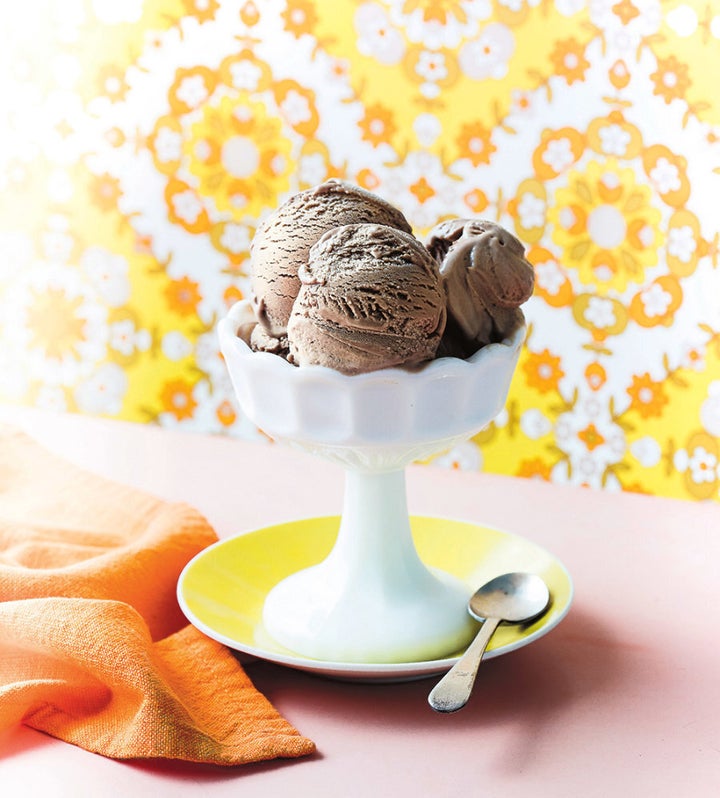 Musk sticks
"These musk sticks taste like the ones we had as kids. A little crisp on the outside and tender in the centre, these are the 'goldilocks' of the musk-stick world -- the aroma, flavour and texture are just right," Lawson said.
"I must warn you they are rather more-ish and all my guinea pigs agreed 'they taste like musk sticks, only better'. You can double the batch if you have a big kid's party on. Or even a big kid's' party."
INGREDIENTS
Mild-flavoured cooking oil spray
4 small gelatine sheets (6g), each about 7cm x 11.5cm
1 tablespoon liquid glucose
½ teaspoon good-quality musk essence
A few drops of pure vanilla extract
2 drops of red food colouring (optional)
250g 2 cups) icing sugar mixture, sifted
METHOD
1. Spray two baking trays with cooking oil spray. Line the trays with baking paper. (Oiling the trays first will help the baking paper sheets adhere so they don't slip around when you're trying to pipe the musk mixture onto them.)
2. Soak the gelatine sheets in cold water for five minutes, or until soft and pliable. Drain and squeeze out the excess water.
3. Put the gelatine in a saucepan with the glucose and 60ml (¼ cup) cold water. Stir over high heat until the gelatine sheets have melted. Remove from the heat and tip into the bowl of an electric mixer fitted with a whisk attachment.
4. When the mixture is cool, add the musk essence, vanilla and food colouring, if using. Add 125g (1 cup) of the icing sugar and beat at low speed until well combined. Increase the speed to high and whisk for one minute, or until smooth and evenly coloured.
5. Turn your machine off and add the remaining icing sugar. Mix in slowly, then increase the speed to high for about three minutes to ensure it is all well incorporated and a little like a thick, raw meringue mixture.
6. Put the mixture into a piping bag fitted with a 1cm star-shaped nozzle and pipe 10cm lengths onto the baking trays. (If your mixture is too firm to pipe simply tip it back into the electric mixer bowl and add extra cold water, just one teaspoon at a time, until you have a pliable consistency. Just be careful not to add too much -- a little water goes a long way in this recipe.)
7. Leave in a cool, dry place to set overnight. The musk sticks should be crisp and dry all the way through. They will keep in an airtight container for several months, but will soften over time as sugar is a fickle medium and its natural moisture content depends on the weather.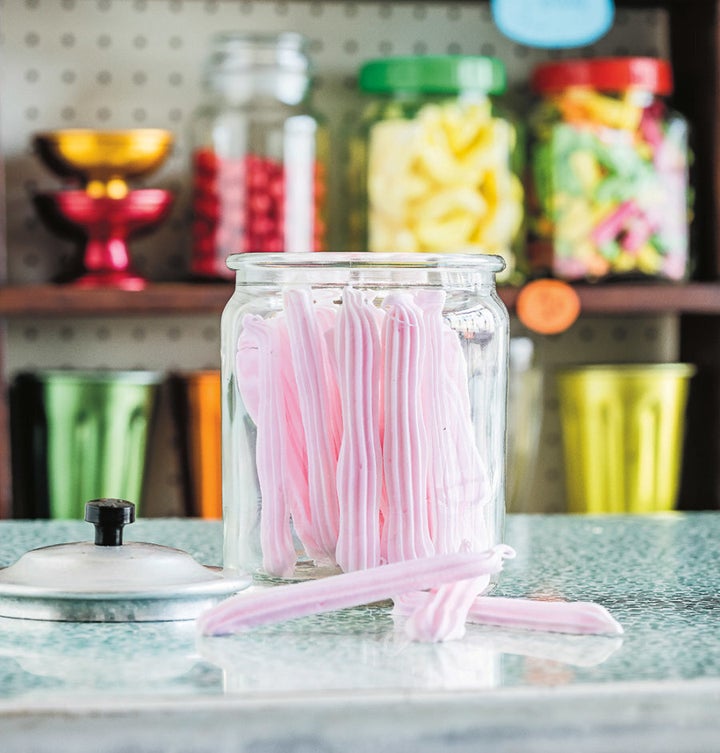 Neenish tarts
"Even though I find most versions of these tarts way too sweet, they are such a fond childhood memory that I'll buy one for old time's sake every now and again," Lawson said.
"They remind me of my grandmother and the store I used to visit on the way to her house after high school."
4 sheets ready-rolled sweet shortcrust pastry
1 tablespoon strawberry, raspberry, blackberry or cherry jam
200ml thin (pouring) cream
40g (¹⁄₃ cup) icing (confectioners') sugar
1 teaspoon pure vanilla extract
Mock cream filling alternative
2 tablespoons full-cream milk
110g (½ cup) caster (superfine) sugar
½ teaspoon gelatine powder, dissolved in 1 teaspoon boiling water
150g unsalted butter, chopped
1 teaspoon pure vanilla extract
105g (heaped ¾ cup) icing (confectioners') sugar, sifted
¼ teaspoon pure vanilla extract
3-4 teaspoons boiling water
90g (¾ cup) icing (confectioners') sugar, sifted
2 teaspoons good-quality unsweetened cocoa powder
1 tablespoon boiling water
METHOD
1. Lightly grease a 16-hole patty pan or small muffin tin -- you want the holes to be about 7cm across the top, 4cm across the base and about 2.5cm deep, with outward sloping sides.
2. Roll the pastry out to a 2mm thickness. Cut out 9cm rounds with a cookie cutter or pastry cutter. Line each tin hole with the pastry rounds, pressing gently into and around the edges, and gently pushing the pastry up about 5mm above the rim of the tin all the way around. Prick the bases with a fork and refrigerate for 30 minutes.
3. Meanwhile, preheat the oven to 180°C (350°F). Bake the pastry cases for 10-12 minutes, or until lightly golden. Leave to cool in the baking tin on a wire rack until completely cold.
4. If using the fresh cream filling, whisk the cream, icing sugar and vanilla together until firmly whipped. Refrigerate for two hours to ensure the mixture is really cold when you fill the tartlets.
5. If using the mock cream filling instead of fresh cream filling, put the milk, sugar and two tablespoons water in a small saucepan and stir over medium–high heat until the sugar has dissolved. Do not allow to boil. Remove from the heat and immediately whisk in the dissolved gelatine and cool until lukewarm. While the mixture is cooling, use an electric mixer to beat the butter and vanilla in a bowl until pale and airy. When the milk syrup is at the right temperature, turn the beaters back on to high and beat continuously as you gradually add in the syrup. Keep beating until light and fluffy. This will take about eight minutes.
6. Remove the cold tart shells from the baking tin. Place ¼ teaspoon of jam in the bottom of each, then top with the fresh cream or mock cream filling, making sure it comes right level with the edge of the pastry. Smooth it over so the filling is flat. Refrigerate for 45 minutes to ensure the tops are firm enough to ice.
7. Put all the vanilla icing ingredients in a bowl and whisk until smooth and cooled to room temperature. The icing should be fairly thick. Remove your tarts from the fridge and use a small palette knife to spread the vanilla icing over the top of two-thirds of the tart in one smooth sweep. Refrigerate until set.
8. Now put all the chocolate icing ingredients in a bowl and whisk until smooth and cooled to room temperature. Remove your tarts from the fridge.
9. Using a small clean palette knife and working from the uncovered side, spread the chocolate icing over half the tart in one smooth sweep -- the chocolate icing will overlap the vanilla icing in the middle of the tart. Try to keep it as neat as possible so there is a distinct line between the dark and white icings.
10. Refrigerate until set. Then, after all your hard work, you are ready to serve and eat them! If you're not serving the tarts straight away wait until they've set, then store them in a single layer in an airtight container. They will keep in the fridge for up to five days.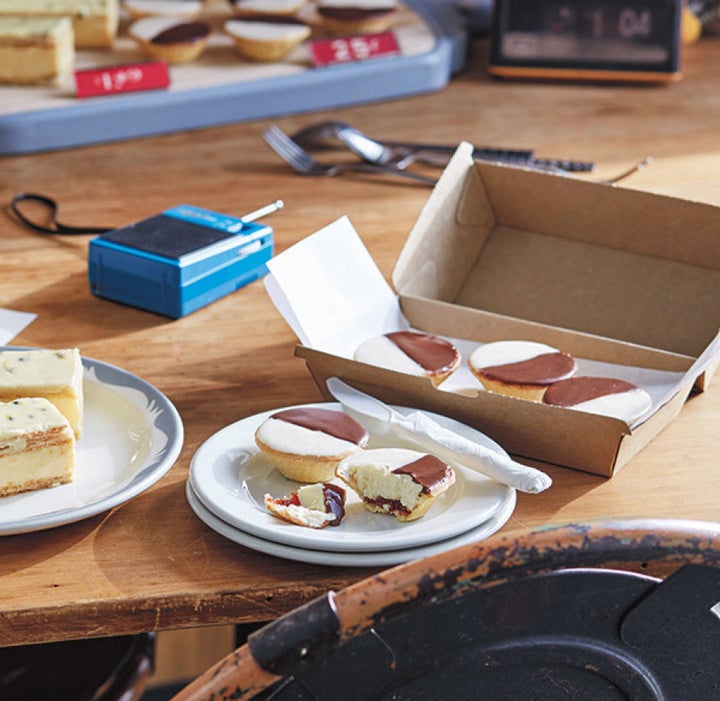 Recipes and images from Milkbar Memories by Jane Lawson (Murdoch Books) available in bookstores and online.