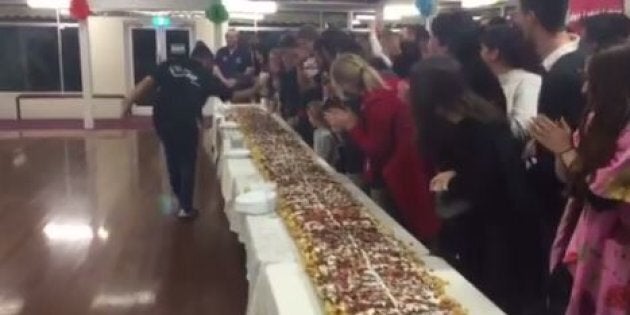 Now he has aimed for his biggest online stunt yet -- commissioning what is believed to be a world record, 205 kilogram halal snack pack.
Dastyari, a man of Iranian heritage, has previously spouted his love for the food and the fans, giving a shoutout to both during a speech in the Senate -- but he took his appreciation to new heights on Monday night in Perth.
That's an eight-metre long slab of chips, meat, cheese and sauce, taking centre spot at a Labor fundraiser.
The shop behind it shared more info on their Facebook page, detailing the mammoth 205-kilograms of food that went into it. "Holy trinity" is the term used by the Halal Snack Pack Appreciation Society for the combination of BBQ, chilli and garlic sauces.
It is claimed to be the biggest HSP ever assembled. A former mammoth HSP weighed in at a mere 75 kilograms, but this has blown it out of the water.
The reaction on the Facebook appreciation society's page has been wild, with one person calling Dastyari the "President of HSPs". Another said "My faith in Australian politics is restored".
"Halal snack packs, whats the real issue there? There's an anti-halal movement, effectively a bunch of Islamophobic bigots who despise the notion of multiculturalism and cloud that with a faux debate about halal food certification," the Senator told HuffPost Australia.
"It's not about halal. It's like talking about Safe Schools, when what you really want to talk about is that you have an issue with homosexuality. These are faux debates. How do you get that across? You talk about halal snack packs."