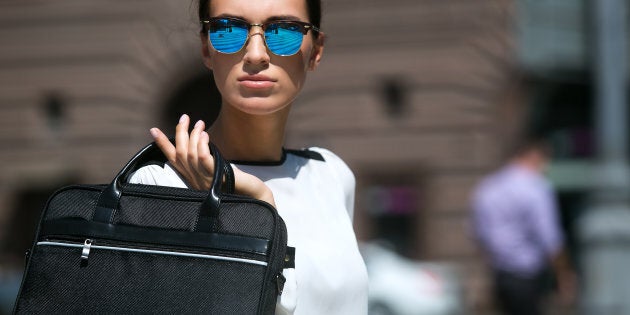 "More clients are dressing informally, and many parts of our company are already business casual. While it may not be possible to dress business casual at all times or in all areas, we believe having a firm-wide guideline is the right thing to do," the memo read.
The memo cautioned against interpreting the new dress code as 'weekend casual', stating that athletic shoes, thongs, sweatpants, leggings, yoga pants, hats, hoods, halter tops, or anything else "distracting, tight, revealing or exceptionally loose or low-cut" wouldn't cut it.
With more and more traditional workplaces with formal dress codes following suit (pun intended) by relaxing their standards, the line between what's office-appropriate and what should be saved for the weekend can get a little blurry.
After all, it's been proven that first impressions do matter and that dressing well can help you get ahead. So, what to wear to your corporate workplace?
"Corporate dressing is generally suit pants and suit blazers in a very specific fabrication. It's that high-sheen cotton that is typically corporate," stylist Deni Todorovic told The Huffington Post Australia.
"If someone is trying to make their corporate attire more modern and a little more relaxed they should consider the fabrication and textures they choose. They still essentially need to stick to similar silhouettes, so mixing it up with fabrics in various colours, textures, prints or patterns is a fun way to be expressive. Modern corporate is able to incorporate different fibres and more feminine fluid fabrics like silks and crepe pants instead of stiff and boring cotton wool."
Keep your colour palette neutral (but not just boring in black) and add pops of trend colours so that everything pairs back with the other pieces.
"Besides black, navy is an obvious choice for the office. People think that you can't pair navy with black but that's not true. Even burgundy and khaki, camels and nudes are great for work mixed back with black. Depending on how strict the workplace is you could try prints. Maybe not a whole blouse, but a small touch of animal print on a shoe for example can look really chic," Todorovic said.
Todorovic believes it's easy to mix trend pieces into your corporate wardrobe as long as the overall aesthetic is still relatively demure.
Just add a blazer for the office
"Witchery and Country Road always do really good silk crepe pants each season. Pajama dressing is another big trend and I know that sounds like it wouldn't be office appropriate, but a chic silk pajama shirt with piping detail paired with high-waisted pants or a pencil skirt will still look corporate but with a fashion edge to it. Zara have really great pajama trousers and they're just a black pant in a silk-like fabric with burgundy or navy piping down the seam and those details pair perfectly with other corporate silhouettes," Todorovic said.
"Even a kimono style blazer works for the office. It's a really big trend for this autumn/winter so instead of a regular blazer go for one that ties up around the waist and features big pockets. Or, go for a masculine style blazer for a point of difference."
Masculine lines work on feminine figures
When it comes to skirts, minis are still out, obviously.
"Regarding skirt lengths, generally to the knee is the rule, and at-the-knee is fine but the 'sit test' will tell you of it's office appropriate. If you can sit down in it and it doesn't ride up too much, that's fine. Always sit down on the stool in the change room to check. If you do want to go shorter, make sure the skirt isn't tight. Go for a flute style with a flippy hem so that it's not short and and tight and the same time," Todorovic said.
This length skirt is perfect for the office
With regards to tops, avoid shoestring straps or anything too revealing, even with a more relaxed dress code.
Try printed shirts to inject some colour
"Shirting and blouses are always a great way to experiment with your corporate style, so look out for pussy-bows, ruffle detail, or a print like paisley or geometric to liven up the rest of your look. Shirting was a really big runway trend too so if you can get away with it, look for shirts with exaggerated cuffs or back cut out details (Tome does a great one) to add an element of excitement to corporate dressing. Also trumpet hem skirts (think the classic Ellery silhouette) are a great alternative to the pencil for a modern working skirt."
When it comes to footwear a classic pointy toed pump is classic.
"Ankle boots in winter also work, or brogues and loafers this winter while the more masculine silhouettes are in stores. They're great because they are super comfortable for women who don't like heels. If you're brave enough try a creeper -- they're flat shoes in lots of stores now and work well for the office. Wittner do a great pair in this style and they would pair really well with a suit in the right environment," Todorovic said.
"With regards to bags it comes down to what you need to carry for your job. Totes are always easy, and portfolio style clutches are also really popular, like a large envelope clutch. Even a bucket bag works for the office if you don't need to carry a laptop everyday. Bags are a fun way of amping your outfit up if you work in a very formal office.