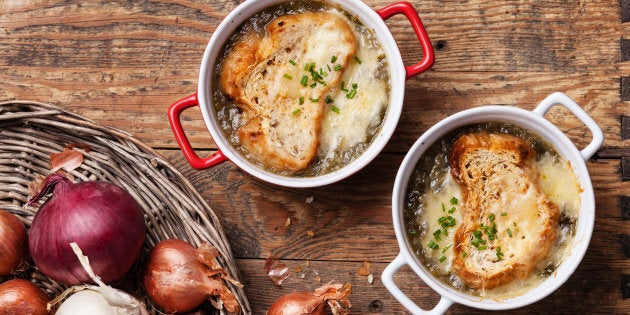 For regular non-chef types, a home-cooked Sunday breakfast is generally pretty routine: pancakes, smashed avo on some crusty bread or if you're feeling particularly adventurous, poached eggs with salmon.
It's not surprising that if you were to sneak into the home of a chef on the other hand, there would be some serious sautéing going down, the aroma of non-instant freshly roasted coffee, lashings of cream, the sound of crackling bacon and the heavenly scent of brioche or sourdough lightly toasting in the background.
The difference being chefs enjoy the process -- whereas we cook to eat -- and fast. And if we happen to be rising from a rather booze-filled night, our creativity in the kitchen suffers even more.
So much so, many of us reach for takeaway or settle for some kind of spinach pastry triangle we've had in the freezer for a year (so long as there's tomato sauce to go with it).
To ignite those creative juices and perhaps inspire your inner cook, we asked Australian chefs what their go-to brekkie is the morning after a big night.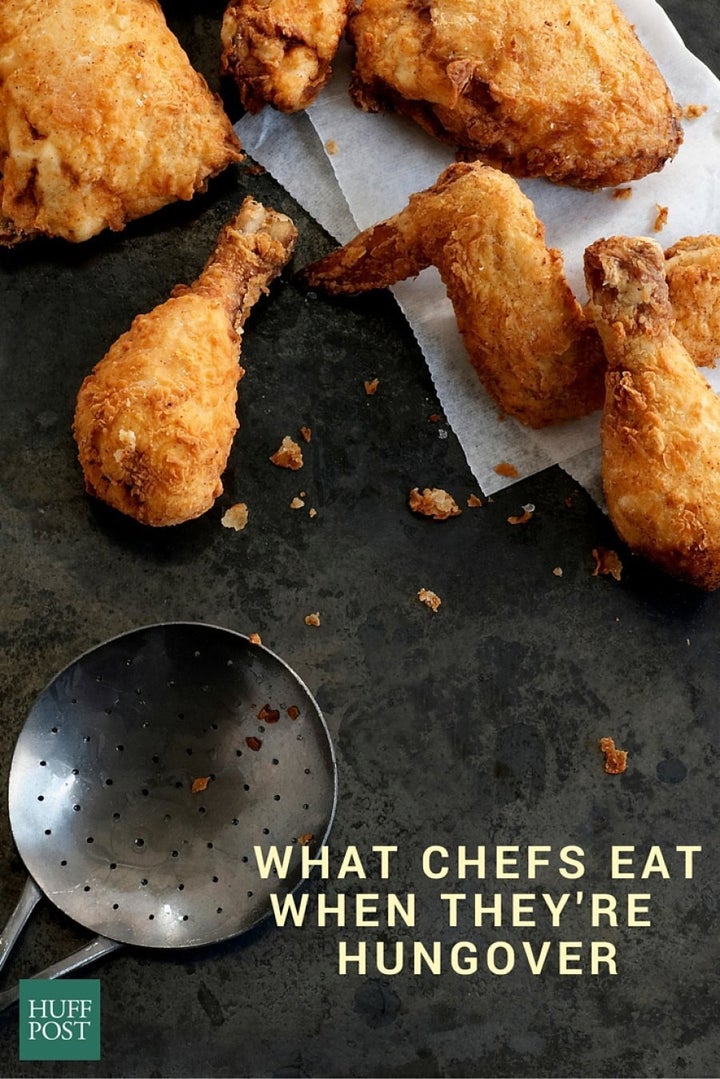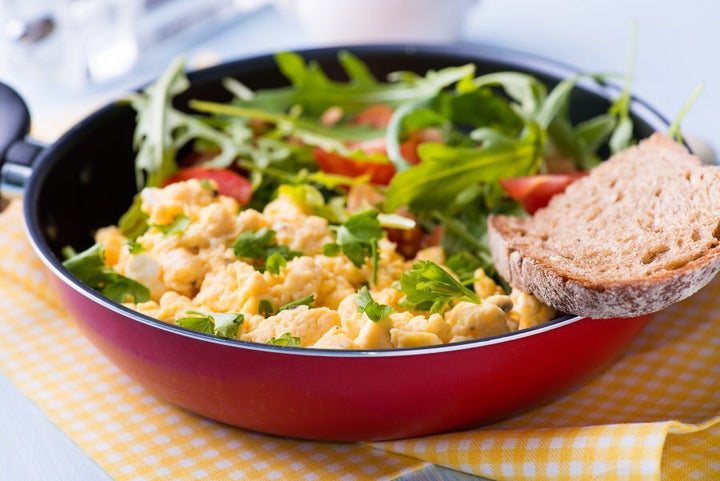 Scrambled eggs with black pudding, green tomato and white pepper
"This is a great meal anytime but especially when you're a little dusty. Soft eggs, greasy fried black pudding, fresh tomato to cleanse and a little white pepper to wake you up -- amazing!"
1. I like to keep my scrambled eggs soft and do this by heating 50 grams of butter in a pan, not oil, as this ensures the eggs are really beautiful and extra creamy.
2. Mix four eggs (preferably duck eggs) with 80 millilitres of cream.
3. Fry some Rodriguez Brothers black pudding, and a few thick slices of beautiful fresh ripe green tomato for their higher acidity, and before serving add a twist of fresh ground white pepper.
4. To drink, I have plenty of ice water or depending on the night I've had, a lemon, lime and bitters.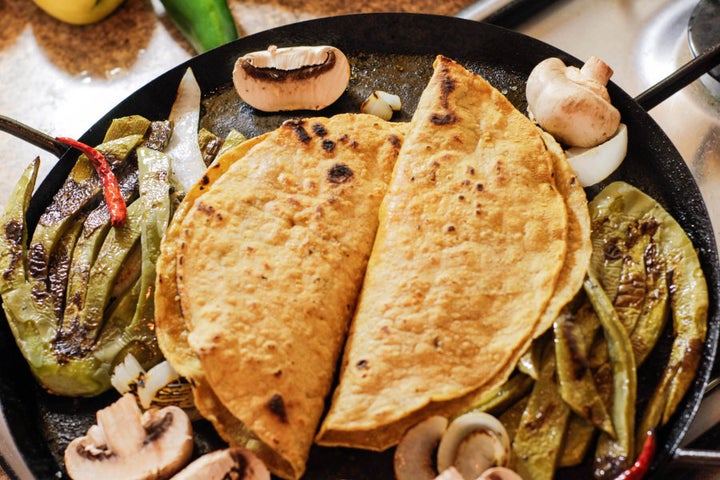 Spanish tortilla with chorizo, mushrooms, onion, tomato and cheese
"It's super easy and you can make a big batch for over 10 people in one pan, if needed. Plus, it uses up any left-over veggies."
1. Get a heavy based fry pan and fry off all ingredients except the cheese.
2. Whisk some eggs and pour over the top.
3. Pop into a baking tray topped with cheese and cook in the oven for 15 minutes.
4. It should start to look similar to an omelette or frittata.
5. Cut into pieces and serve with toast.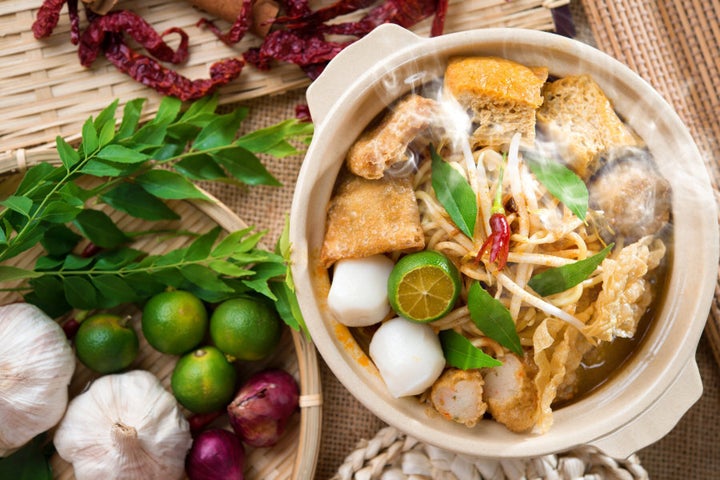 Malaysian Laksa
"A classic Malaysian Laksa with just the right amount of heat, spices and herbs to bring anyone back from the dead. The paste can be made well in advance and will keep in a sealed container in the fridge and most of the remaining ingredients are relatively common pantry fodder."
1 tablespoon shrimp paste
1 tablespoon coriander powder
1 tablespoon cumin powder
1 teaspoon paprika
2 teaspoon turmeric
4 peeled French shallots or 1 medium red onion
1 thumb ginger, peeled
3 cloves garlic, peeled
1 tablespoon grated fresh galangal (pink ginger)
3-5 chilli, depending on how hot you like
4 candle nuts or macadamias
4 roots coriander, reserving the leaves to garnish
Blitz everything in your blender or for a more traditional approach, use a mortar and pestle, using some good quality sea salt as an abrasive to help break everything down. This paste is enough for 4-6 servings and will keep for around 2 weeks in the fridge.
INGREDIENTS FOR LAKSA (FOR TWO)
palm sugar
lime juice
fish sauce
500ml good fish or chicken stock (you can use water if desperate)
400ml coconut milk
lemongrass, bashed with the back of your knife or a meat mallet
dried vermicelli noodles, soaked in a bowl of freshly boiled water
protein -- sliced chicken breast/diced fish/prawns or pork -- entirely up to you
chopped Chinese greens -- I like wom bok (Chinese cabbage)
1. When ready, warm a deep pot, some peanut oil and begin to cook 3 tablespoons of the paste, it will become fragrant and aromatic, add half a tablespoon of palm sugar and cook until it melts.
2. Add the juice of half a lime, combine, then add the stock and the bruised lemongrass.
3. Bring to the boil then add the meat (if using). When the meat is just cooked, add the coconut milk and then bring to a steady simmer, season with the fish sauce for saltiness, or more lime if it needs more sour.
4. In two large soup bowls, place the strained, soaked noodles, fine chopped greens, some fried tofu if you like and then pour over a generous amount of the laksa.
5. Garnish with the coriander sprigs, some sliced chilli, and if available some crispy shallots.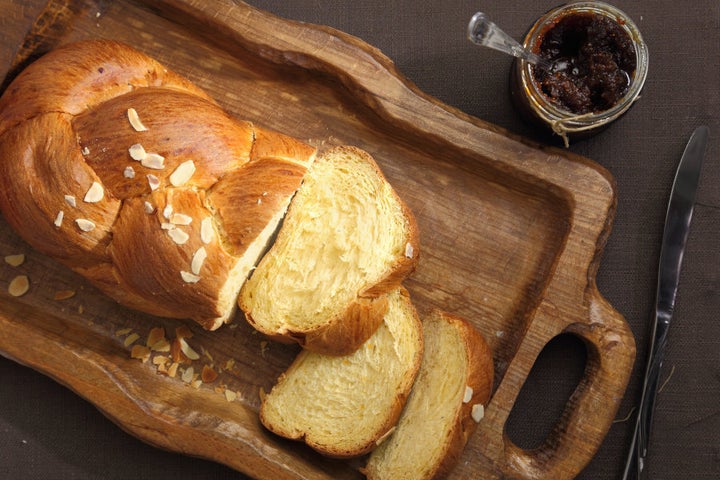 Scrambled eggs on brioche with grilled broccoli
"While I don't drink, a Saturday night at work is normally pretty intense and can be physically and mentally demanding. The following morning, I'll have my two kids waking me up early to make them breakfast -- so I start with freshly ground good quality coffee -- either espresso or Aero press.
To eat, the kids love soft scrambled eggs on lightly toasted brioche with grilled broccoli, and this always hits the spot for me too. I'll add a good pinch of chopped green chilli -- this, along with the coffee gets me going again."
1. Local fresh free range eggs are the best, I whip these with a fork and add good quality cream, salt flakes and cracked black pepper.
2. In a heavy based sauce pan cook the egg mix gently with plenty of butter, moving and folding the eggs regularly to finish with creamy folds of just set delicious egg.
3. The broccoli I cook in a griddle pan with salt flakes and a little lemon oil, I like to serve it charred with a slight crunch.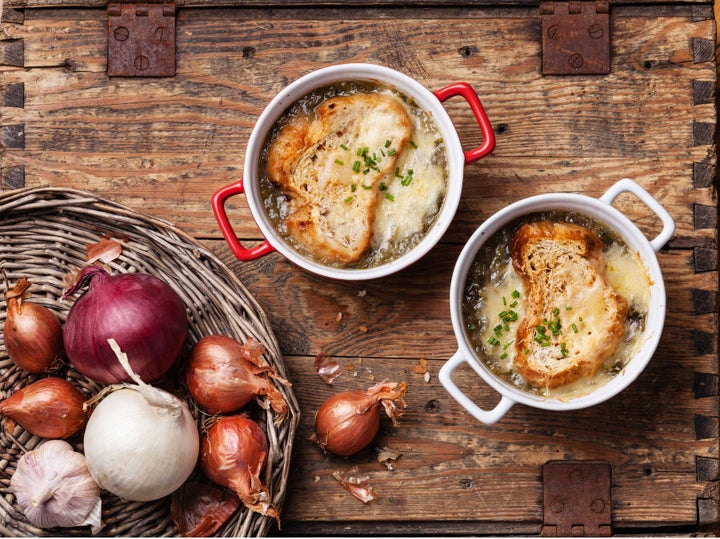 Onion soup with toasted bread
"Without a doubt, my grandpa's recipe for onion soup with lots of toasted bread on the side. It's very easy to make but it takes a little time to cook, so I usually put it on and go back to bed for a little sleep. The end result is so comforting, it's like I'm getting a warm hug from my grandpa!"
500g brown onions, sliced finely
8 garlic cloves, sliced
50g butter
1 sprig thyme
1 bay leaf
100ml white wine
1L chicken stock
Salt and pepper, to taste
4 slices Comté cheese
4 large toasted bread croutons
1. In a large pot on medium heat, sweat the onions and garlic in butter for 20 minutes until caramelised.
2. Deglaze the pot with white wine and then add the thyme and bay Leaf.
3. Pour chicken stock over and simmer for a further 90 minutes.
4. Season with salt and pepper and then pour the soup into four bowls.
5. Place the bread crouton on top then add the Comté cheese.
6. Place soup bowls underneath a grill until the cheese is melted.
Preparation: 20 minutes, cooking time: two hours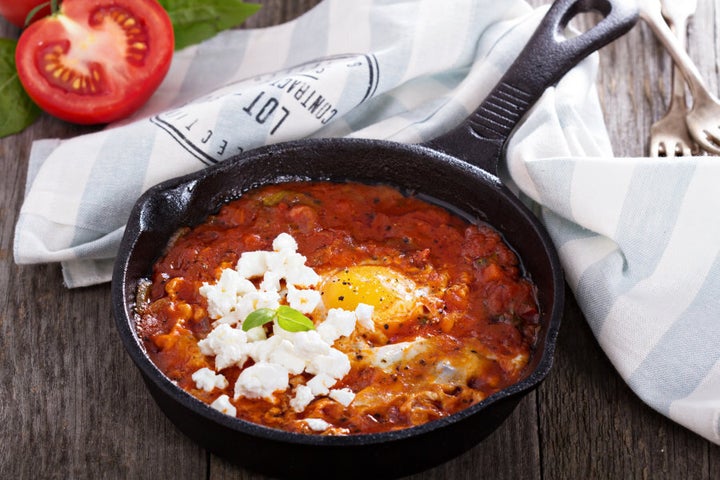 Strapatsada
"It's my favourite breakfast dish, especially after a crazy night. It originates from the Peloponnesian and should only take 20 minutes."
6 eggs, beaten
1kg riped tomatoes, grated
4-5 tbsps olive oil
a pinch of sugar
100-150g feta cheese, crumbled
salt and freshly ground pepper
1. Into a large saucepan, add the olive oil and place on high heat.
2. When the olive oil heats up, add the grated tomatoes, a pinch of sugar, season with salt (be careful not to add too much if using feta) and pepper and stir.
3. Add feta cheese, be careful with the salt.
4. As soon as the tomato sauce comes to the boil, turn the heat down to medium and cook for 10-15 minutes, until most of the juices have evaporated.
5. Pour in the beaten eggs and stir with a wooden spoon, so that the ingredients combine. Cook until the eggs are cooked. Feel free to add any kind of herbs you wish, like oregano, basil, mint or fresh dill.
6. Top with a little bit of feta cheese and serve, while still warm, with some crusted bread aside.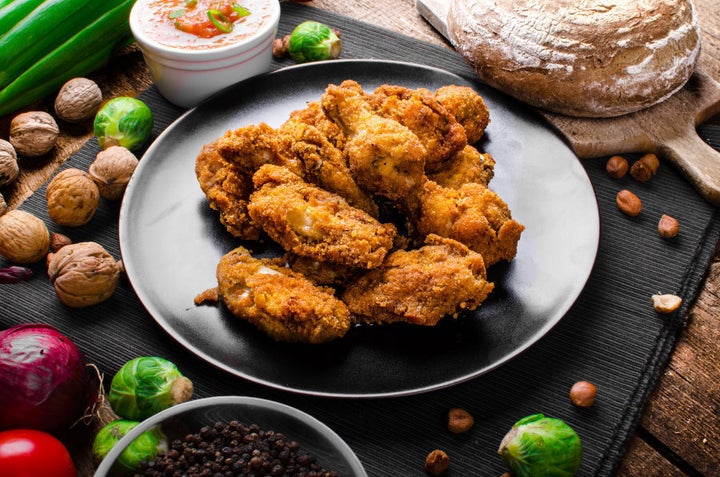 Bacon and eggs with leftover fried chicken (from the night before)
"After a big night I'm not leaving the house for ingredients, so besides the staple of eggs and bacon, it's whatever else I have in the fridge. It's definitely comfort food and it always does the job.
Use leftovers like chorizo and corn and if there's some remaining KFC from a late night feed, then I chuck that in with the scrambled eggs, too.
There's no trick to this one other than cooking it all in one pan. I don't usually have the capacity to do too much washing up the morning after, so this suits me just fine."