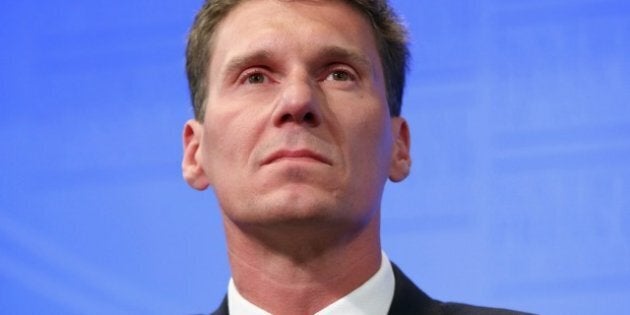 Liberal Senator Cory Bernardi has denied he is a homophobe, claiming it was "unfortunate" that the Prime Minister had "appeased" people who said he was, and denied that Malcolm Turnbull had ever spoken to him about his views on LGBTI people.
"The advocates for change have determined that anyone opposed to changing the definition of one of our oldest social institutions is a 'homophobe'. It is a term that has been levelled at me hundreds of times over the years and yet not one of my critics has been able to substantiate the slur with any factual evidence," Bernardi wrote.
"Sure, there are people who will disagree with my stance but simply disagreeing doesn't constitute a 'phobia' of any description. Some seek to misquote my historical words back to me in a further smear but once again, they are relying on falsehoods to justify their cause."
The senator also took aim at the leader of his own party, Prime Minister Malcolm Turnbull. The PM was on ABC's Q&A on Monday, and was asked about comments made by Bernardi and fellow Coalition MP George Christensen about LGBTI issues. Turnbull said that he "[condemned]remarks which disparage Australians, whoever makes them, on the basis of their sexuality," to which host Tony Jones responded "one word answer, did you say that to Cory Bernardi?"
"I have said -- yes, I have had firm discussions with a number of colleagues. Yes," Turnbull said, according to the official transcript from his office.
Bernardi, however, denied he had had any such conversations with the PM, and criticised Turnbull for not defending him against the accusations.
"It is unfortunate that the sole guest Malcolm Turnbull didn't correct the record and instead sought to appease the baying crowd when challenged by the left-leaning cheerleader and host Tony Jones," the senator wrote.
"By saying he'd had 'firm discussions' with 'a number of colleagues', Turnbull gave implicit support to the claim that myself and other Coalition MPs are 'homophobic' and implied that he'd had a conversation with me about 'homophobia'. For the record I have never had such a conversation with any of my colleagues because they know that any such claims cannot be backed with facts."