You win the NBA title, you party in Vegas on the way home, ride one of the world's biggest rollercoasters and then at last, "aaaahhh". You're back home in Cleveland.
So what do you do if you're 25-year-old Aussie Matthew "Delly" Dellavedova of the Cleveland Cavaliers? You invite the fellas and some family around for beer pong, that's what.
For the uninitiated, beer pong is a drinking game where you throw ping pong balls into cups of beer. You miss, you drink. Or if your opponent hits, you drink. Or something. The exact rules are a little hazy, perhaps because of all the beer involved.
Being a good Victorian, Delly wore an AFL jersey. It was a Collingwood jersey but what the heck, we'll forgive him just this once.
Being the pauper on his team, with an annual salary of $1 million compared to Lebron James' $25 million, Delly naturally has to economise at all opportunities. So it was that he was seen drinking Pabst Blue Ribbon, a famed cheap-arse brew favoured by America's broke and ironic hipster classes.
That "aaaahhh" up in the first paragraph? It wasn't just the sound of Delly sighing with relief after a long but ultimately triumphant season. It was the sound of another cold tinnie going down. Aaaahhh. That tastes gooooood.
Dellavedova became a big hit in the 2015 NBA finals. Emphasis on "big hit". His physicality was the talk of the final series early on. But eventually the Cavs lost to the Golden State Warriors.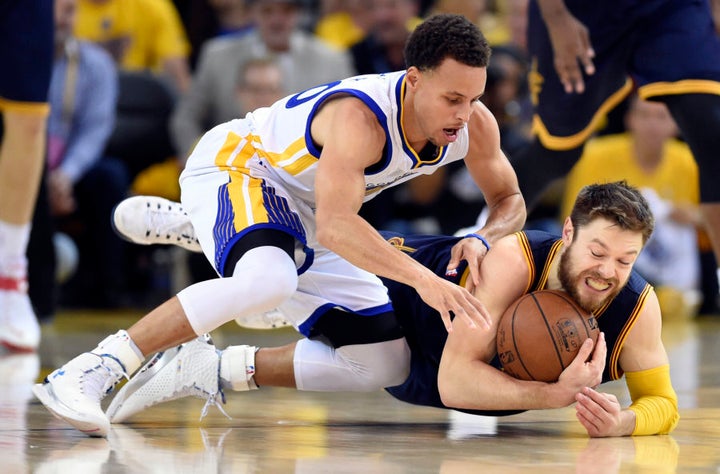 Not this year. The same two met in the finals and as we know, Cleveland won a thrilling game seven after being down 3-1 in the series. Delly played only a bit part in the finals and was benched for the last two games. But he was still a key part of a famous Cleveland win and well entitled to celebrate.
Which he did in true Aussie style, with beer and pies. Well, a 'Pies jumper, anyway.