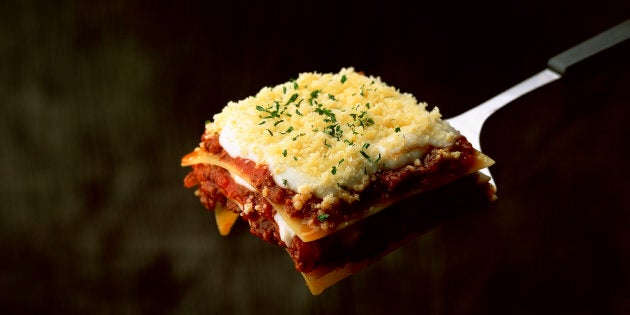 I think we can all safely say that lasagna is the bee's knees, especially when it's bloody freezing outside and you haven't got around to buying that heater you desperately need.
However, making good homemade lasagna isn't always easy. Most of the time the store-bought pasta sheets result in a dry, uneven bake and often we don't know the best way to layer all the ingredients.
To help you make the best lasagna ever, Francesco Balestrieri -- Italian-born chef at Joe's Bar -- has shared his classic recipe, as well as tips on how to best assemble it.
"I started making lasagna in 2006 at age 21, when I worked in a restaurant in Bologna, the home of fresh pasta and bolognese sauce in Italy," Balestrieri told The Huffington Post Australia.
"My sole job every morning was to make fresh pasta for the lunchtime service that day, so from 6 a.m. until noon I would churn out fettucine, spaghetti, gnocchi and, of course, lasagna sheets."
You don't want humidity to mess with your pasta making, as the more humidity you have to play around with, the more flour you have to add and then the harder your pasta becomes.
To make the perfect lasagna sheets, Balestrieri has two top tips -- roll it thin and watch out for humidity.
"When I make lasagna for Joe's Bar now, I make it nice and thin and always roll the sheets to 2mm thin," he said.
"There is also the tip of making pasta on a sunny day. You don't want humidity to mess with your pasta making, as the more humidity you have to play around with, the more flour you have to add and then the harder your pasta becomes.
"This dish is definitely a favourite of mine and reminds me of home, as Sunday nights were always lasagna nights at my house growing up."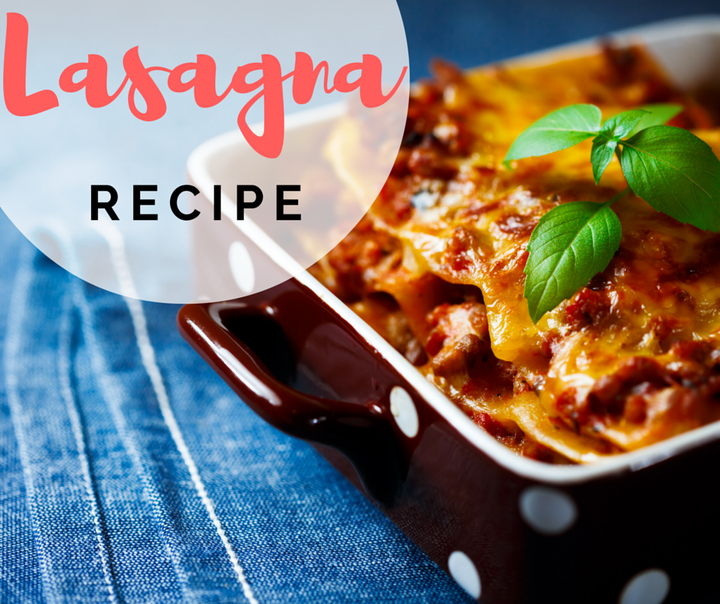 Ragu
1 medium onion
1 carrot
1 stick of celery
2 tbsp of olive oil
300g wagu mince
1kg crushed tomatoes
Salt and pepper
½ glass white wine
1. Blend onion, carrot, celery and olive oil in a food processor or blender (if you do not have a blender, finely chop these ingredients instead). Sauté the vegetables in a thick bottomed pot on a high heat until golden.
2. Add mince, taking care to break apart lumps as the meat cooks. When meat is fully cooked add the white wine. Reduce wine and add crushed tomatoes.
3. Lastly add one cup of water and reduce heat to low. Cook for three hours. Adjust seasoning to your taste.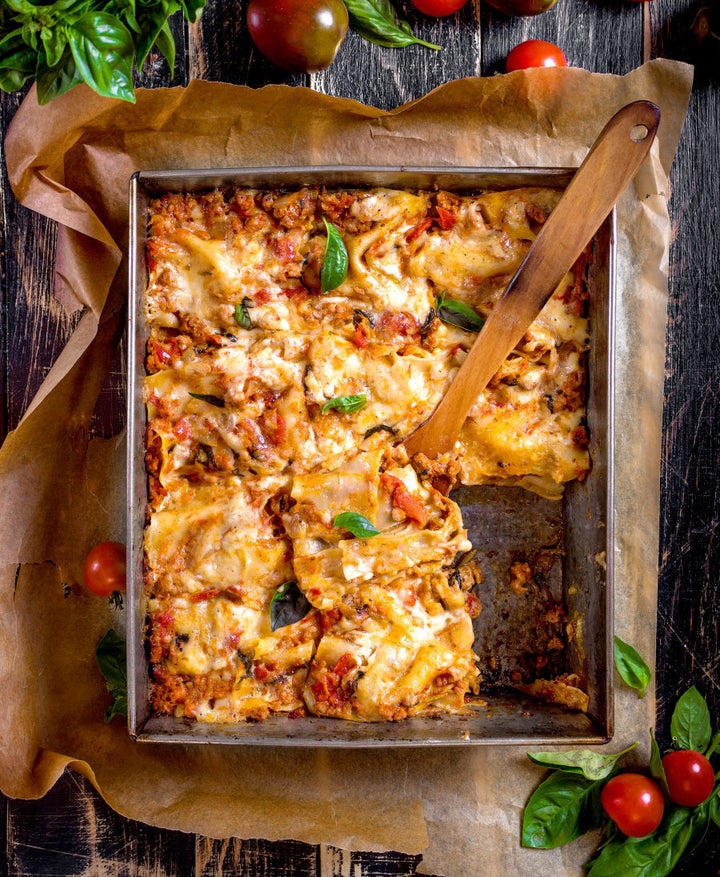 Béchamel
100g butter
30g of plain flour
500ml milk
Salt and black pepper
1 pinch ground nutmeg
1 fresh bay leaf
1. Warm milk with fresh bay leaf in a pot.
2. In a separate pan melt butter. Once butter is melted, add the flour and mix to a smooth paste.
3. Cook out the flour for one minute on a low heat, taking care it doesn't brown. Slowly pour in warm milk and whisk to combine.
4. Keep cooking over a low heat, whisking continuously until béchamel thickens. When béchamel bubbles take it off the heat. Stir in nutmeg and season to taste.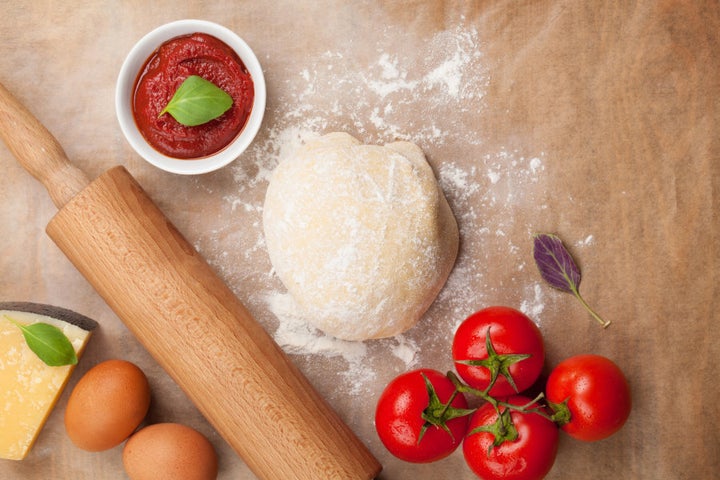 Fresh pasta sheets
500g plain white flour
5 free range eggs
Pinch of salt
1. Using mixer: combine flour, eggs and salt and mix for five minutes. This recipe works best in a mixer with the hook attachment, but it's also possible to knead by hand.
2. By hand: make a mountain with the flour on a clean bench and form a dent in the centre. Place whisked eggs in the centre and combine the flour. Knead dough for five minutes. Allow dough to rest for 30 minutes.
3. Put a large pot of water to boil.
4. Press dough through a pasta machine until 2mm thick. Make sure your pasta sheets are dusted with flour and take care not to rush this process. Press the pasta through every level twice.
4. Cut pasta sheets to fit your lasagna tray. Boil sheets for two minutes only and refresh in cold water to stop the cooking process.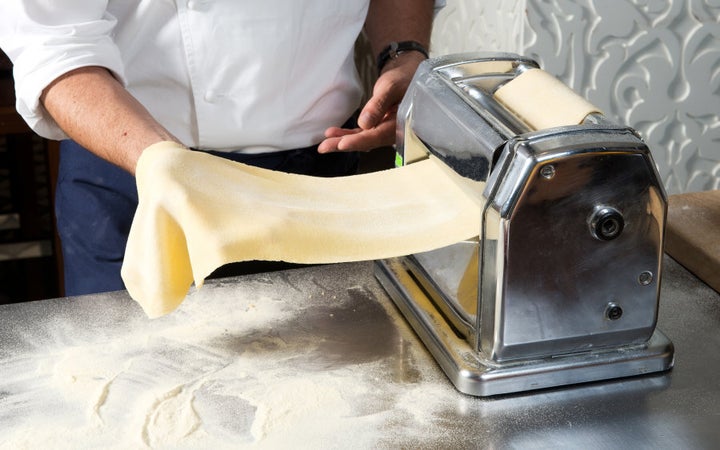 Napoli sauce
1 onion
3 tbsp of olive oil
250g crushed tomatoes
Salt, to taste
Handful fresh basil
1. Finely dice onion, then sauté onion in olive oil on a medium-low heat until fragrant.
2. Add crushed tomatoes and salt. Cook on a low heat for 30 minutes.
3. Adjust seasoning and finish with chopped basil.
Assembly
Layer your lasagna in the following order:
Fresh pasta sheets
Rich tomato sauce
Bolognese sauce
Mozzarella cheese
Parmesan cheese
Béchamel sauce
1. Béchamel sauce only goes on every second layer.
2. Do a minimum of five layers.
3. Top only with tomato sauce, as cheese tends to burn if placed on the top layer.
4. Bake in 180°C for 45 minutes and enjoy the layers of pasta heaven.