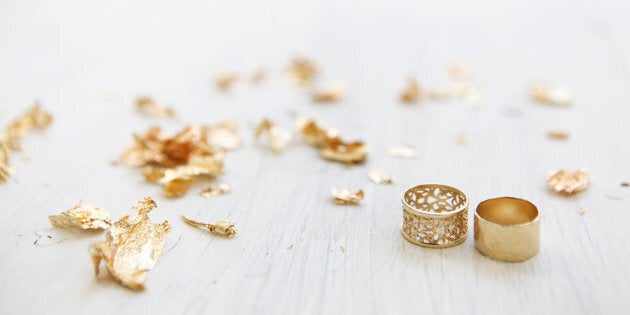 It has only been in the last few years that environmental and socially-conscious fashion brands have garnered the spotlight they deserve.
The likes of Stella McCartney, who doesn't use skins, fur or leather in any of her products, and H&M, who have been at the forefront of conscious collections are igniting a conversation around the industry's responsibility -- whether fast-fashion or the luxury high-end market.
Though that conversation, while it is happening, hasn't extended to the jewellery industry.
"Most mainstream jewellery companies don't use recycled metals in their products which is a shame because metal is one of the easiest things to recycle and reuse," Tanya Coelho, designer and founder of Zefyr Jewels told The Huffington Post Australia.
Coelho is part of Australia's growing jewellery movement that seeks to build awareness around the effect precious metal mining has on the environment.
"For every gold ring produced, 20 to 60 tonnes of earth is displaced," Coelho said.
"Of that vast amount, one tonne of ore is extracted for that one ring. To leach out the gold from the ore toxic chemicals such as cyanide, mercury, and arsenic are used. We're talking about untold amounts of toxic waste for one shiny bauble," Coelho said.
How the jewellery is made is another factor.
While the poor conditions of the garment industry were brought to the world's attention following the Bangladesh disaster in 2013, concern hasn't spread to smaller industries, like jewellery.
If we put a value on all the things we consumed and owned, we would be so much more conscious not to waste them.
It was the dangerous acids, inhalants and huge amounts of waste Coelho witnessed during her early career in the mainstream jewellery industry that drove her to go out on her own and create something that was more aligned with her value system.
It is a story echoed throughout the industry globally.
"If we put a value on all the things we consumed and owned, we would be so much more conscious not to waste them," Rafaelian told HuffPost Australia.
Ahead are five fine jewellery brands promoting choice and steering the industry into a more ethical direction.
Using recycled sterling silver, brass and eco-glass crystals to add colour to her designs, Tanya Coelho draws inspiration from her travels for each of her collections. Her recent trip to India inspired her latest collections, "Dosha" and "Mandala" (pictured).
Through the use of recycled materials and eco-conscious processed, this U.S. based label is best know for its Pandora-like charms and commitment to honouring the earth.
Founded in 2011 by Sarah Gittoes and Robert Sebastian Grynkofki, the Australian jewellery brand is known for its delicate collections, with each piece designed and handmade in their Sydney studio.
The duo use reclaimed gold and silver and incorporate ethically-sourced stones of the highest quality.
Cruelty-free and vegan, YCL does not use any animal by-products during production. Each piece is handcrafted by self-taught designer Fabienne in her Gold Coast studio.
Designer Flick Pope ensures every charm or each component is hand cut, filed and soldered on her work bench in Victoria's Mornington Peninsula -- the only machinery used is a polishing box! Her signature design is the "Flick" heart ring (pictured).