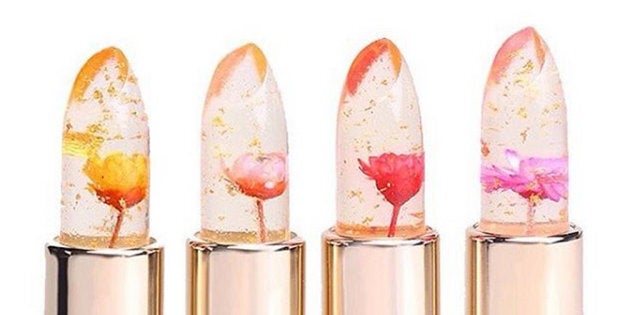 Move over, Kylie Lip Kits -- there's a new K-named lip product in town.
Kailijumei, a Chinese cosmetics brand, is taking Instagram by storm with its flower jelly lipstick. The gorgeous, glossy sticks have gold flecks, a pinkish hue, and REAL FLOWERS inside them.
The lipsticks are extremely charming with names like "Minutemaid" and "Doll Powder", but they're not super pigmented. Lovers of opaque or matte purples or reds may want to look elsewhere.
What's most unique about the floral lip product is that, despite its clear appearance, it goes on pink. The color of the pink also varies depending on your body temperature.
These chameleonic sticks retail between $25 to $30 and have already sold out. With knockoffs available on eBay, these lipsticks are on track to incite Kylie-like excitement for restocks. The next batch is now available for pre-order and will be restocked later this week.
Kiss your other boring lipsticks goodbye.