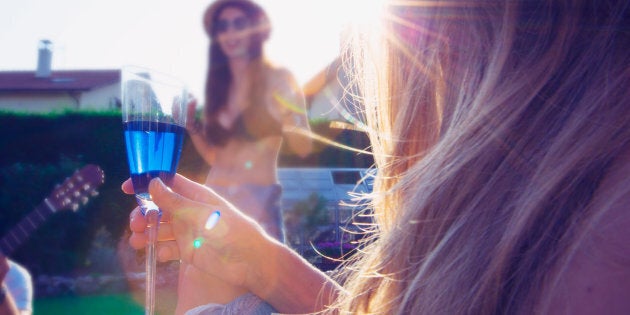 The wine world is often considered to be full of snobbery. It has a tradition that is centuries old, so we get it. But not everyone is understanding. Some people want to break out of the norms that keep things rooted in tradition, and those are the folks who have created Gik, the world's first blue wine.
Yep, blue wine, like Curaçao-blue. The 11.5 percent ABV wine is given this beautiful indigo hue by mixing red and white grapes, as well as two organic pigments -- indigo and anthocyanin -- which are found in the skin of grapes. The wine is made from a blend of Spanish grapes from no particular region, again breaking from tradition.
The six 20-somethings behind the production of this wine are not vintners, nor are they wine connoisseurs. They're simply innovators looking to shake things up. The co-founders believe that "drinking Gïk is not just about drinking blue wine; you are drinking innovation. You are drinking creation. You are breaking the rules and creating your own ones. You are reinventing traditions."
Gik is available for purchase online. If it will reign over rosé (a.k.a. summer's water), we're not sure what this says for our futures.