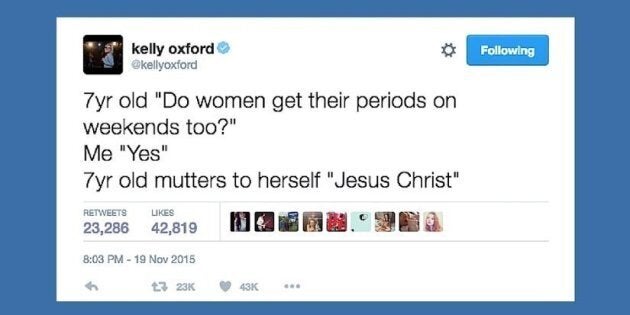 Bea Oxford might only be 7 years old, but she's already way cooler than we are.
Kelly Oxford is a New York Times best-selling author and mother of three who just so happens to have a hilarious Twitter account.
On her account, Oxford features parenting takes, stream of consciousness thoughts and amazing quips from her daughter, Bea. Bea has some perfect takes on everything from periods to Donald Trump to Beyoncé, and is clearly wise far beyond her years.
Are people surprised by Bea's grown-up view of the world?
"All the time," Oxford told BuzzFeed. "Every day."
Read 'em and weep from the hilarity.
CORRECTION: An earlier version of this story stated that Oxford is a mother of two. She has three children.