The Labor Party has again voiced support for lowering the voting age from 18 to 16, with Senator Sam Dastyari confirming he will push for a Senate enquiry into the issue.
Young Australians are entitled to get a driver's licence, enlist in the defence force, marry, have sex, shoot a gun, be tried as an adult in a court of law (in some circumstances) get a job and pay taxes before they legally come of age, but voting in political elections is restricted to those 18 and over. Labor leader Bill Shorten voiced support for lowering the voting age to 16 in a 2015 speech, but in a Facebook Live interview with The Huffington Post Australia, prominent senator and Labor powerbroker Dastyari gave the strongest indication yet that the ALP would seriously push to see the change made.
"I would like to set up a proper Senate enquiry into lowering the age of voting, that's something I want to do in the next term," Dastyari said.
"The idea 16 and 17-year-olds aren't mature enough to vote, yet you can register for the army, drive, pay taxes, I think is ridiculous. There's enough information out there."
The Australian Youth Affairs Coalition said that lowering the voting age to 16 would allow another 300,000 people to vote. Dastyari said Shorten was "very very positive" on the idea, but said the first step was to get a true discussion about the idea happening in Australia, before any thoughts of a formal vote in the parliament.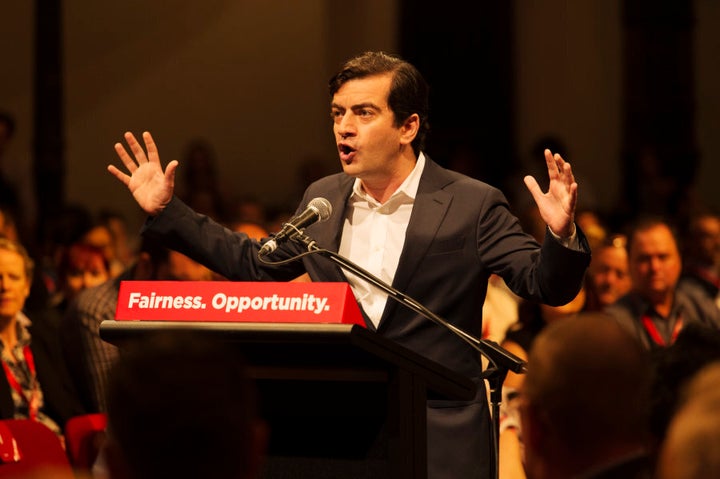 "These kinds of changes work when you win the debate and you bring the public with you. These aren't the types of changes you make as a nation because you ram it through the parliament. The reality is we havent won the debate. There is this old fogey set out there, who view 16- and 17-year-olds [being allowed] to vote as an attack on their own liberties," the Senator said.
"I don't believe enfranchising more people in the democratic process takes away from anyone's rights... [but] democratic reform happens best when everyone's in the tent. Bill is pretty favourably disposed to it, but he's not disposed to ramming it through."
Lowering the voting age to 16 is not without precedent. Scotland last year allowed young people to vote in national elections, while a small list of countries including Argentina, Austria, Brazil, Cuba, Ecuador, Nicaragua, East Timor, Ethiopia, Indonesia, North Korea and Sudan allow people to vote at ages 16 or 17.
Closer to home, proposals have been raised over the years to lower the voting age; indeed, until 1973, the voting age was 21. NSW state MP Jodi McKay has spoken of lowering the voting age further to 16, supporting the idea in 2015, but polls suggest that the majority of Australians do not support the age change. Many arguments centre around the idea that young people are politically disengaged and naive. However, recent surveys and figures do not support that position.
The Australian Electoral Commission announced that a record 1.66 million people under the age of 25 enrolled to vote at the 2016 election, a massive jump of 150,000 from the last election in 2013. Recent research has also shown that young people are not as disengaged from politics as anecdotes suggest.
Chair of the Australian Youth Affairs Coalition, Katie Acheson, told HuffPost Australia that 16- and 17-year-olds people should be able to vote if they want to, with a voluntary system for young voters rather than the compulsory voting for legal adults.
"We let 16-year-olds pay taxes, get a job, get a licence, they can do different levels of signing leases and taking responsibility for themselves, being involved with banks. If we say that 16 is when you can take these decisions, why is voting left out of that?" she said.
"Older generations are saying [young people] are selfish and they don't care, but that's not true...
young people have clear and strong views about what the future could look like, innovative ideas older people haven't considered."
Acheson said the surge in voting enrolments among young people shows they are engaged and keen to have their voices heard.
"We have 1.6 million people aged 18-25 voting in this election, that's the most we've had in Australia. There have been a surge in young people's issues getting out there, it hasn't come across the large parties just yet, but if you add 300,000 more young people to that, that's close to the two million mark, and close to matching the baby boomers' generation," she said.
"Government should be looking at the groups who will be voting them in years to come. We should see them engaging the future of Australia. We're not seeing that now, the politicians have missed the mark. By ignoring young people who are energetic and engaged, you put yourself at risk."