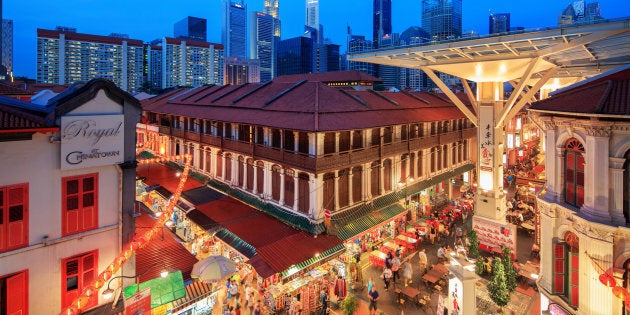 Not one of those parents who plans holidays around access to a kids club? Do *family* resorts make you break out in a cold sweat? Go on, you can admit it - not everyone wants an all-you-can-eat buffet and a culture-free zone.
But sometimes the grand family adventure has to wait and a school-holidays break is called for - somewhere medium-haul, easy to navigate, but with plentiful dumplings, a hotter climate and a culture different enough to expand the kids' horizons.
A lot has changed since this photo of my Dad and me was taken in the Long Bar at Singapore's Raffles, not least the way "family" travel is sold to us. (Certainly the Aussie travelers in the bar no longer look this stylish).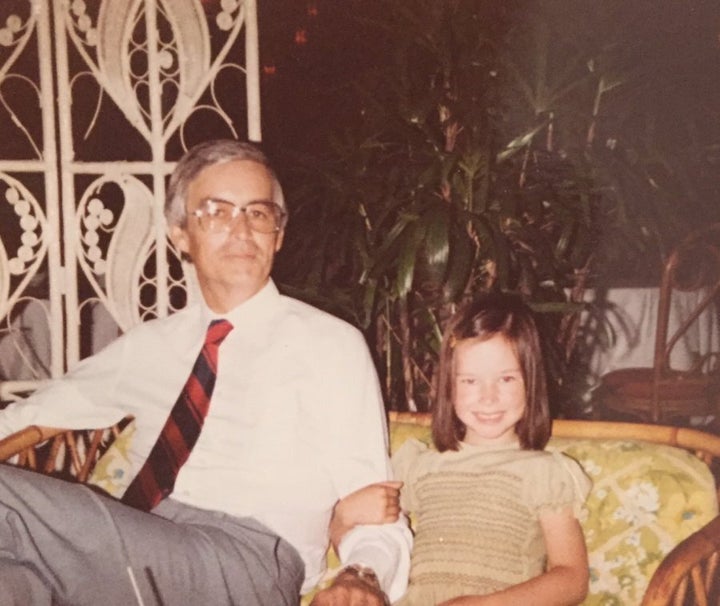 Travelling with your parents used to be about fitting in with their plans and their dress-code. Now we all expect at least a balance between kid's interests and our own.
Thirty-five years later I took my own five-year-old to Singapore and found enough xiao long bao to keep us both satisfied, plus a city that couldn't be more child-friendly while also offering me and my kindergartner a load of experiences we couldn't get at home.
The tiny nation on the southern tip of the Malay Peninsula is probably most famous for its airport and its chilli crab - but it's worth more than a stop-over on the way to somewhere else.
Singaporeans also get out of the house and enjoy their own city, so your kids are just as likely to be interacting with locals as they are with other tourists.
Archie even brushed up on his Mandarin -- nothing quite like your five-year-old having a conversation you can't understand to make you feel like you've left your neighbourhood.
So how to do Singapore with enough for the kids, enough for you, some culture thrown in -- and a load of great food?
Believe it or not I still remember Dad taking me on the Sentosa cable car in 1981. Since then the cable car has been spruced up and expanded, and Sentosa is packed with resorts and hotels.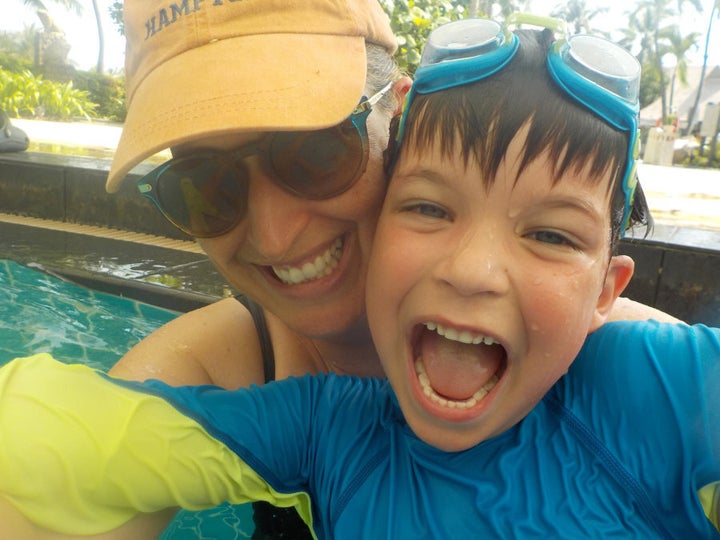 Plus it's a walk from Siloso Beach where you'll find restaurants and bars where you can drink beer while watching the kids play on the sand. There are also playgrounds for the little ones and activities for older kids and teenagers like a huge flying-fox and a bob-sled.
You can easily get into the heart of Singapore by catching the cable car or a shuttle bus over to the mainland and jumping on the metro (the MRT).
You can get most places on on Singapore's cheap, air-conditioned, easily-navigated underground metro system. Everyone uses it. You should too.
From a distance the $1 billion mega complex built on reclaimed land just adjacent to the mega hotel Marina Bay Sands looks like everything you would expect from the cliche'd version of Singapore - it's an entirely man-made environment - a feat of engineering, money and willpower.
Honestly, in previous visits to Singapore I'd avoided it, but I won't make that mistake again. The environment may be artificial but the experience is not.
For starters, it's cool. Singapore can be bloody hot. But inside the two enormous glass houses at GBTB is heaven on a humid day. Wander beneath a grove of ancient olive trees, smell the flowers, admire the Australian boabs, and climb the mountain-like Cloud Forest. It's hard to describe why this place works but it does.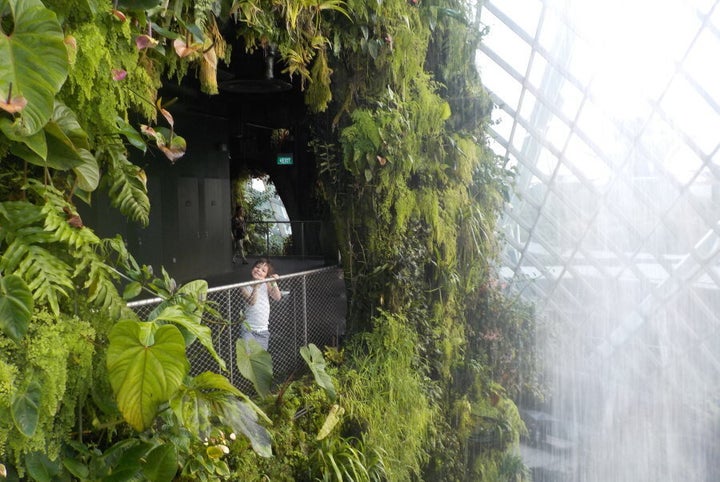 Then every night at 7.45pm and 8.45pm the giant man-made "trees" outside on the expansive lawns come alive with a light and sound show that had the hundreds of kids, local and foreign, totally rapt.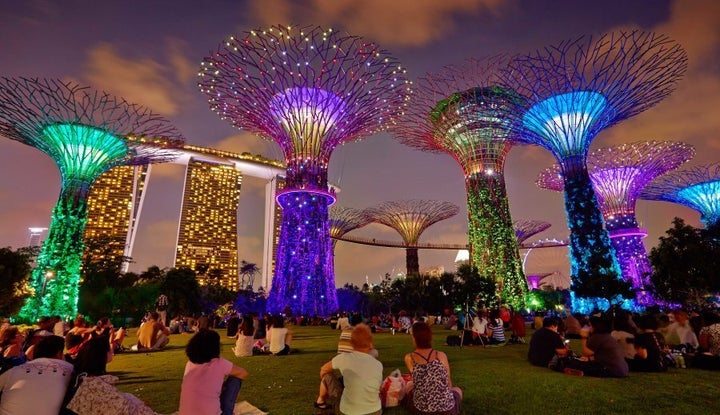 There are many different ways to experience Singapore Zoo. If your kids can handle a later bed time the Night Safari is a great way to get around when it's not so hot. But we had breakfast with the orangutans, which is just about one of the coolest things a five-year-old could hope to do.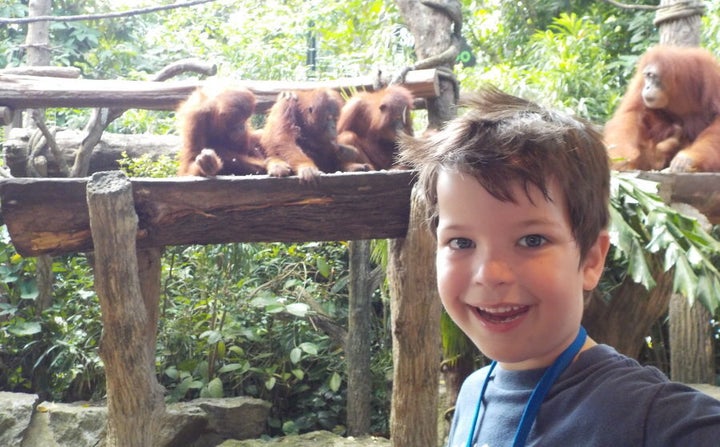 Highlights included the polar bear Inuka, the "Timon and Pumbah" enclosures and the Apes. The zoo also runs a show starring rescued pets, which a small Australian boy may or may not have taken over completely on the day he was there.
The one place Archie asked to revisit on our trip was Chinatown. I suspect it was Steve's dumplings at Tim Sum. Smith Street in the heart of Chinatown has had a roof installed so you can enjoy it even during one of Singapore's regular torrential downfalls. Choose and order a dish, grab a table, and one of the local staff will come and serve drinks. If you can't find something you like here you're not trying.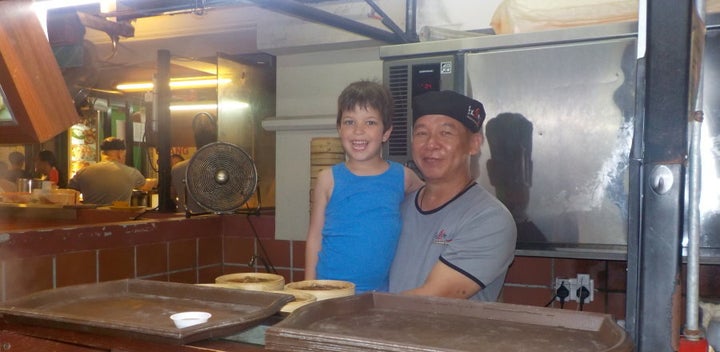 For a less-touristy, and cheaper, feed, head over to the Maxwell Hawker Centre (about five minutes walk) where you can get a whole chook cooked Hainanese-style from Tian Tian for $S24.
The Chinatown Heritage Centre is a preserved shop house where you can see how Singapore's Chinese migrants lived right up until the 1980s. Cramped doesn't begin to describe it and if you're after a bit of perspective for your kids, this is where you'll find it. Archie was fascinated.
Also strangely fascinating is the line-dancing crew who seem to permanently populate the square just behind the Buddhist temple on Sago St.
There's a permanent exhibition on here that while pitched at kids, I can assure you adults will find a total delight. "Future World: Where Art Meets Science" has 15 interactive digital art installations. To give you an idea, one of the exhibits involves kids drawing a rocket or plane, which is then scanned and appears to fly across the wall.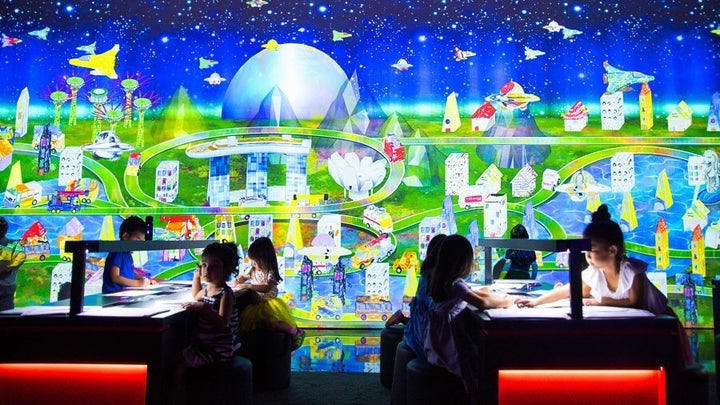 Keep your eyes peeled - it's dark and there's a lot to distract small people with a tendency to wander off.
There's a room in this aquarium at Sentosa Resorts World where you feel like the entire ocean is just behind one enormous single pane of glass. It's breathtaking, even if it's best not to think about the logistics of this.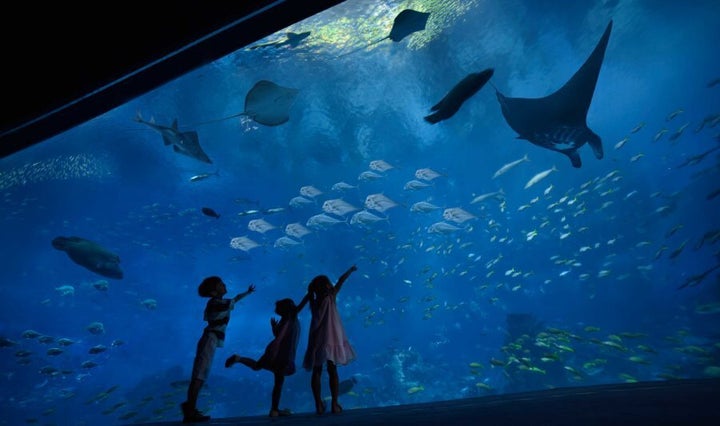 KidZania almost defies description. Started by a Mexican billionaire who decided children need to be educated while they're entertained, KidZania is an extraordinary meeting of commerce and fun. KidZania Singapore had been open just four days when we "checked-in" at the Qatar Airways-liveried front desk and entered a kind of branded Truman Show for tiny people who work. It sounds terrible but it's actually the opposite.
Real brands have signed on to create this miniature town, complete with Police, Fire Department, Hospital, radio station, shops, restaurants etc. Kids get "paid" to work at different jobs for approximately 20 minutes at a time and can then spend the "dollars" on prizes or food and drinks.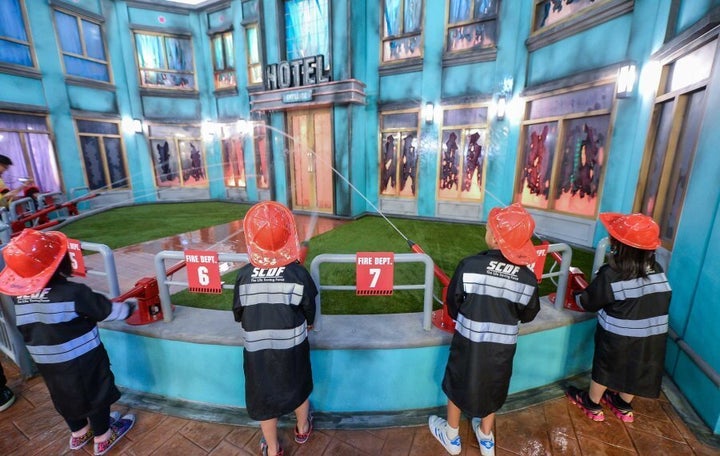 There's even a full-wing fuselage of a Boeing 737 for the pilot experience and the attention to detail is staggering. From the shop fitouts to the tiny uniforms, it's faultless.
Older kids, think 8 and above, could easily spend all day in here "working", and parents are contacted via a linked electronic bracelet if they're needed.
This place is 100 percent about the kids, but it's so impressive you'll pass time just staring at everything as it goes on around you, from the tiny firefighters dousing the blazing hotel, to the teeny paramedics bandaging the "victims".
It's not quite a Singapore Sling at Raffles, but it did us perfectly.