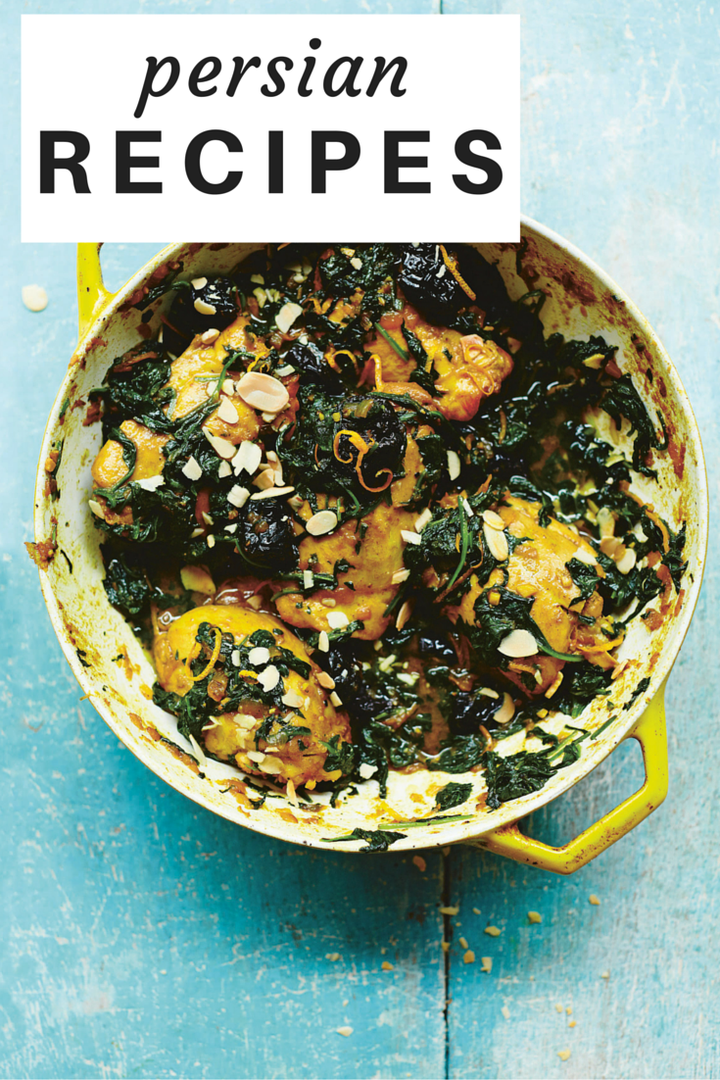 By now, you're probably bored of your go-to soup and stew recipe that winter brings. While refreshing smoothies and bikinis are still a few months off (hurry up, spring), take this time as an opportunity to mix up your weekly meals and try new warming, spicy and nutritious meals.
These Persian recipes from The Saffron Tales by Yasmin Khan are brimming with warming spices and Middle Eastern flavours. They make for excellent leftovers for lunch, so double up and make your work mates jealous with the delightful scent of Persian curries and salad.
While the recipes are primarily meat-based, simply substitute for your favourite veggies or plant-based protein if you're vegetarian or vegan.
Chicken stew with spinach and prunes (aloo esfinaj)
This dish involves poaching chicken thigh pieces with warming spices such as turmeric, cinnamon and saffron, which is then cooked in a zesty spinach sauce.
"This khoresht is traditionally made with the juice of Seville oranges (narenj) which give a subtle, sweet and sour hint to the chicken and bring out the earthy notes of the spinach," Khan said.
"Since these are not widely available here, ordinary oranges combined with lime juice provide an intense, tangy flavour of their own. Serve with rice and a green salad."
Sunflower oil
2 medium onions, finely chopped
2 garlic cloves, crushed
8 chicken thighs, on the bone, skin off
200ml good-quality chicken stock
1 tsp turmeric
⅛ tsp ground cinnamon
Sea salt and black pepper
½ tsp saffron strands
A pinch of sugar
2 tbsp freshly boiled water
800g spinach, roughly chopped
Juice of 1 lime
Juice of 1 orange
Pared zest of ½ orange, sliced into thin strips
150g prunes
1½ tbsp flaked almonds, to garnish
1. Heat three tablespoons of oil in a large casserole pot and fry the onions over a low heat for 25 minutes, until they are soft and beginning to caramelise. Add the garlic and fry for another two minutes.
2. Turn up the heat and add the chicken. Cook for a few minutes to brown the chicken on all sides. Lower the heat, then add the stock, turmeric, cinnamon, a teaspoon of salt and ½ teaspoon of black pepper. Cover with a lid and cook for 35 minutes.
3. Meanwhile, make a saffron liquid by grinding the saffron strands with a pinch of sugar using a pestle and mortar and then adding the boiled water. Leave to steep.
4. In a large pot or wok, cook the spinach over a high heat until it has wilted and then place in a colander to drain. You'll probably have to do this in a few batches, unless you have an extremely large pot. Let the spinach cool and then squeeze it dry with your hands. Roughly chop and set aside.
5. After the chicken has been cooking for 35 minutes, add the chopped spinach and the lime and orange juice, along with the orange zest and saffron liquid. Place a lid on the pot and leave to simmer for 10 minutes.
6. Fry the prunes in one tablespoon of oil until they just start to plump up and caramelise. Add them to the stew and cook for a final five minutes. Taste and adjust the seasoning, adding more salt and pepper to your preference.
7. Toast some flaked almonds in a small pan over a low heat for one minute until they start to go a golden brown colour. Sprinkle the toasted nuts onto the stew just before serving.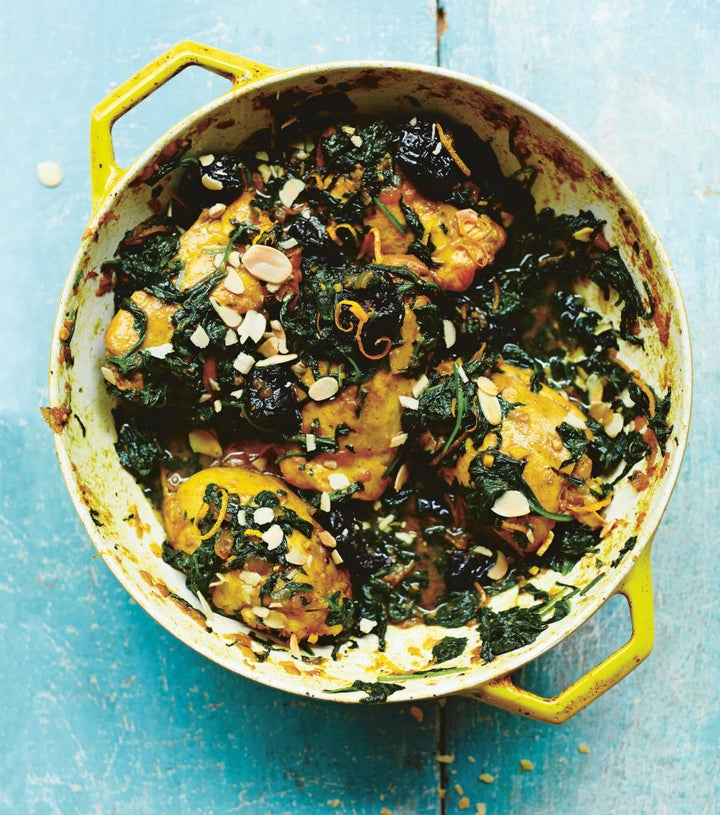 Chicken with walnuts and pomegranates (fesenjoon)
"This rich and incredibly moreish stew has just three key ingredients, which come together to create a truly sumptuous dish," Khan said.
"Don't be put off by the time it needs on the hob. It couldn't be simpler to make, and once everything is cooking you won't need to do anything other than let it bubble gently in the background."
Serve with white rice, tomato and cucumber salad and fresh radishes.
250g walnuts (the fresher the better)
1.2 litres cold water
100ml pomegranate molasses
1 tbsp tomato purée
¼ tsp ground cinnamon
2 tbsp sugar
2 tsp sea salt
1 tsp black pepper
¼ tsp golpar (optional)
800g skinless chicken thighs, on the bone
A handful of pomegranate seeds, to garnish
1. In a food processor, grind the walnuts until they are extremely fine and have the consistency of a smooth paste. Place the ground nuts in a large casserole pot with one litre of water and mix well. Bring to the boil and cook on a high heat for five minutes, then reduce the heat. Simmer for one hour, partially covered, stirring occasionally to stop the walnuts sticking.
2. Add the remaining 200ml of water, give the sauce a good stir, then stick the lid back on and leave to simmer for another hour. If the sauce starts looking dry, add some more cold water. You are aiming for a thick, porridge-like consistency.
3. The sauce should now have thickened and darkened in colour. Add the pomegranate molasses, tomato purée, cinnamon, sugar, salt and pepper and golpar (if you have some) and stir well. Add the chicken pieces, place the lid on the pot and continue to cook over a low heat for 45 minutes, until the chicken is cooked and the sauce is a glossy, dark chocolate colour.
4. Taste the sauce for seasoning and adjust to your preference: to make it a bit sweeter add more sugar, or pomegranate molasses to make it sourer. Cook for a final 10 minutes with the lid off so the sauce thickens around the meat. Sprinkle with a handful of pomegranate seeds before serving.
Vegetarian or vegan? Not a worry -- try this eggplant version of fesenjoon instead.
1. Follow the recipe above, substituting the chicken with thick slices of grilled eggplant. While the walnut sauce is cooking, take two eggplant and slice them lengthways in half and then into quarters. Brush the slices with a little olive oil and sprinkle generously with salt.
2. Heat the grill to medium. Place the eggplants under the grill for about 10 minutes, turning once until they are cooked on both sides. Gently add the eggplants to the stew just before serving to warm them up. Take care not to mix them too much when they are in the pot, as they will disintegrate.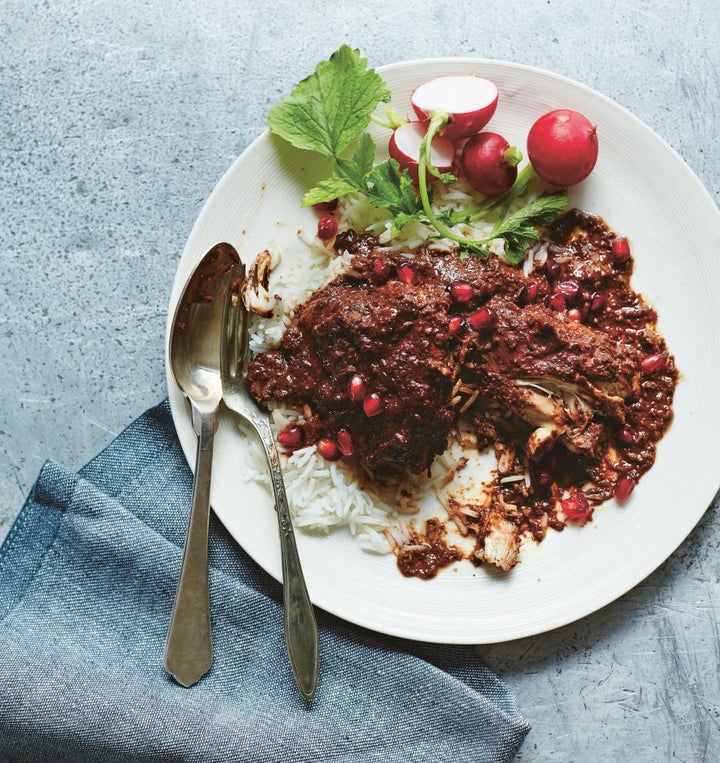 Fragrant mixed herb and flatbread salad (domaaj)
If you're not a fan of regular, often-bland salads, this recipe is for you. The salad is packed with fresh herbs, feta and flatbread (hello, carbs), with a balsamic dressing tossed through.
"The salad works best with strips of Persian flatbread, but if you don't have time to make your own, and can't find any in the shops, then plain tortillas work just as well," Khan said.
"The addition of golpar, with its citrusy aroma, really lifts this dish, accentuating the sweetness of the pomegranates and adding a wonderful depth of flavour, so try and track some down if you can."
Serves four as a starter.
100g Persian flatbread (or toasted tortillas or pitta bread)
50g walnuts, roughly chopped
100g feta, crumbled
25g bunch mint, roughly chopped
25g bunch basil, roughly chopped
25g bunch tarragon, roughly chopped
3 tbsp pomegranate seeds, to garnish
2 tbsp balsamic vinegar
3 tbsp extra-virgin olive oil
¼ tsp golpar (optional)
½ tsp sea salt
½ tsp black pepper
1. Using a pair of scissors, cut the flatbread into small jagged pieces and place them in a large bowl.
2. Toast the walnuts in a small pan over a medium heat for two minutes. Add them to the bowl, along with the crumbled cheese and chopped herbs.
3. To make the dressing, whisk the balsamic vinegar, olive oil and golpar (if you are using it) with the salt and pepper. Drizzle the dressing over the salad and then get your hands in there, giving the whole thing a good stir to evenly distribute it.
4. Leave the salad for 10 minutes for the flavours to soak into the bread, then taste and adjust the seasoning. Garnish with a generous sprinkling of pomegranate seeds just before serving.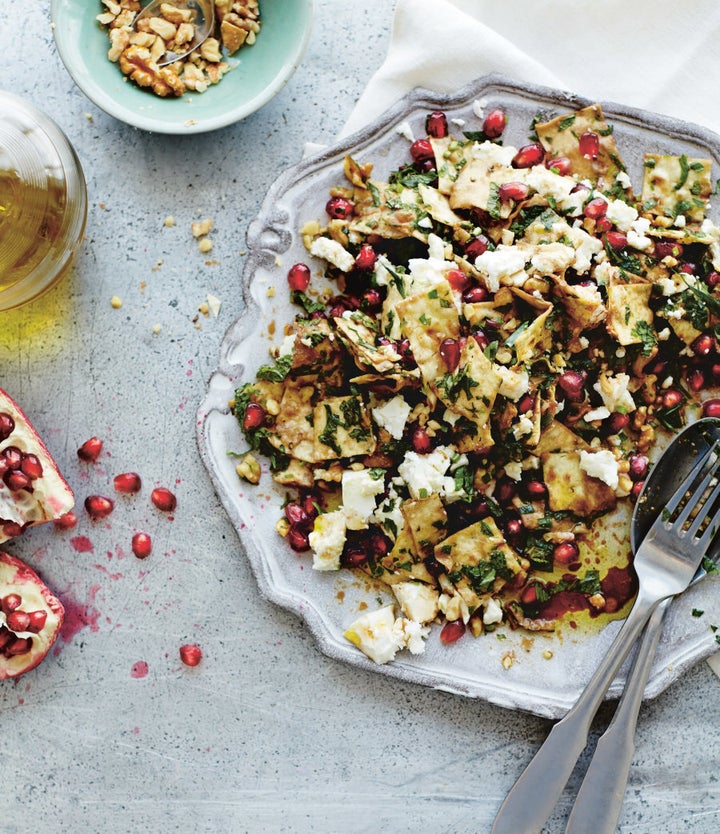 Recipes and images taken from The Saffron Tales by Yasmin Khan out now, published by Bloomsbury, $49.99