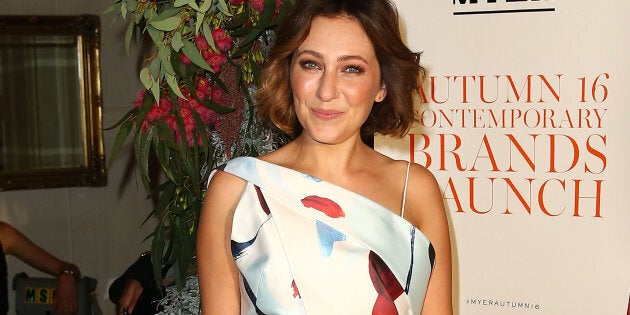 It's easy to dislike smart, pretty, witty women with cute chubby toddlers and famous funny husbands. Though, as much as you try, you just can't not love Zoe Foster-Blake.
Maybe it's the hilarious Snapchat and Instagram posts. Or the un-put-downable novels (she's written five, one of which is currently being turned into a TV show starring Jessica Marais). Or maybe it's the no fuss, natural skincare products she created.
Despite all of the above, if you still need more reason to love her, on Monday Foster-Blake launched a new book. Not a novel this time but the sequel to her very successful beauty book, Amazing Face.
She's an authority on beauty, in case you were wondering, because she was a beauty journalist for many years. So what's number two called? Amazinger Face, obviously.
We talked masks, mascara and hair mousse with the beauty guru.
In the intro of the book you refer to the girl in the school bathroom who inspired you play with makeup. Do you have any idea where she is now and what's she's doing?
"I really do! Or did, more truthfully, she married a male buddy of mine (he scored a babe from two grades above; legend), but their union wasn't to last, sadly, and I lost track of her after that."
You've always said that 'your face stops at your boobs'. What does this mean?
"Most of our clothing exposes our neck and chest as well as our face. Your décolletage is just as visible, and vulnerable as your face, in other words, so treat it accordingly. (Sunscreen/moisturiser/masks etc.) There's little triumph in a dewy, crease-free visage if the chest and neck attached to it is wrinkled and unloved."
You're a fan of cloth masks. What are some of your favourites?
"I started with SK-II, and still champion it, but there are loads of good ones, at all price points: Verso and Dr Jart, cheapies from Sephora and Leaders Insolution (Vital Bright in particular)... Pretty hard to go wrong with a sheet mask."
Why do you prefer physical sunscreen over chemical formulations?
"I prefer the UVA and UVB to be reflected off my skin, rather than absorbed. Physical sun protection (zinc oxide/titanium dioxide based) is natural, and won't irritate. It acts as better defence against pigmentation; some chemical sunscreens actually trigger pigmentation. I want to wear serums and face oils and antioxidants on my skin in the morning, and because a physical sunscreen goes on AFTER skin care, (chemical must go on clean skin to work) I can do this. Physical sunscreen works immediately, there's no sink in time, and a clever little mineral powder stick makes re-application throughout the day easy."
Let's talk pimples. Are you a squeezer? And if you are, how do you go about it?
"I know too much to squeeze (and the post-inflammation pigmentation on my face from past squeezing acts as a handy reminder). But if there is an aggressive whitehead: I shower so the skin is pliable, I pull, never push, and I quickly sanitise the area with BHAs."
Can you explain what you mean by 'foundation as undies, concealer as clothes'?
"Put your foundation on first, and your concealer second. It's a simple way to remember the order of it. The right foundation should do enough (in terms of evening out your skin tone) so that you only need spot concealing around the eyes, nose and on blemishes, anyway."
'Five makeup errors doing you zero favours' is a great part of the book. What's an error you used to make?
"My eyebrows in the early naughties. Thin, overly arched, tragically ageing and deeply unflattering. I still make plenty of errors, though. The amount of times my blush is too low or unblended 'cause I am in a hurry, for example. My overuse of dry shampoo making my hair appear grey. My insistence to wear spray tanners [believing] that 'my skin can take a lot of colour'."
Can you us through your views on bottom lash mascara?
"If you're doing a big, heavy eye shadow look, then you'll likely need some to complete the look. But day to day, unless you're a sweet young thing with enormous eyes, I'm of the belief that it does more harm (visually) than good. If you just must, hold your wand vertically on your lower lash line, and blink a few times to stamp some colour on there."
You claim hair mousse is the foundation of hair styling, yet many women are afraid of it. What do you like about hair mousse?
"Poor old mousse has been tarnished with a tacky 80s reputation, but on damp hair, blow-dried through, it does such great things for the base volume and body of the hair! Any hair stylist worth their Mason Pearson will tell you that. A good, modern, lightweight mousse, that is. They've changed a lot. Trust me."
"You sweet fool. Dessert FOR breakfast."