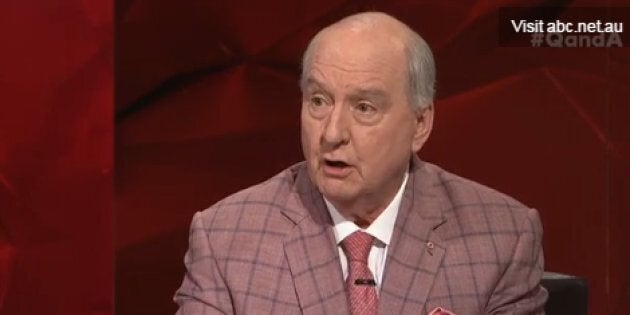 Controversial broadcaster Alan Jones has made his presence felt on ABC's Q&A, telling Australians they shouldn't take notice of "alarmist nonsense" about Brexit.
Following the historic vote for Britain to leave the European Union, global markets slumped and there have been concerns about the impact of the decision on a range of issues, including global security.
But speaking on Monday night, Jones downplayed the impact of the referendum's outcome.
"All that's happened is there's been a vote. Nothing else has happened. This is not the collapse of Lehmann Bros where the whole world went mad," he said.
"It's very disturbing that sections of the media and of the money markets have created an alarmist notion that some Armageddon is upon us.
"All that's happened is people have voted to stay out of the European Union, which I have to say has been brought on by the European Union... a bloated, bureaucratic, inefficient and ineffective outfit."
The merits of the Coalition's proposed company tax cuts and budget discipline have also been hot topics on tonight's show, with debate centering on whether large deficits over the forward estimates -- the next 4 years -- are responsible.
The question of whether there should be a Royal Commission into banks has also been explored, with Jones and Deputy Opposition Leader Tanya Plibersek backing the concept.
Perhaps because it's the last Q&A before the election after a marathon campaign, some comments on social media suggest this episode has been viewed as less than enthralling.
Other panelists on Monday night's program included Finance Minister Matthias Cormann and market economist Chris Richardson.
Monday night's Q&A comes after Prime Minister Malcolm Turnbull and Opposition Leader Bill Shorten featured over the past two weeks.