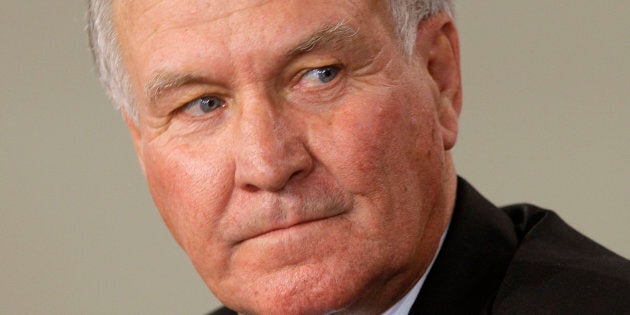 The battle for the rural seat of New England is starting to look a little dirty, with former independent MP Tony Windsor calling in lawyers over a news article accusing the now 65-year-old of being a bully in his school days.
Windsor, who is attempting to return to parliament in the rural NSW seat of New England against Deputy Prime Minister Barnaby Joyce, has refused to comment on allegations he intimidated younger students when he was a student in the late 1960's
The article, which appeared on the front page of The Australian, details allegations of four former students at the Farrer Memorial Agricultural High School.
Windsor said he would not comment on the article.
"I will not be responding to the gutter journalism in The Australian newspaper story today," he said.
"It should be seen in the context of a very close election campaign for the seat of New England."
Deputy Prime Minister Barnaby Joyce doesn't want any part of the story either.
"To be honest I don't even need the story, I don't want the story, I don't want anything to do with it," he told ABC radio.
On Monday, the hotly contested battle took a nasty turn with a new Nationals campaign advertisement said to have deeply offended Windsor's wife Lyn.
Joyce & Treloar shd withdraw offensive gutter ad inferring philandering with women. These two should be the last to raise this issue #auspol

— Tony Windsor (@TonyHWindsor) June 26, 2016
In the ad, available on YouTube, two women chat at a cafe table, with one of them getting a text from Windsor saying: "Hey New England, how about another chance?"
She says Windsor wants her to "take him back" and reminisces about things being "OK for a time" until "he ran off with Julia". The woman goes on to concede she misses him but she ultimately concludes that "things have changed and I have moved on".
In a statement provided to Fairfax Media on Monday, Windsor claimed the video implied he was being unfaithful and his wife Lyn was "deeply upset".
Joyce told the ABC he offered to withdraw the advertisement, but Windsor didn't respond to negotiations which would involve him also withdrawing his ads.
Joyce said he never wanted a dirty campaign for the seat of New England
"I think that any person would say this is a story about an actor, not a story about Mr Windsor... Some of the things that Mr Windsor said at the end of his reply were completely and utterly unsavory," he told the ABC.
Earlier in the week, Windsor apologised for comments he made about a Vietnam War veteran, former schoolmate and former supporter who had appeared on Four Corners explaining why he was supporting Barnaby Joyce.