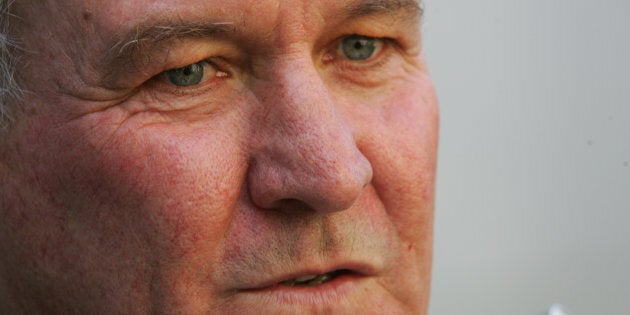 The fight between Tony Windsor and Barnaby Joyce for the seat of New England has plumbed new depths, with a fresh attack ad sparking claims it implies Windsor is a cheating husband.
The new front in the election stoush comes as Windsor aims to take back the electorate he held as an independent from 2001 to 2013 before he retired and Joyce took it for the Nationals.
It's because Windsor -- previously very popular in places like Tamworth and Armidale -- is trying to wrest control of the seat back from Deputy Prime Minister Joyce that things are getting so heated.
On Monday, the hotly contested battle took a nasty turn with a new Nationals campaign advertisement said to have deeply offended Windsor's wife Lyn.
In the ad, available on YouTube, two women chat at a cafe table, with one of them getting a text from Windsor saying: "Hey New England, how about another chance?"
She says Windsor wants her to "take him back" and reminisces about things being "OK for a time" until "he ran off with Julia". The woman goes on to concede she misses him but she ultimately concludes that "things have changed and I have moved on".
The ad ends after she replies via text "not this time Tony", quoting the Nationals' campaign slogan in the regional NSW seat.
Windsor told The Guardian that he wanted the Nationals to apologise to his wife over the ad.
"I thought I'd seen everything in the National party's bag of campaign tricks but this is a new low," Windsor is quoted as saying. "They can throw whatever criticism at me but when it involves and upsets my family that's another matter."
In a statement provided to Fairfax Media, Mr Windsor claimed the video implied he was being unfaithful and his wife Lyn was "deeply upset".
The Nationals reportedly believe Mr Windsor is in a state of "faux outrage" and claim the whole clip is tongue-in-cheek.