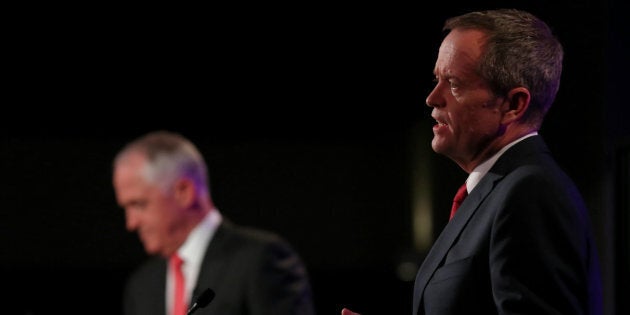 After being largely overlooked for the first part of the campaign, mental health policy has roared into the limelight and become a key issue of the last days of election 2016. The Coalition, Labor and the Greens have all announced sizeable funding for detailed mental health plans; Malcolm Turnbull and Bill Shorten both gave mental health announcements a key spot in their speeches at their respective campaign launches over the last two weekends; and suicide prevention has become a much-mentioned goal of politicians.
The Black Dog Institute went so far as to praise "all major parties" for their focus on mental health during the eight-week election.
"The focus on mental health and suicide we are seeing in this election reflects the importance of this issue to the Australian community and increases our ability to save and improve many thousands of lives," said Black Dog director Professor Helen Christensen.
The Greens say that "mental health accounts for 13 percent of Australia's disease burden, yet receives less than 9 percent of all federal health funding" and that "80 percent of this mental health funding is allocated to supporting those at the high needs end of the spectrum".
As a reminder, let's get a refresher on what has been announced so far
COALITION MENTAL HEALTH POLICIES
At the Liberal campaign launch on Sunday, Turnbull announced $192 million for "a bold package of mental health reforms" including a commitment to suicide prevention. Of the money, $26 million would be directed to 10 sites to trial "innovative approaches" in mental health -- four of those will focus specifically on suicide prevention, but also prioritised will be the use of digital technology to reach people experiencing poor mental health.
Eight more suicide prevention trial sites will be established through regional Australia, again with a focus on digital technology to "assist in crisis support, clinical intervention and ongoing support". The PM said the digital focus would allow people to access services through smart phones "wherever and whenever needed 24/7". Also announced were funding guarantees for youth mental health services like Headspace, early psychosis services, the National Mental Health Commission, and $12 million for a suicide prevention research fund.
Christensen, from Black Dog, praised the Coalition's policy.
"Technology such as smartphones, apps and online programs hold great promise, especially for a country as geographically and culturally diverse as Australia," she said.
"The focus on scientific evidence at the heart of new policy is exemplary and will need to be matched by rigorous implementation. The Coalition's support of important new suicide prevention activities is also welcomed, especially their ongoing support for integrated, regionalised and community based approaches."
Health Minister Sussan Ley had earlier committed that "the Coalition is currently investing a guaranteed, budgeted $3 billion directly into mental health services and reform over the next four years" and that "the Coalition will provide $200 million in guaranteed funding for 100 Headspace centres" in coming years. Labor seized on the Headspace comments, claiming that the centres would not be funded past 2018 and would instead be put out to tender by the government, but Turnbull has since claimed the centres would be funded "into the future".
"It is critical that frontline services for mental health are as close to the patients - the consumers, the customers, if you like - as possible," Turnbull said during a Facebook Live debate with Bill Shorten.
"The cost of mental illness is enormous. Leaving aside the human cost, which of course is the most important thing, the economic cost is gigantic. Depression alone is an enormous cost."
Unfortunately Turnbull's answer was cut short as the debate moderator quickly changed topics.
"We are a Government that made mental health a first term priority," Ley said in a statement after Sunday's announcement, claiming the government will "ensure it remains front and centre if we are re-elected."
LABOR MENTAL HEALTH POLICIES
Labor has fought most of this election on healthcare grounds, warning of the possible privatisation of Medicare under a Liberal government and promising greater investment in the medical system. The key plank of Labor's mental health policy is a goal to halve the suicide rate within 10 years. Shorten said Labor would commission an Australia-first data set of suicide deaths and national suicide register, commit $72 million for 12 regional suicide pilot projects in places of high suicide rates and $9 million for a suicide prevention fund for projects to reduce stigma and support people to find help.
Labor also committed to funding Headspace centres, early psychosis centres, support for people with mental illness and promoting the Mentally Healthy Workplace Alliance which works to support mental health and reduce stigma.
Labor's suicide policy was commended by Suicide Prevention Australia CEO Sue Murray, who said the commitment was long overdue.
"The sector has been calling for suicide prevention to be a nationally coordinated public health priority above and beyond party promises. With suicide taking the lives of more than double the number of Australians dying on our roads, we are pleased to see the amount pledged today is almost double existing funds for this national emergency," she said in a statement.
"Whichever party comes into office next month they must play their part in reducing suicides by half in ten years. We must all do everything we can to support Australians to live."
Shorten has been committed to spruiking this suicide policy. He started doing an interesting exercise at the numerous town hall meetings he held with local constituents around the country, asking people to raise their hands if they or someone they knew had been affected by suicide. Invariably, most of the room would put up their hands.
"There is a hidden story in our country. Teenagers are taking days off school to attend the funerals of classmates who have taken their own life. Parents sitting at kitchen tables, numb with incomprehension, shattered by grief, trying to write a eulogy for their child. No parent should ever bury their child," Shorten said at his campaign launch.
"Yet seven Australians die every day at their own hand. Every single day. We can do better than this."
"We will not rest until mental health gets the continuous national attention and national action that it deserves."
GREENS MENTAL HEALTH POLICIES
The Greens have also announced a swag of mental health policy, voicing support for a $1.4 billion investment in the sector. The party supported the National Mental Health Commission Review's recommendations that an extra $1 billion be given to primary mental health care over the coming four years.
The Greens strategy would give a $400 million boost to flexible funding for Primary Health Networks, which work to support patients in their local communities, as well as dedicate $280 million to the Mental Health Nurse Incentive Program, which encourages health clinics to employ mental health nurses alongside regular GPs and medical staff. A further $280 million would be set aside for rural and regional mental health, including plans to attract mental health professionals to those areas, as well as to upskill mental health staff already there.
Forty million dollars would be given to strategies to reduce stigma around mental health, in particular targeting "at risk" groups like Aboriginal and Torres Strait Islander people, the LGBTI community and people from culturally and linguistically diverse backgrounds. Another $38 million would go to a national suicide education and prevention program.
"While we have targets for reducing road deaths and other preventable health issues, we have no national targets for reducing suicide," the Greens strategy outlines.
The Greens policy would also re-introduce the option for Australians to access six mental health sessions in "exceptional circumstances", in addition to the existing ten services for which Medicare rebates can be claimed. The "exceptional circumstances" clause was removed in 2012.
If you need help in a crisis, call Lifeline on 13 11 14. For further information about depression contact beyondBlue on 1300224636 or talk to your GP, local health professional or someone you trust.