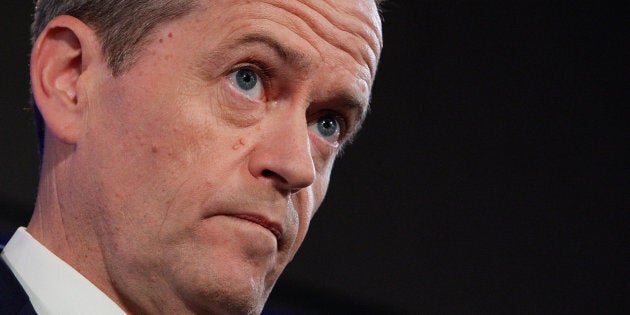 With three days to go in the 2016 election, the final ammunition is coming out.
After Labor leader Bill Shorten has spent much of the 2016 election campaigning against a marriage equality plebiscite (in favour of a conscience vote instead), footage has emerged from the 2013 election revealing Shorten was indeed open to a plebiscite.
On Wednesday The Australian published footage where Shorten told an Australian Christian Lobby forum he was "completely relaxed about having some form of plebiscite" on same-sex marriage.
"I would rather the people of Aust­ralia could make their view clear on this than leaving this issue to 150 people," Shorten said.
Speaking to The Today Show on Wednesday morning, Shorten addressed his change of heart three years later. Actually admitting he's had a change of heart.
"Since 2013 I think the community attitude has moved on, and secondly we saw the experience in Ireland of the referendum in 2015, and we saw a lot of hateful things said in the 'no' case. Why don't we just get parliament to get on and do their job, rather than kicking $160 million taxpayer funded [plebiscite]," Shorten said on the program.
Reiterating these views on Radio National not long after, Shorten said Prime Minister Malcolm Turnbull, who was in favour of a conscience vote, has also had a change of heart since taking office -- now backing a plebiscite. However MPs will be able to vote freely after the plebiscite which you can read all about here and here.
"It's a stitch-up so [Turnbull] can get some avid conservatives to vote for him in the internal civil wars of the Liberal party," Shorten told Fran Kelly.
"That's the only reason he's doing it and I don't think the rest of us should have to pay the price when the community has moved on principally, why should we have our taxes paid so Malcolm Turnbull can have a deal with the right wing of the Liberal Party?"
So both leaders of the major parties have changed their minds since 2013. And should we really be surprised? In this often messy democratic world, views change, deals are made and promises are sometimes broken. For better or for worse.
And to quote the Prime Minister (on Tuesday discussing the Labor Party): "What political parties say they will support and oppose at one time is not necessarily ultimately what they will do."