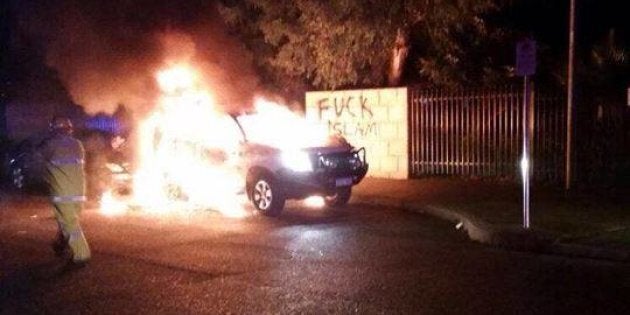 A car was set ablaze in a suspected petrol bombing attack overnight and offensive graffiti scrawled on a wall outside a Perth Mosque as worshippers prayed inside.
Community leaders on Tuesday night decried a suspected petrol bombing at the Thornlie Mosque as an act of hate.
A car was set alight and the words "f--- Islam" was scrawled on a wall as worshipers prayed inside the Thornlie Mosque at about 8pm WA time on Tuesday.
No one physically hurt, while three other cars were damaged.
"Thankfully our community won't start hating and playing blame games and singling out groups of people in our society," said Yahya Adel Ibrahim, a teacher and representative of Perth's Australian Islamic College.
"This, undoubtedly is a criminal act of hate, but it is the act of a person or group not the greater whole."
He said despite what transpired, worshippers finished their prayers.
"Despite what just transpired, everyone stayed to finish their prayers refusing to give into the terror that had just occurred," he said.
"I know the outpouring of support from the community will be overwhelming because Perth has the best, kindest, and most warm-hearted people."
Local MP Chris Tallentine said he felt sick over the attack.
"Muslim community of Thornlie, I feel sick that you have to endure attacks like this," he said.
"The truth is that this was an attack on all of us."
A witness told Fairfax Media it looked like a petrol bomb had been thrown into the car.
"I was actually pretty shaken - what's Perth coming to?" he said.
Police believe an accelerant was used to start the fire, and that three people were seen running down an alleyway next to the college towards Spencer Road.
Anyone with any information is asked to call Crime Stoppers on 1800 333 000, or report the information online at www.crimestopperswa.com.au