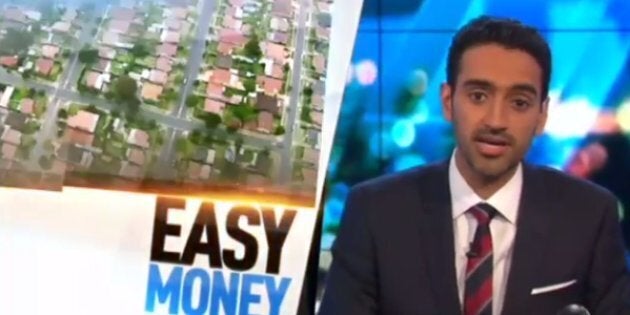 Waleed Aly nailed negative gearing again during The Project on Tuesday night, criticising the coalition's silent stance on the issue while praising Labor's policy for tackling housing affordability head on.
Currently, Australia is home to the some of the most expensive housing in the world, coming second only to Hong Kong.
"Hey, it's me banging on about negative gearing. I do it regularly because on days like these I can rehash an old script and be done by lunch," Aly said.
"[W]e have seen a generation of young renters emerge thanks to skyrocketing house prices -- and at a policy level that's thanks to two things. John Howard's halving of the capital gains tax in 1999, combined with negative gearing which allows investors to pay less income tax by claiming losses on their properties."
These policies, according to independent economist Saul Eslake, caused property prices to rise at a faster rate than they would have done otherwise, with the budget incurring bigger losses as well.
Opposition leader Bill Shorten announced the Labor party's planned changes to negative gearing earlier this year, including restricting it to newly-constructed homes from July 2017 onwards and reducing the capital gains tax discount from 50 to 25 percent, as a way of tackling the housing affordability crisis.
It is hoped that in order to increase affordability, Labor's plan would encourage real estate investors to build new properties which would in turn then increase the number of homes available.
"The dream of Australia is to be able to make sure that your kids grow up and can buy their first home," Shorten said while recently appearing on Q&A.
However, Prime Minister Malcolm Turnbull has said that Shorten's proposed changes had "set out to smash the residential housing market" and his plans would be disastrous.
Associate Professor Ben Phillips from the Australian National University, who has conducted independent modelling on Labor's policy, refuted Turnbull's claims in an interview with The Project, saying it could be the biggest piece in housing affordability policy the country has ever seen.
Make up your own mind, but for me, when it comes to tackling the housing affordability head on, I'm giving this one to Labor.
"I think the claims that the changes to negative gearing will smash the property market are overblown, it will take some of the heat out of the market and it will mean that people will be investing in housing as a property to live in as opposed to a property that is there purely for investment purposes," Phillips said.
Aly highlighted that the last time a similar policy was on the table was 30 years ago, stressing to voters that this weekend could be the last chance to change it for another 30.
"Right now, housing is more expensive in this country than it has ever been and finally we have a policy on the table that experts say will address the housing affordability crisis without smashing the value of homes already owned by Australians," he said.
"Make up your own mind, but for me, when it comes to tackling the housing affordability head on, I'm giving this one to Labor."