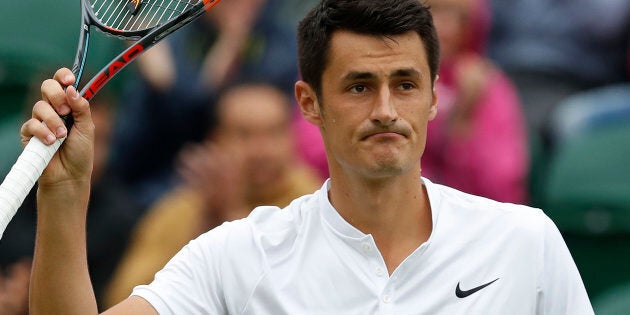 We should be telling you about how Bernard Tomic scrapped and scraped his way into the second round of Wimbledon overnight with a tough five-set win over Fernando Verdasco.
We should be telling you that Tomic had to fight back from a set down, and rallied to win the final set after dropping the fourth. We should be telling you that Tomic is head down, shaking off his penchant for trouble, and maturing as a grand slam player. Focussing on his next match, then the next, then the next.
But we're not. Because Bernard Tomic still isn't the tennis player Australian fans would like him to be. Case in point: dropping the word "retard" in his post-match press conference.
Tomic knows better, or should. There are things you can and cannot say, especially in front of a globally broadcast conference. Using the word "retard" is one of those things you unequivocally, cannot, say.
Here's the quote 'in context', describing how he felt having to wait around for Verdasco to show up.
"Yeah, I did get to the court prior to him very early, and unfortunately I had to stand on court like a retard."
It won't shock you to learn that people are really unhappy about it, with many demanding a public apology from the 23-year-old.
Whether he will come to his senses remains to be seen. What we do know is this: nothing has changed about Bernard Tomic.